Brisbane Latin American Film Festival 2018 - Presented by LACA-QLD
Description
ABOUT THE LATIN AMERICAN FILM FESTIVAL (LAFF)
The Latin American Film Festival is a not-for-profit event created with the sole purpose of promoting our culture and reaching out to places where Latin American cinema or Latin American culture, in general, is seldom present. It is an opportunity to bring communities together, to promote multiculturalism and to increase understanding and appreciation towards the Latin American community.
The event is now in its 14th consecutive year and it is the largest event of its kind in Australia. Every year it tours around at least a half a dozen cities. This year, LAFF is comprised of 14 different films, one for each participating country: Mexico, Paraguay, Peru, Uruguay, Venezuela, Argentina, Brazil, Colombia, Costa Rica, Cuba, Ecuador, El Salvador, Guatemala, and Chile.
It is organised by the Latin American Embassies in Australia with the support of other non-for-profit organizations which share the vision of promoting culture. In this occasion, the Latin American Community of Australia (QLD) Incorporated, LACA QLD, is collaborating with us and will host Brisbane's festival.
ABOUT LACA QLD
LACA QLD is a not-for-profit organization that aims to develop representation and participation of Latin Americans within the wider Australian society in Queensland. As an organisation we want to promote the importance of having a strong cohesive community, capable of working cooperatively and systematically to seek and achieve better outcomes and circumstances for the Latin American community, especially those who are vulnerable or disadvantaged.
Our projects aim to engage with community members and use community resources to increase social connectedness within and across communities, which is an important protective factor for individuals to improve their resilience and coping skills, and to acknowledge cultural strengths that promote health and wellbeing, tolerance and respect in a multicultural society.
LACA QLD aims to support the Latin American community in QLD in dealings with the federal, state and local governments and with other organisations and institutions, presenting a unified Latin American viewpoint and expressing the concerns on current social issues relevant to Australia's multicultural society.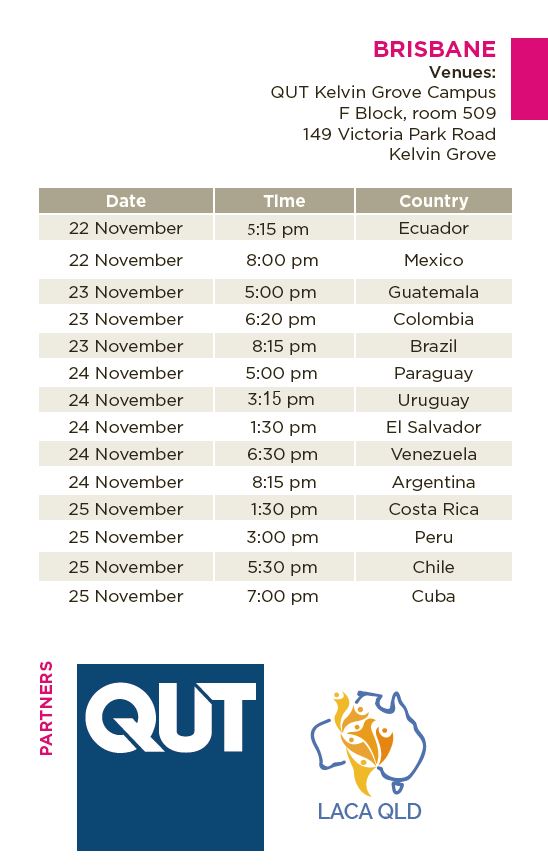 This is the map for QUT Campus, we are showing the Latin American Movies on ROOM 509, BLOCK F, next o the AMPHITHEATRE.