About this Event
👍🏼 COVID SAFE PLAN IN PLACE
BRISBANE'S BEYOND ISOLATION ART EXHIBITION
FRIDAY 18 SEPTEMBER 6-9pm
Albion Peace Centre
102 McDonald Road ALBION
This event has a covid safe plan and a language warning on some art.
This is a free event to come along to or you can buy food tickets and support Farm Animal Rescue and sit under the fairy lights:
Adults $25
Kids $10 (up to parents, but language warning on some art pieces that children will see)
Price Includes dinner, drink & dessert
Veef Iso Burgers with the lot/ cornettos ice creams/Drinks
Catering by #ShadowPlay TeaHouse in Fortutude Valley - proud supporters of the arts with great coffee . Covid safe practices 👍🏼
Proudly sponsored by #VeefFennFoods
Gluten free/celiac available on request (text 0412 775 678)
Gluten free is Mexican soft tacos and dessert is a brownie and vanilla ice cream. When you check in tell the door people you need a gluten free ticket ✅
Please note:
100% of ticket sales are going to Farm Animal Sanctuary- a safe haven for animals from dire circumstances. Entry is free if you just want to look.
Come along to Brisbane's Isolation art exhibition to see all the creations that has come from months of Queensland isolation restrictions.
Renata Jayne, a local Brisbane artist came up with the idea after meeting many artists waiting in lines outside art shops during the isolation months, realising many Brisbane residents were getting creative.
This exhibition is a creative display from many talented artists of many mediums, their thoughts and realisations from life throughout isolation.
It is a Spring affair, fairy lights, picnic rugs and some interesting art pieces from many talented artists who had time to stop, reflect and just be.
Music will performed on the night in the fairy lights while you picnic on rugs. Des Reid, best known for his guitar instrumentals, live looping and global fusion music.
Helen H Sharp will be on the cello sets inside 😃along with
Maetreyii Who will be singing inside 💙check her YouTube
https://youtu.be/i0Bv9ZQ2PIY
Art will be for sale. Art from beyond isolation.
We would love to see you there.
The artist bill is full.
Contact Renata at rj@renatajayne.com with any further enquires. 🌻
This is a covid safe event 💙
Everything to keep our guests safe are in place.
Please if you are coming make sure you personally have not been sick in the past 2 week with covid symptoms, you have not been in contact with anyone who has had a test with no results yet, and you have not been interstate.
These questions will be asked to every guest on the door and no one is allowed to enter if they answer yes to them.
We have the 1.5 metre rule signs ready, a sign in register and hand sanitizer stations.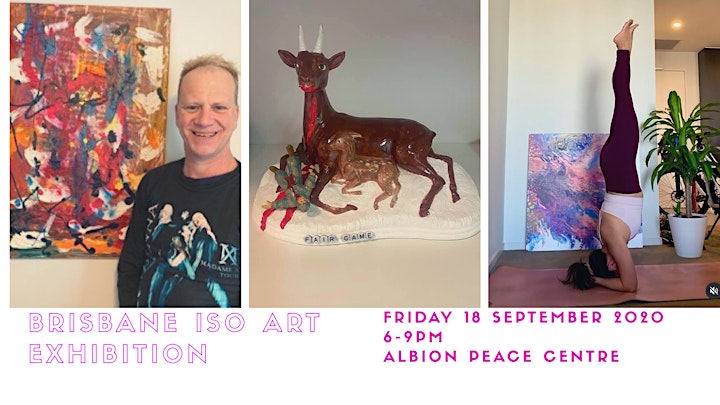 Brisbane Isolation Art Exhibition
FRIDAY 18 SEPTEMBER 2020
6pm to 9pm
Albion Peace Centre
102 McDonald road ALBION