Description
THE EDGE IS UNDERGOING A REFURB. WE ARE BEING RELOCATED TO 'THE STUDIO' - State Library QLD. Please see map at the end after you read through the below info.

Also the Marvel exhibition is now on at GOMA so public transport would be your best option to avoid parking dissapointment.
Enjoy a social outing along the Brisbane river while we practice our skills & share our knowledge. Please make sure you bring your supplies (pens and enough paper).
A small number of attendees have bought in their iPad Pro + Apple pencils using their pre-purchased Procreate app. Also laptops to vectorise their lettering with their pre-purchased design programs. Join them if this is up your ally and you already have the tools.
Do you have an instagram or facebook account? Utilise this session for creating some quirky lettering future posts or hand letter some words or quotes for flat lay's.
Everyone is welcome so don't stress if you're a beginner. This is also an opportunity to network and chat about hand lettering tools.
THIS IS NOT A WORKSHOP. This is a self-led meet-up. I supply printouts of styles & for warm-up's. If you utilise the printouts - please contribute 50c donation to assist in printing costs.
---
PEN SUPPLIERS:
Artshed (approx 20min walk from the venue) carry a great range of pens / calligraphy pens / brush pens as do Officeworks & Eckersleys.
WHAT TO BRING
> A range of pens, pencils plus notepads / paper
> Phones / iPads to take pics & document your progress.
> Optional - Hand lettering books / inspiration
WHAT NOT TO BRING
No ink bottles / Aquash & watercolours are ok - we don't want to leave a mess at this venue.
Don't forget to follow our wonderul venue host & avid supporter The Edge SLQ on INSTAGRAM or FACEBOOK - its a great way to keep informed about their amazing workshops!

---

FAQs
If unfortunately you can't make it > Please log into the Eventbrite website, go to the Tickets page to locate your order. Click your order to view order details, then select "Cancel Order" so people on the waitlist can attend.
What are my transport/parking options getting to the event?
Parking: Paid parking available under State Library of Qld.
Bus: Cultural Centre Busway Station in Melbourne St.
Train: South Brisbane Station, cnr Melbourne St & Grey St.
Ferry: South Bank 1 CityCat terminal.
Please see map reference number 10 highlighted in yellow.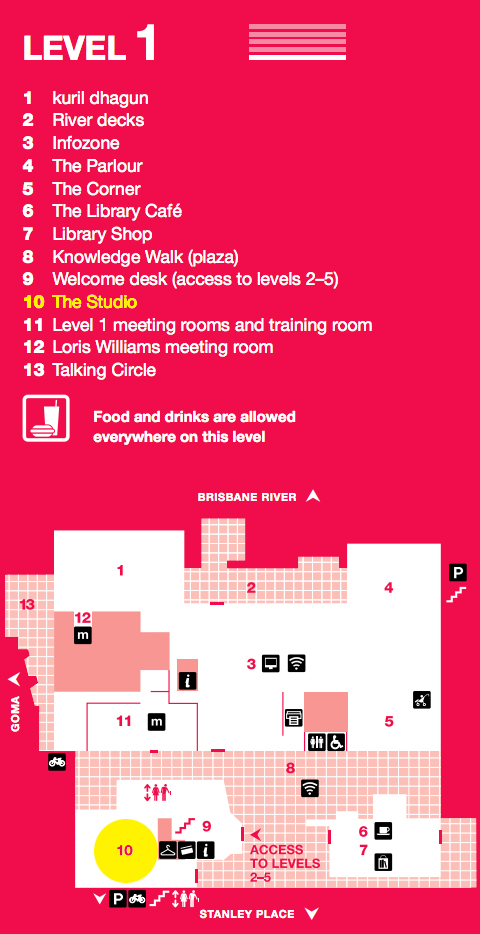 The Library Cafe jus across from us offers barista made coffee, hot chocolate, a selection of teas, cold drinks and snacks. Please help the planet & bring along a re-usable travel cup if you have one! You are permitted to bring food into 'The Studio'.