Description
2019 FINAL PROGRAM is ready! SEE LINK BELOW under Program.
Welcome to the 6th Brisbane Cancer Conference. With the establishment of the Brisbane Diamantina Health Partners as an NHMRC Advanced Health Research and Translation Centre, this meeting is an opportunity to draw together cancer researchers in Brisbane and Queensland to advance collaborative efforts in cancer research. The meeting comprises plenary lectures and workshops on recent scientific, technological, nursing and medical advances in the diagnosis and treatment of malignant disease.
VENUE LOCATION
The 2019 Brisbane Cancer Conference will be held at the Brisbane Convention and Conference Centre (BCEC) in the iconic South Bank Precinct. BCEC Venue and Parking Information.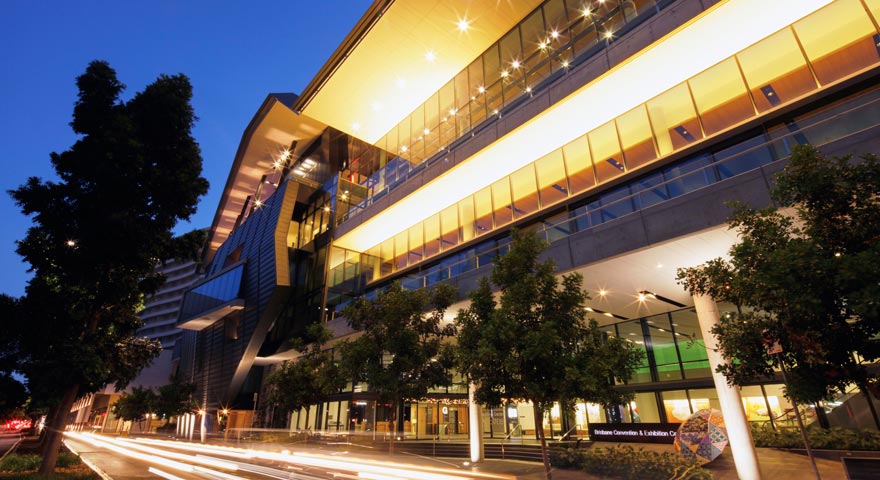 PROGRAM INFORMATION
Thursday 28 November
On Thursday 28 November the meeting will start with Breast Cancer, Prostate Cancer, Survivorship, and Immunotherapy meetings, amongst others, running from 8am – 12pm. There will be satellite symposia at lunch-time followed by plenary lectures from 2pm – 4pm and subsequently workshops running from 4:30pm – 6:30pm.
A symposium dinner will be held the evening of Thursday 28 November offering the opportunity to socialise with colleagues particularly from other institutions in the city and from Queensland.
Friday 29 November
The all-day meeting on 29 November will include plenary lectures followed by tumor site-specific workshops in the morning and afternoon. A key session will be lectures by Queensland oncology researchers that have contributed to global advances in our understanding of the epidemiology, molecular biology and treatment of malignant disease.
PROGRAM
Additional information about the conference is on the Brisbane Cancer Conference website.
SPONSORSHIP PACKAGES
For sponsorhip opportunities: Brisbane Cancer Conference 2019 Prospectus and Invitation to Sponsor
Or email the Conference Coordinator, Diane O'Byrne
LOCAL ACCOMMODATION
Mantra South Bank -
161 Grey Street, South Bank QLD 4101
Bookings: 1300 987 603 (Australia) / Mantra Website

Quest South Brisbane - 46/50 Water Street, South Brisbane QLD 4101

Phone: +61 7 3007 8988
A discount off the current rates is given to attendees / guest speakers of a PA Research Foundation event. Book online using the link and steps below or phone and mention the PA Research Foundation or Promo Code PAH to receive the discounted rate of $133 to $255 with complimentary WIFI and secure parking (normally $25 per night).
Go to Quest South Brisbane website

Select the dates required

Enter Promo code: PAH

Click 'Apply Discount'

Book at your exclusive rate.
First in best dressed – once the Studios are sold out, only 1 BDR and 2 BDR will be available online.
FAQs
How can I contact the convener with any questions?
Please contact the Conference Coordinator, Diane O'Byrne.

Can I take public transport to the Brisbane Convention and Exhibition Centre (BCEC)? Where do I park at the BCEC?
More information for the BCEC:
Visiting / Public Transport / Parking
What's the cancellation/refund policy?
If you can no longer attend the dinner, please inform us at least 7 days prior to the dinner. There are no refunds for cancellations made within 7 days of the dinner due to catering purposes. If you can no longer attend the conference, please inform us at least 2 days prior to the conference.
If you need to cancel your registration, please do so through Eventbrite, or contact Sandra at the PA Research Foundation / 07 3176 2359.