Description
This fantastic annual festival is a fundraising and social event for Space for Cycling Brisbane so that we can continue with our campaign. The last couple of years have been successful events that have sold out.It is a great opportunity to mix with other keen bicycle riders, so make sure you get your tickets early for an event which helps to give people on bicycles a voice in Brisbane.
This year we will be heading back to The Schonnel Theatre at UQ. So join us on Friday 29th March 2019
The event will be showing the finalists in our Short Film Competition Brisbane Bike Bites as well as the feature film:
The Bikes of Wrath,
Oklahoma to California: 2600 kms, 420 dollars, 30 days, 5 bikes, 3 cameras, 2 guitars and one of the most influential novels of the 20th century — The Bikes of Wrath is the story of adventure, human connection, and an in-depth look at inequality and disenfranchisement in today's America through the lens of John Steinbeck's seminal novel, 'The Grapes of Wrath'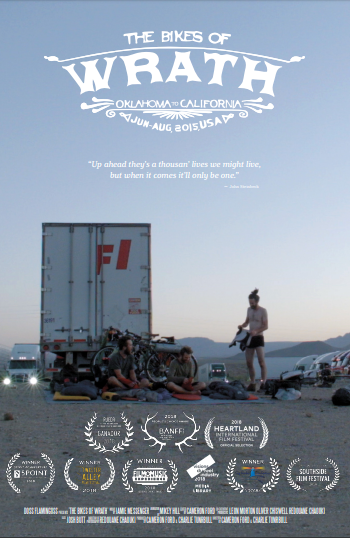 Details of how to enter your short film can be found at https://space4cyclingbne.com/brisbane-bike-bites-short.../ entries for which, close in February 2019. We will also be show casing other international short films.

This event is Space for Cycling Brisbane's major fundraising night of the year, and we look forward ro seeing you there.