Description
For all secondary school educators, parents and students.


On International Business Kids Day, join us for a full-day festival that promotes innovation and entrepreneurship in young people and celebrates our Brilliant Business Kids.
Hear from government, industry and academics who are shaping Australia's future by inspiring, supporting and educating today's students in new and exciting ways.
Whether they start their own business or not, to prepare for the future of work, the soft skills that come with an entrepreneurial mindset such as strategic problem solving, creative thinking, collaboration and resilience will prove vital.
Launched by: Mr Jonathan O'Dea, Parliamentary Secretary to the Premier and Treasurer
Hosted by: The University of Sydney Business School
MC: Mr Jamie Pride, Speaker, Author, Serial Entrepreneur and Venture Capitalist
Speakers:
Associate Professor Damien Field, The University of Sydney Head of School, Life and Environmental Science

Ms Jo Burston, Co-founder and CEO, startup.business

Dr Phil Lambert PSM, Lead curriculum expert for the OECD's Education 2030 project, Adjunct Professor The University of Sydney, Fellow of the Australian College of Educators and The Australian Council for Educational Leaders, NSW President of the Australian College of Educators (ACE), Chair of the National Council and a member of the ACE Board.

Fiona Anson, Co-founder and Director, JobGetter

Sarah Meredith, Country Director Global Citizen (Australia) and Megan Studman, Events and Promotions Manager Global Citizen (Australia)

Jack Mansfield, Innovation Development Manager, Small and Medium Business, Optus Innovation Hub

Brian Dorricott, CSIRO Lead Facilitator, ON Accelerator Lean Innovation and Startup Programs

Lali Wiratunga, National Manager, Westpac Davidson Institute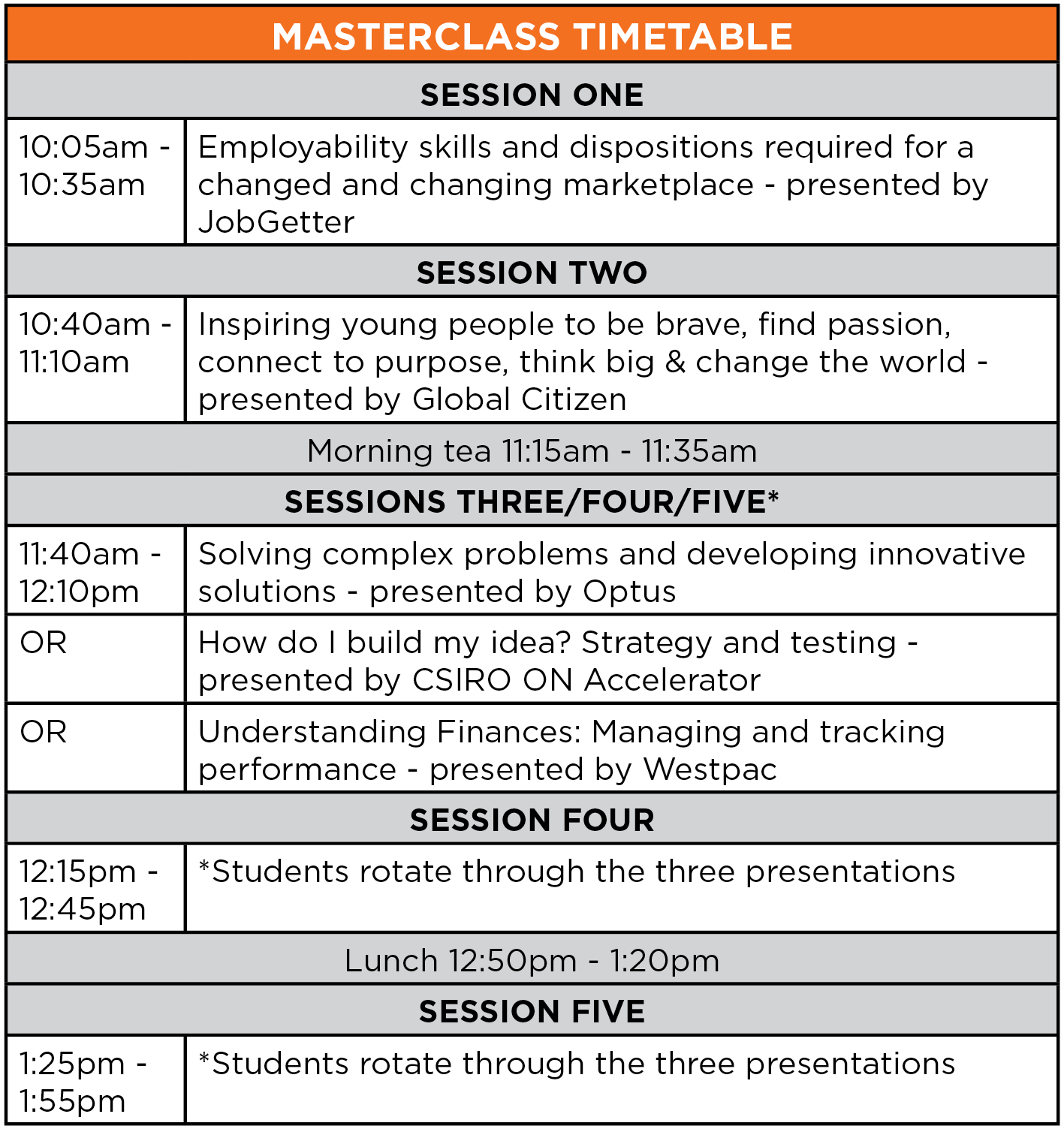 Followed by a panel discussion and Q&A with four young entrepreneurs and a national pitch competition where students from 10 schools around Australia will compete in the Brilliant Business Kids Big Ideas Competition.
All meals and refreshments provided.
With thanks to our supporters: