Join our community of women realising their highest potential, without compromising their health, their family or their feminine.
About this event
A 3hr interactive workshop for women.
I teach practical spirituality for the real world, for women who want to awaken their impact without compromising their well-being. The results?
More Energy, More Impact, Less Stress
Let's get clear:
Your struggle with burnout, stress, fatigue or lack of clarity is NOT about how busy you are…..
It is a struggle with connection.
From working in the wellness and coaching arena for the last 30 years I have witnessed and worked with 1000's women in varying degrees of burnout, pain and stress. Irrespective of the symptoms, the root cause is a lack of connection, self-worth and doubt.
Can you feel the ache for connection?
This search for connection goes hand in hand with the search for meaning and that what you do and who you are matters.
When you don't feel connected, seen, heard and valued you may:· Over-reach trying to make a difference, leading to stress, overload and exhaustion.· Feel a sense of disillusionment, so give up, numbing yourself to the lingering unease that all is not well.· Struggle to set clear boundaries around your needs and others.· Lose sight of your true heart's desire and your joy.· Seek pleasure and validation externally, ultimately leading to a sense of vague emptiness within.· Get stuck in confusion and doubt, which reinforces the status quo. Here is the TRUTH: The kind of disconnect and sense of lack many of us feel in our current society cannot be cured outside of ourselves. It's an inside job.
At this event I will show you how to awaken the power of the feminine, so that you can:· Feel more connected to yourself and others instantly.· Have more energy and impact, with less stress.· Get your mojo back!· Be seen, heard & valued the way you want personally and professionally.· Gently deal with your doubts & fears so that they don't keep sabotaging you.· Get clarity and courage for the path ahead....and so much MORE!!
Be ready to create change and walk a different path.
This is TANGIBLE, EMBODIED, PRACTICAL SPIRITUALITY, a clear path for powerful female leadership with vibrant health and radiant relationships.
Brilliance without Burnout is for women who have been in the personal and spiritual development arena for some time and are committed to creating massive transformation in their life, awakening the highest expression of themselves, without compromising their own wellbeing.
This is not for you if you don't feel ready for taking up the reins of your life and courageously facing the discomfort that comes with change.
If you are a YES I'M READY then BOOK NOW for my upcoming event on Fri Dec 3 in Bribie.
I would love to see you there,
Much Love
Rebecca
About me
I have worked in the wellness arena for over 25 years as a physio, yoga/feminine presence teacher and life coach.
I have witnessed and worked with 1000's women in varying degrees of burnout, pain and stress. Irrespective of the symptoms, the root cause is a lack of connection, self-worth and doubt.
From this vast resource and my own journey from burnout to brilliance, I have distilled powerful tools for the modern-day woman who is looking for more fulfillment in life and wanting to step up into conscious leadership, without compromising their own well-being.
RAVES
"Since attending I have been more grounded, less stressed and have been opening myself to others more willingly with less effort. I have been more productive and my capacity to cope with multiple projects has increased" K. Everson
"WOW what an awesome event with the gorgeous inspirational speaker Rebecca Thompson. Resonated with all that she shared at 'art of brilliance without burnout. Rebecca has the answers - I highly, highly recommend connecting with her. She certainly knows how to create a safe space for everyone to be their true authentic selves and drop the barriers that are holding us back" Helga Dalla
"Part way through the workshop I needed to take a sales call, I used the tools you had just shared with us and I cannot believe how different and effortless the call was...plus I got the client! Wow I am literally blown away and cannot wait to start your programme and find out what more potential there is!" Patrice Douglas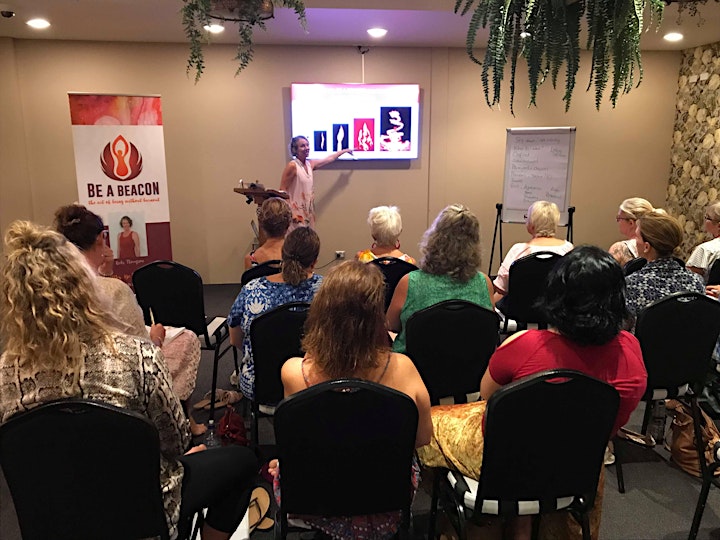 Organiser of Brilliance without Burnout Half Day event in Bribie
Beks Thompson (also known as The Beacon) is an integrated health and personal development specialist and sought after inspirational speaker.  
With 25 years under her belt as a physio, yoga and presence teacher, Beks now runs successful workshops, events, intensive retreats and programmes.
She is creator of  holistic kinetics, the art of Brilliance without Burnout and BE A BEACON  programmes and  is highly regarded as a leader in her industry. Beks also founded the Radiant Femmes Movement.
Beks has forged a unique and truly holistic way of working with conscious people who want to live with peace, passion and purpose, making a positive impact in the world, without the burnout!