We invite you to join us at this special online event with The Honourable Jillian Skinner, former NSW Minister for Health
About this event
One of the key architects of the NSW HIV Strategy – which sets NSW on the path to being one of the first jurisdictions to eliminate HIV transmission - Mrs Skinner will share with us her extensive insights into the importance of policy in improving health outcomes, the process of implementing the ambitious program, and the importance of cross-sector partnerships to making it happen.
Her lecture will be followed by a panel discussion, where she will be joined by key community, health and academic partners to reflect on the progress that has been made in NSW, and discuss what still needs to be done to achieve elimination of HIV transmission.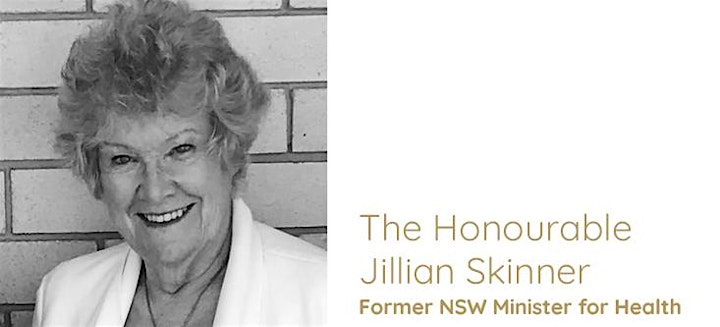 Jillian Skinner has more experience in the health field than any other politician in Australia, having spent 14 years as NSW Shadow Health Minister and six years as Minister for Health and Medical Research. She reformed the NSW public health system, increasing treatment, transparency and accountability through a devolved structure which involved establishing Local Health District Boards. She redeveloped hundreds of hospitals, boosting investment in IT, integrated community-based care, medical research and social policy programs including organ donation, pain management, improved palliative care and elimination of the transmission of HIV.
Mrs Skinner will be joined by:
Chris Bourne | Clinical advisor, BBV STI Unit, Centre for Population Health, NSW Health
Christopher Bourne is Medical Adviser, Centre for Population Health, NSW Health; Senior Staff Specialist at Sydney Sexual Health Centre; and Conjoint Associate Professor with the Kirby Institute's Sexual Health Program.
Andrew Grulich | Head, HIV Epidemiology and Prevention Program, Kirby Institute
Andrew Grulich is an internationally renowned authority in the transmission and prevention of HIV and sexually transmissible infections (STIs) and in the epidemiological relationship between immune deficiency, infection and cancer.
Karen Price | Deputy CEO, ACON
Karen Price has over 20 years' experience in the health sector in government, non-government and university sectors. Karen has experience across LGBTQ health, HIV and sexual health; cancer screening and prevention; mental health; aged care; illicit drugs and alcohol; and anti-doping in sport.
Tim Wark | A/Manager, Community Partnerships, Peer Education and Population Programs, ACON
Tim Wark has over 6 years' experience delivering HIV, sexual health, and LGBTQ health peer education programs in NSW. Tim is also Co-Chair, CALD Gay Men's Action Group and has led the development of ACON's first Multicultural Engagement Plan.
For more information, please go to the event page: https://kirby.unsw.edu.au/event/brett-tindall-memorial-lecture-2021-honourable-jillian-skinner