Breathe Neigbourhood display home will be open for viewing and small group tours, along with a series of presentations and panel discussions
About this event
Breathe is hosting a Sustainable House Day (SHD) community event, opening the display home for public viewing, conducting a series of presentations, and small group tours hosted by Damian Modra, founder of the breathe Neighbourhood.
OPEN HOUSE VIEWING
9.30am - Breathe Display Home - Open House viewing. No online registration required.
Come for a look and get a sense of what living at Breathe will feel like!
PRESENTATIONS
Registration is Required to attend the Presentations as spaces are limited.
See Presenters BIO's below
11.00am - Presentation 1 - Breathe Neighbourhood
Damian Modra presents an overview of the Breathe Display home and why 6 years of research led him to Breathe.
11.15am - Presentation 2 - Growing and Eating Native Plants
John Boland and Chris Bryant will describe what indigenous food plants they grow in their garden, plus ones growing on their block at Monarto.
11.30am - Presentation 3 - Architecture Pre-design
Andrew Pawlowski described the importance of the research and information-gathering phase of the concept design stage.
11.45am - Presentation 4 - Permaculture Principles
Chris Bryant will explain how Permaculture is a creative design process based on whole-systems thinking informed by ethics and design principles
12.00pm - Presentation 5 - Owning an electric car in remote SA
Thomas Ingram will describe his experiences in owning his first Electric Vehicle
12.15pm - Presentation 6 - UniSA and the living laboratory
John Boland discusses Living Laboratories that are real-life buildings and spaces where the real-life performance of innovative products and services can be tested. The creation of data and user stories will help accelerate the adoption of emerging products and services
12.30pm - Presentation 7 - Environmentally Sustainable Design is the new Luxury
Andrew Pawlowski discusses good practice is proving insufficient, as awareness about the increasing perils of climate change and the complexity of sustainability are raised.
12.45pm - Presentation 8 - Solar Panel Orientation
Dr Kirrilie Rowe discusses solar panel (PV) orientation and is the North still the best direction to face panels? When should I add batteries?
13.00pm - Panel Discussion and Question Time
SMALL GROUP TOURS
Damian Modra and the architects Andrew and Libby, will conduct small group tours of the Breathe Display home and present the master plan for the Breathe Neighbourhood.
Tours are available between 2pm and 4pm
Registration Required as numbers are limited to 10 per tour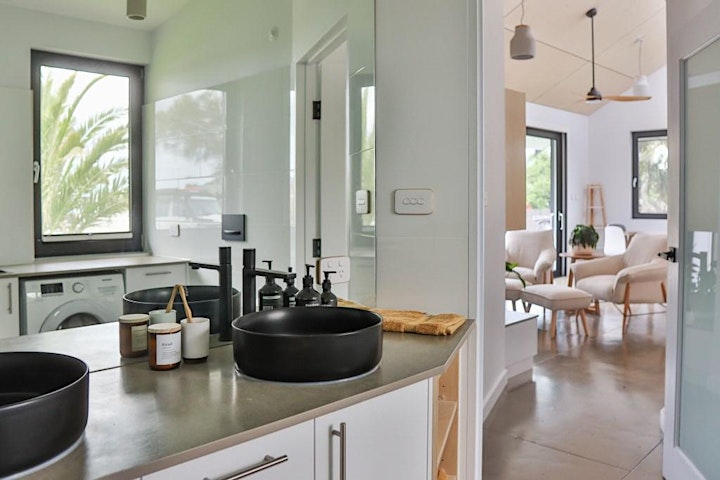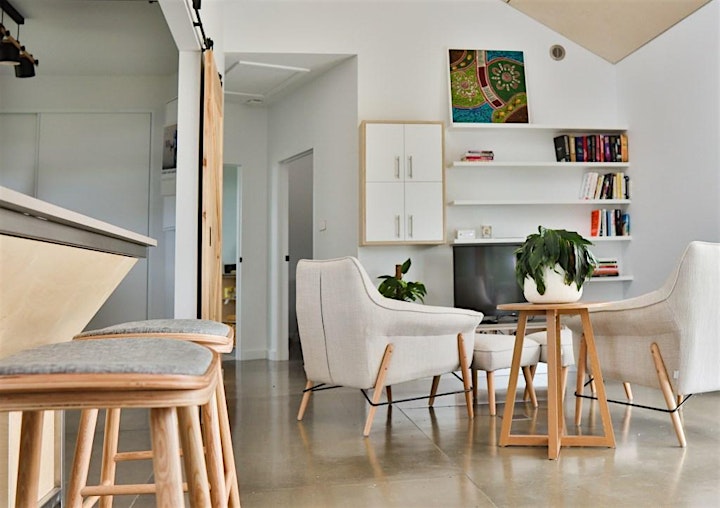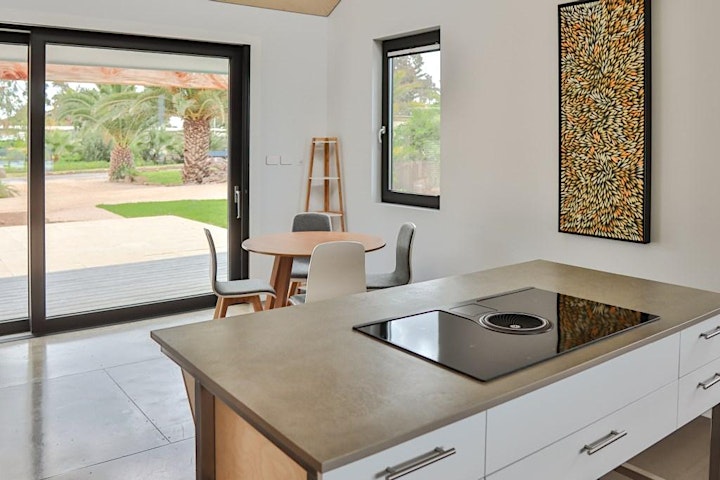 Breathe will be a 24-residence, Environmentally-Smart™ neighbourhood at Tumby Bay and through the integration of passive design strategies, Breathe will be operationally energy and carbon positive and enable a higher infiltration of renewable energy into South Australia's electricity network.
The neighbourhood utilises the following features to deliver low carbon living:
Passive solar low-energy design
High performance building materials
Highly efficient heat pump water heating
Solar photovoltaic generating renewable energy for the mini-power station
Energy storage with latest South Australian made sonnen battery system
Energy trading through Virtual Power Plant (VPP) – designed for the near future of Peer-to-Peer (P2P) trading, Electric Vehicle-to-Home (V2H) and Vehicle to-Grid (V2G)
Demand management system to balance supply and demand, and maximise the opportunity of trading Electricity with the Network Energy Market (NEM)
Helpful automated climate controls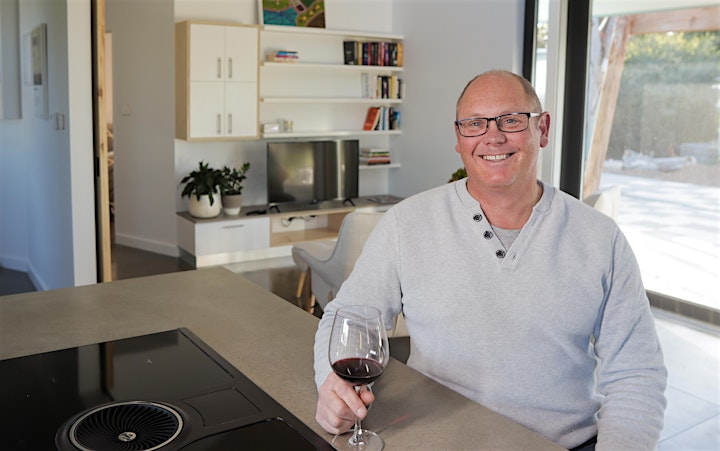 Damian Modra
In early 2014, Damian Modra began contemplating a problem. What he addressed was a series of questions that had presented themselves, all entangled in one bigger question: What does the future hold?
This larger question was comprised of individual component parts, including:
• How could he and his wife Kristy, with their two young daughters, continue to live in Tumby Bay, yet fulfil their many lifestyle and commercial ambitions, in balance?
• How could Damian's parents, Norm and Jenny, fully enjoy a financially-secure, more care-free and relaxed life, in their 70's and beyond?
• How could his love of Tumby Bay – and his belief in the unique wonder and beauty of the place – be shared with like-minded people, for the betterment of all involved?
• How could his own sense of care for the environment reach more people – for their benefit and the environment?
Those deliberations led to the creation of Breathe.
Breathe is an entirely new – a complete re-invention of – an Environemntlaly-Smart residential neighbourhood. A new way for people to think about life.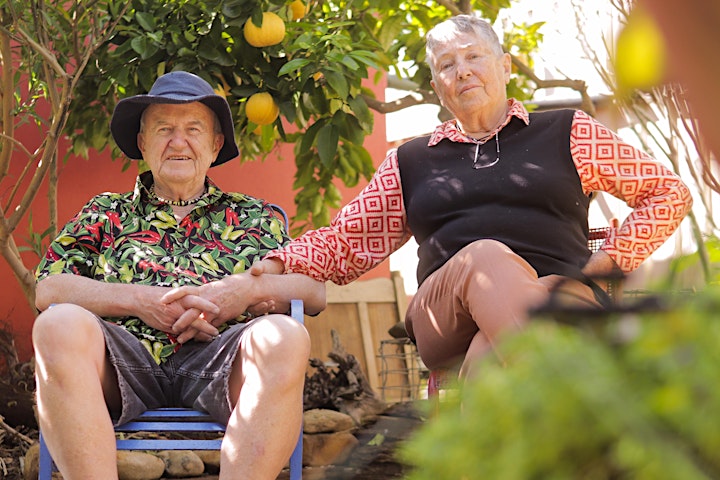 John Boland and Chris Bryan
John Boland is Professor of Environmental Mathematics at University of South Australia, specialising in renewable energy, water resource management, waste reduction and energy efficient housing.
Chris Bryant is a Permaculture designer and educator.
They grow a third of their food on a suburban block where they have at least 70 fruit and nut trees, including many indigenous plant species. They are passionate about cooking with their indigenous and non-indigenous produce. They also manage a private conservation park at Monarto, where they care for a number of rare and endangered plant species.
They will describe what indigenous food plants they grow in their garden, plus ones growing on their block at Monarto. Also, there will be some interesting recipes using indigenous food plants.
Andrew Pawlowski
Andrew Pawlowski, co-principal of Salt Studio, has practiced their distinctive brand of architecture from the beachside suburb of Glenelg in South Australia since 1992, with a commitment to innovation, sensitivity, sustainability and fun.
Each project is approached as a new beginning; the provision of built form that fulfills the required outcomes through a fresh and stimulating, often unexpected, but always satisfying process.
Responsibility for our environment informs all of our work; each and every project is approached with a view to maximising passive energy principals, and incorporating proven energy and water saving systems.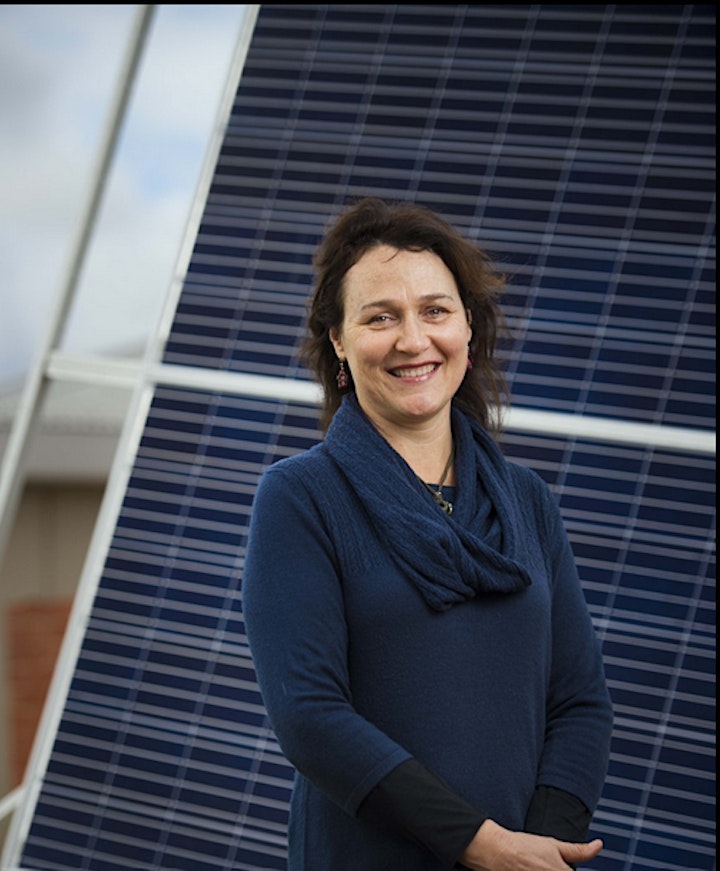 Dr Kirrilie Rowe
Kirrilie has recently completed a PhD in renewable energy for residential precincts. Her research seeks to give communities a way forward when trying to maximise use of their own renewable energy.
Her work focuses on residential solar panels and batteries. However, her interest extends beyond electricity, to encompass all ideas which create a socially and environmentally sustainable place to live. To this end, she undertook an internship with TREENET Inc, looking at the financial benefit of services provided by urban trees, as she understands the integration of greenspace in the urban environment is fundamental to a healthy community.
Kirrilie's working life has also included work as a hydrogeologist and later involvement with a solar installation company. Her aim is to combine all she has learnt to do further research into the potential benefits of alternative urban forms. She has therefore been keen to have and support Breathe Neighbourhood at Tumby Bay as an industry partner, providing information on maximising renewable energy use.
To understand more about Kirrilie's work, you can access this talk, given at a TEDx event independently organized by University of South Australia www.youtube.com/watch?v=QwLT7KVvyvA
Her recent talk on the financial value of urban trees will be available at https://treenet.org/ from December 2021.