Description
Breathable Sydney Hack: the 24-hour challenge for a cleaner air in Sydney
There is no local air pollution monitoring in Sydney. We know the general (ambient) air quality is good, but we have no idea what it is like in the inner city, near construction sites, or near busy roads. We have no idea what air quality is like where it affects the most people.
Join us in trying out the latest tech, speaking to experts in the field, and trying to hack a solution in 24-hours. Teams will be created on the day, so you can register with colleagues or friends, or come and be introduced to a group.
The winner will be given a three-month incubation with EnergyLab, with the possibility of seed-funding to turn your idea into a viable business.
---
How it works
Inspiration: We'll kick off with a couple talks and present the hackathon challenges.

Team forming: You can register as a team if you want, but if you're missing a team member or registering as an individual then we'll help you find teammates.

Ideation: Once teams are formed the brainstorming begins! Come up with a bunch of ideas and pick the one you want to work on for the rest of the hackathon.

Developing: We'll leave lots of time for you to develop your ideas, build a prototype if possible, and prepare your presentation.

Presenting: Each team will present to a panel of judges, who will pick the winning teams.

Celebrating: Unwind and celebrate what you've achieved in less than 24hrs over a drink and something to eat.
---




Challenges
1) How can we collect and collate air quality at a human scale?
Consider:
What are the available 'smart city' technologies?

How is the data managed and aggregated?

Who would potentially buy this data, why?

What communities can you most benefit from this technology?

How can we compare this data against what is currently provided?

How rigorous are the new technologies?

Who collects it, and what motivates them to do so?

How does the data collected affect daily decision-making?
2) How can we rapidly deploy the technology in a useful and dispersed way?
Consider:
Who would have most cause concern about air quality? Where do they live? What do they do?

Do they pay for the technology? Or are they paid to use the technology?

What kind of decision-makers would pay to see and use this data?

How would an air pollution data set interact with other city indicators - think water, heat, transport mapping etc.

How might you use different networks and groups of people to disseminate the technology to people who would most benefit from it?
For a head start, check out: https://www.youtube.com/watch?v=Fs73rh-vNPY
During the event you'll get to hear from:
Lord Mayor Clover Moore

Deputy Lord Mayor Jess Miller

Fabienne Reisen, Senior Research Scientist, CSIRO

Ana Porta Cubas, Knowledge and Translation broker, Centre for Air Pollution, Energy and Health Research

Andrew Tovey, Senior Research Consultant, UTS Institute for Sustainable Futures

Hugh Forehead, Research Scientist, SMART Infrastructure Facility, University of Wollongong

Murray Bell, Founder of Semi-Permanent

Eamon Waterford, Acting CEO of the Committee for Sydney

Susan Farr, Executive GM, RPS Asia Pacific

Tim Williams, Australiasian Cities Leader, Arup

Liam Timms, Fund Manager International Towers

Siobhan Toohill, Group Head of Sustainability, Westpac

Alexia Lidas, Managing Director, Metis Advisory and CPF Design Futures Council

David Holden, Associate Director, Kinesis

Ben Moir, Co-Founder, Snepo Labs

Johanna Pitman Program Director, CITYCONNECT

Tyler Knowlton, Director of Communications, PlumeLabs

Richard Broome, Health NSW
---
Key groups to consider for both challenges
People who would wear and read the data in real time:
Runners, cyclists, commuters, School children/parents, P&C, health sector, GPs, site managers, emergency response workers, firefighters.
People who would interpret the data en masse:
Planners, architects, transport agencies, builders, home renovators, town planners, developers, local government, state government, insurance companies, companies that already use data and infographics as planning tools.
---
Prizes
3 months hotdesking membership at EnergyLab
More prizes will be announced soon
---
Details
3 August (5:30 PM - 9:30 PM) Hackathon start: presentation of the challenges, team formation, dinner and start hacking!
4 August (8 AM - 5PM) Hackathon with access to mentors, breakfast and lunch are included
4 August (5 PM - 7PM) Pitch your solution and celebrate with networking drinks!
You'll need to bring a laptop and fresh ideas. We'll handle all meals and snacks.
Who should participate? Students, entrepreneurs, designers, engineers, hackers, professionals, and anyone else interested in energy startups. You can register as an individual or as a team.
---
Frequently asks questions (FAQs)
How many people are allowed in a team?
Teams must contain 2, 3 or 4 people. Teams with 5 or more people in them must break into two or more smaller teams. Individuals can't compete but we will help you find at least one other person to form a team with (see below).
I already have teammates, can I just participate with them?
Yes! As long as you have at least one other person on your team (and your team doesn't have more than four people in it).
I don't know anyone else attending, how will I form a team?
We have your back! We have built in a number of ways for you to meet other people in the same boat and will help you form a team with people you want to spend Saturday with. During the presentations, everyone will introduce themselves so you know who else is looking for team members. During dinner, the organiser will help match individuals together and make sure no one is left out. If you have any questions or concerns please send an email to sarah@energylab.org.au.
Can I still participate if I don't have an idea?
You can! We'll help your team find something interesting to work on.
Do I own my idea?
All the IP is and stays yours!
Is the Hackathon going on during the whole night?
We'll be closing the doors at 21:30 on Friday night and re-open them at 8:00 on the following day to make sure you get some rest!
I have another question, who can I talk to?
Send Sarah an email to sarah@energylab.org.au
---
Our sponsor and partners
This event is made possible thanks to our sponsor Climate KIC Australia.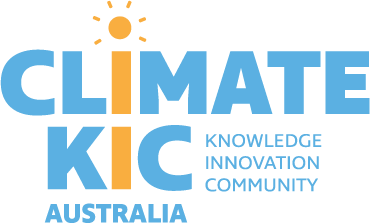 We'd also like to thank our partner Hackathon Australia for their support

---
Volunteers needed
If you don't want to participate, but still want to be involved, we'd love some people to help out on the day.
We'll need volunteers for the 3/08 and 4/08.
Please email Sarah at sarah@energylab.org.au if you're interested.
Organiser of Breathable Sydney Hack