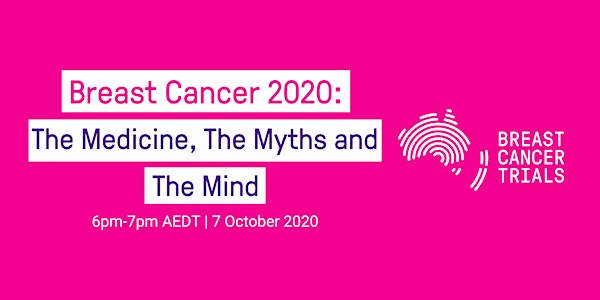 Breast Cancer 2020: The Medicine, The Myths and The Mind
Join Breast Cancer Trials and some of the country's top breast cancer experts for a virtual Q&A
About this event
Join Breast Cancer Trials (BCT) and some of the country's top breast cancer experts for a virtual Q&A to discuss the latest breast cancer research, the myths surrounding breast cancer, the likelihood of breast cancer recurrence and the psychological impact of breast cancer.
The panel includes Professor Fran Boyle AM, Associate Professor Prue Francis, Associate Professor Lesley Stafford and Dr Nick Zdenkowski who will present and then answer associated questions from the online audience.
Breast Cancer Trials has been conducting breast cancer clinical trials research for more than 40 years, in a unique collaboration between researchers, clinical trial participants and supporters. The results of this research has improved the treatment of breast cancer, led to changes in the way breast cancer is managed and has saved millions of lives through international research collaboration.
The research program brings together almost 800 researchers in 107 institutions throughout Australia and New Zealand. And more than 16,000 women have participated in BCT clinical trials.
This year has been an incredibly tough one, particularly for those who are dealing with cancer, and this session hopes to offer a safe and useful resource for people, helping to answer their breast cancer questions.
To take part in the Q&A, please register above. You will then be sent details about the live Q&A webinar.
To submit a question to the panelists, please enter it during the registration process.
To find out more about Breast Cancer Trials or ways that you can support our research, visit our website at www.breastcancertrials.org.au.
Topics that will be discussed during the Q&A are:
Breast Cancer Trials: Research Update – Associate Professor Prue Francis
Breast Cancer Myths – Dr Nicholas Zdenkowski
Mental Health and Breast Cancer – Associate Professor Lesley Stafford
Breast Cancer Recurrence – Professor Fran Boyle AM