How can we best prepare students today for the jobs of the future?
About this event
Join us for a free chat about bringing industry insights into the classroom.
Three startup founders from the Future Minds Accelerator, and one industry expert will share their points of view on and discuss:
How we can best equip today's students with the skills for tomorrow's workforce
The rise of micro-credentials
Employability, new labour force requirements, etc.
New policy / funding allocations, and how that sets mandate for post-school tertiary / VET / WIL pathways
Our Panel Experts
Madeleine Grummet and Edwina Kolomanski CEO & Co-Founders of FutureAmp
FutureAmp is a best practice online career education platform that equips and upskills young people for the future of work. Their proprietary platform features optimised UX/UI integrations, interactive future skills and career education e-resources, industry-backed virtual work experience and a global and local industry mentor video library.
Scott Millar, CEO & Founder of BOP Industries
Bop Industries is a technology and education company on a mission to inspire the next generation of Digital Creators. By helping bring entrepreneurship, innovation and STEAM into the classroom, the BOP team are working to help inspire and empower Generation Z as they prepare for the ever changing future of work.
Petra Trinke, Head of Learning Area of Hampton Senior High School
Petra Trinke is a passionate Computer Science, STEM and Digital Technologies educator. She holds the position of Head of Technologies at Hampton Senior High School in Perth, WA. Petra is Vice President of the Educational Computing Association of WA. Petra was recently awarded a Women In Tech WA (WiTWA) Teach [+] 20 Award and she is a Microsoft Innovation Education Expert and Adobe Education Leader.
About the Future Minds Accelerator
The Future Minds Accelerator, a partnership between Rio Tinto, BlueChilli and Amazon Web Services (AWS), has been designed to support and inspire startups and the education ecosystem to tackle a 21st century challenge: How can we prepare Australia's young people to thrive in the jobs of the future?
Facilitated by BlueChilli, this panel discussion will explore education (K-12) and student health, innovation and emerging technology.
Suitable for teacher professional development (PD / NESA)
Experience new techniques and frameworks you can apply in class, network with progressive educators and people from government and business, and learn about emerging technologies and innovation processes.
Come with an open mind and prepared to contribute.
Tickets are free. Ticket numbers are limited.
Schedule
7:30 – 7:45 :: Introductions
7:45 – 8:15 :: Panel discussion (10 min per topic)
8:15 – 8:30 :: Q&A
8:30 – 9:00 :: Networking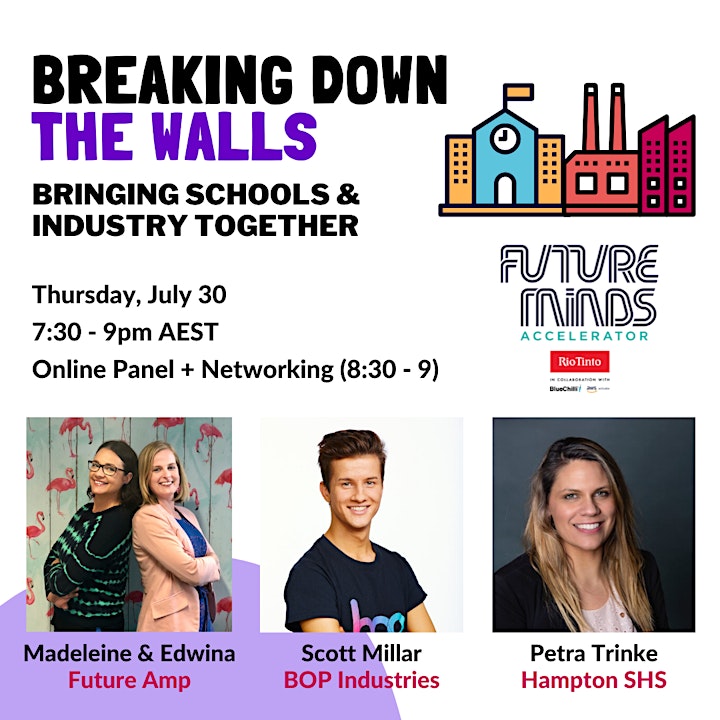 Organiser of Breaking down the walls :: Bringing schools and industry together