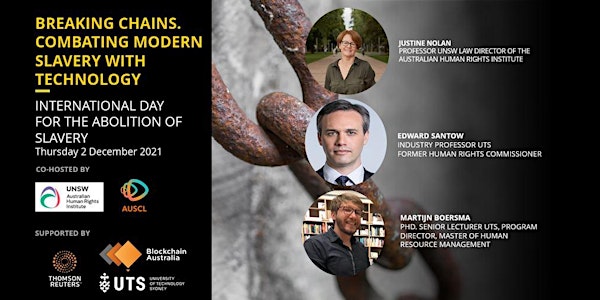 Breaking Chains - Combating Modern Slavery with Technology
This International Day for the Abolition of Slavery our experts will explore modern slavery at the intersection of law,technology & humanity
About this event
The International Day for the Abolition of Slavery
This day, 2 December, marks the date of the adoption, by the General Assembly of the United Nations Convention for the Suppression of the Traffic in Persons, including the eradication of modern slavery, including child labour, trafficking, slavery at sea and recruitment of children for use in armed conflict.
According to the International Labour Organization (ILO), there are currently an estimated 25 million forced labour victims worldwide, creating US$ 150 billion in illegal profits in the private economy each year.
To mark the International Day for Abolition of Slavery we ask: Can we break the chains of modern slavery and the scourge on supply chains? Could blockchain and other technology be part of the solution?
Co-hosted by the Australian Human Rights Institute and AUSCL Australian Society for Computers and Law.
Meet the speaker panel
Justine Nolan is a Professor at UNSW Law and the Director of the Australian Human Rights Institute. She has published widely on business and human rights and her latest book, Addressing Modern Slavery (2019) (with M. Boersma) examines how consumers, business and government are both part of the problem and the solution in curbing modern slavery in global supply chains. She advises companies, NGOs and governments on these issues and is a member of the Australian Government's Expert Advisory Body on Modern Slavery. Justine has practiced as a private sector and international human rights lawyer. She is a member of the Editorial Board of the Business and Human Rights Journal and is a Visiting Scholar at NYU Stern Center for Business and Human Rights.
Edward Santow is Industry Professor - Responsible Technology at the University of Technology Sydney (UTS). Ed leads UTS' new initiative on building Australia's capability on ethical artificial intelligence. Ed's areas of expertise include human rights, technology and regulation, public law and discrimination law. From 2016-2021, Ed was Australia's Human Rights Commissioner, where he led the Commission's work on AI and new technology; refugees and migration; human rights issues affecting LGBTI people; national security; and implementing the Optional Protocol to the Convention Against Torture (OPCAT). Ed is a Fellow of the Australian Academy of Law, a Visiting Professorial Fellow at the University of New South Wales (UNSW), a member of the World Economic Forum's Global Future Council on Human Rights and the Fourth Industrial Revolution, and serves on a number of boards and committees. In 2009, Ed was presented with an Australian Leadership Award, and in 2017, he was recognised as a Young Global Leader by the World Economic Forum. Ed previously served as chief executive of the Public Interest Advocacy Centre and was a Senior Lecturer at UNSW Law School, a research director at the Gilbert + Tobin Centre of Public Law and a solicitor in private practice. Click here for Ed's UTS Profile
Martijn Boersma (PhD) is a senior lecturer in the Management Department at the Faculty of Business, University of Technology Business School and Program Director, Master of Human Resource Management. His research focuses on the intersection of business and society, and includes areas such as labour standards and employment relations in supply chains; corporate governance and social responsibility; and modern slavery. Access Martijn's UTS profile for a list of his published works, latest book and recent papers, including: "Multi-Stakeholder Frameworks for Rectification of Non-Compliance in Cleaning Supply Chains: The Case of the Cleaning Accountability Framework" and "Can Blockchain Help Resolve Modern Slavery in Supply Chains?"
Who should attend?
All welcome. Modern slavery affects us all. Our speakers will provide business, policy, legal and human rights perspectives, including exploration of modern technologies, including blockchain. Business leaders, human rights activists, technologists, legal practitioners, academics and policy makers are encouraged to attend and participate in the open Q&A.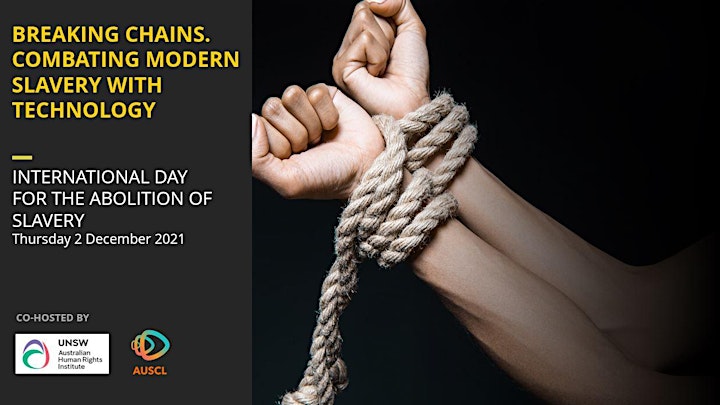 Organiser of Breaking Chains - Combating Modern Slavery with Technology
Inspire. Connect. Reimagine
The Australian Society for Computers and Law (AUSCL) is one of Australia's leading interdisciplinary think-tanks on issues arising at the intersection of technology, law and society. It is a registered Australian non-profit charity with a charter to advance education and advocacy. Our mission is to: Inspire new thinking and informed discourse, Connect professionals across disciplines and together Reimagine the future.