Event Information
Refund policy
Contact the organiser to request a refund.
Eventbrite's fee is nonrefundable.
A 6-week course designed to support you in breaking the cycle of drama at work and in life and make the shift towards personal empowerment!
About this event
The 3 Vital Questions®: Applying the Power of TED*™ (*The Empowerment Dynamic) to Work and Life is a 6-week eLearning course of 8-Units combined and supported with 5 facilitated live online discussions to deepen the learning.
It is easy to follow and creates powerful new insights.
This course is suitable for leaders and teams or for individuals. Each scheduled course has capacity for a maximum of 10 seats.
It is designed for People who are Choosing to Lead in Life and at Work as the Creators they are!
The popularity of this facilitated eLearning course has grown rapidly in the last few years.
Here are just a few benefits:
Teams and individuals can move through the eLearning at their own pace and learning style.
People from different time zones and locations can learn together.
Participants experience deep learning at their convenience and less cost.
A 30-page interactive workbook allows each person to have their own personal and confidential learning experience.
Learning takes place over time so that the insights and new habits are more sustainable; and
Combining the 3VQ® eLearning course with live facilitated conversations with a professionally trained coach and certified facilitator dramatically increases engagement and learning.
The combination of eLearning and the facilitated conversations has lasting impact!
Hello, I'm Susan Dunlop, professionally trained coach and certified facilitator with The Center for The Empowerment Dynamic (*TED)™.
What led me to delivering this important work?
16 years ago I was introduced to Stephen Karpman's Drama Triangle roles of Victim, Persecutor and Rescuer (developed in 1960).
At that time I was busy growing my company, and I couldn't see easily enough what I could do with what I learnt about Karpman's Drama Triangle. All the work available was focused around the Drama Triangle itself, not what the alternative must be.
Fast-forward 10 years, I sold RNS Nursing via acquisition and exited stage right for me to travel the world! On becoming a member of the International Coaching Federation in 2017, I attended a webinar that David Emerald Womeldorff and Donna Zajonc presented. To my surprise it wasn't a TED talk, it was about David's TED*™ (*The Empowerment Dynamic), that just happened to be the antidote to the Dreaded Drama Triangle!
David Emerald authored two books: The Power of TED*™ (*The Empowerment Dynamic) and The 3 Vital Questions®: Transforming Workplace Drama. Both easy, plain-English and relatable reads!
In 2021 I trained with and joined a small, international community of 3VQ® trainers, delivering facilitated workshops and online courses, the content of which has been tried and tested and proven to deliver a healthy ROI, with hundreds of leaders and teams across the USA. The work has been skilfully, carefully and purposefully created by the originators, founders and owners of The Center for The Empowerment Dynamic, David and Donna.
I was grateful to have been selected to join the cohort of trainers for my vision, willingness to learn and lead, together with my former 17 years' experience as founder and CEO of RNS Nursing, a small-turned-large healthcare organisation; my vision for breaking the cycle of drama in our society, workplaces and homes; plus my training and experience as a personal and professional leadership coach.
What you'll learn:
You will identify, and then learn and practice how to break the Cycle of Drama, Anxiety and Reaction to Problems.
Using the TED*™ and 3VQ® frameworks, you will begin to make the empowering shift towards life and work that is Outcomes-Focused, Passion-Fuelled and is about taking Creative Action.
As your host and coordinator of the facilitated program, it is my intention to make your learning experience easy and enjoyable as well as transformational. Our facilitated conversations will be comfortable and thoughtful. Even with David and Donna in the sessions that I've attended, they make it clear that this work is about lifelong learning, for myself included. It's simple, but not always easy, it takes practice!
I am excited to share this combined package of eLearning and facilitated conversations with you.
Thank you for your interest.
Susan Dunlop
How It Will Work:
For the 6-week period you will receive 6 x Zoom invitations for the facilitated group discussions as per the weekly dates that we agree upon to suit you.
NOTE: Session dates and start-end times are an indication only for the purpose of publishing this course on EventBrite. Whatever time we choose for your program, the first session will be a 1-hour introduction and Q&A session.
Subsequent sessions commencing weekly, will be scheduled as agreed with each individual, or group or team. For private 1-to-1 packages they will be 60 minute sessions; and for groups they will all be 90 minute sessions across 5 weeks.
At the same time as receiving those Zoom invitations, you will also receive the eLearning platform login for your personal seat. The eLearning Units of study (very short and easy to work through) are to be completed by each attendee between the scheduled Zoom discussions, and are accessible 24-hours a day.
LOGISTICS & AGREEMENT:
The first introductory session will start at the time agreed and end at the designated time. By registering for this event, you agree to be on your computer with video for the duration of the training except during breaks (if any) and when you need to step away.
Each participant must login to the Zoom events and to their personally designated eLearning seat individually. The Zoom events will possibly include breakout sessions so each attendee must be in front of their own computer, not as a team, in front of one camera.
The course is designed to be suited to all learning styles:
Colourful images, short videos and interactive as a group.
Up-to-date tools to suit the world we live in today.
Facilitation by a professionally trained coach and certified trainer, setting a safe, non-judgmental, unbiased, space with ample time for group discussion.
You will be provided with your personal Coaching Dashboard account. There you will gain access to the session recordings within 24 hours following each session, write journal notes, be given worksheets to check-in on the learnings, and you are welcomed to communicate with me there, as your host and coordinator for the duration of the 6-week course.
You will also receive the value-added benefit of having access to your personal eLearning seat for 1-year to go back and review the content at your leisure.
Inside that eLearning platform you will have available your Personal Interactive Participant Workbook to complete and use for exercises and homework.
You attend the scheduled Unit(s) in the Timetable; complete a reflective exercise and homework and come to our next scheduled facilitated group discussions to increase your profound insights and learn together.
Desired Outcomes for the 3VQ® Facilitated eLearning Course:
Understand and apply the two mindsets: how one creates drama and the other creates empowerment.
Practical tools to recognise personal triggers in everyday dramas and how to shift into more empowering ways of relating to family, partners, co-workers, yourselves and others.
How to relate more effectively with colleagues and family when drama patterns show up.
Increased self-awareness and engagement by understanding how you think and relate to others.
The three empowering roles of Creator, Challenger and Coach and how each role enables leaders and team members to recover from reactive behaviours more quickly so they can coach and develop staff.
How renewed courage to make personal changes that help us show up at work with less stress and more ease will increase both effectiveness and fulfilment.
To use 3VQ® for inspired and creative decisions, even in the face of drama and uncertainty.
To ignite your passion for the 8 areas of true wealth in your life and in what you do.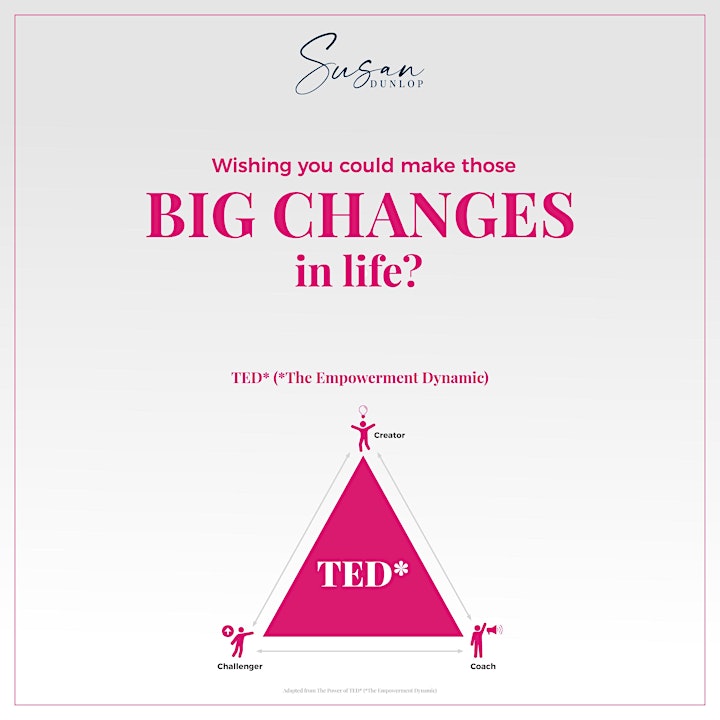 Location
Refund policy
Contact the organiser to request a refund.
Eventbrite's fee is nonrefundable.