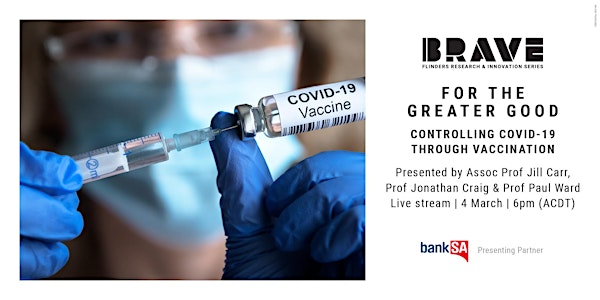 Brave | For the greater good: Controlling COVID-19 through vaccination
For the greater good: Controlling COVID-19 through vaccination
About this event
Click here to watch at 6:00pm (ACDT).
Australia is taking its first steps towards mass COVID-19 vaccinations. The next few months will see the rollout of vaccines from various suppliers as they are approved by the Therapeutic Goods Administration (TGA). But with such a massive program, there are multiple questions that follow, such as:
How do they work?
Do they work equally for everyone?
Which vaccines?
How do we go about vaccinating our population?
Are they safe?
We're about to experience a seismic shift in our fight against Covid-19
Join Flinders' Researchers Professor Jonathan Craig, Associate Professor Jill Carr and Professor Paul Ward as they discuss the behaviour of the COVID-19 virus, findings from the vaccine trials, the compliance issues and logistics of vaccinating our population, and how we understand vaccine hesitancy.
Followed by a panel discussion and online audience Q&A, this is an event not to be missed.
Speakers:
Professor Jonathan Craig, clinical epidemiologist and the Vice President and Executive Dean of the College of Medicine & Public Health.
Associate Professor Jill Carr, microbiologist and specialist in infectious diseases and virus research.
Social scientist, Professor Paul Ward, with a background in medical sociology, geography and health services research.
Through our education and research programs, we encourage new ways of thinking and support experimentation and daring.
Our mission is to contribute on an international scale through 'changing lives and changing the world'. We invite you to share and collaborate with us on our BRAVE journey.
We will impart our knowledge and new discoveries, elevate the discussion and inspire debate; all with the view to facilitate the betterment of our society.
Be BRAVE, be bold, be at Flinders.