Description
Do you recall the "BP Deepwater Horizon"? It was a devastating oil spill that occurred in the Gulf of Mexico and was the largest marine oil spill in the history of the petroleum industry.
Thousands of birds, mammals, fish, and sea turtles were soaked with leaked oil, many studies leading to grim outcomes for many of the species. What would we do if we saw an oil spill on one of our pristine coastlines?
A solution to this wicked problem has been recently invented by Dr Justin Chalker. Justin has developed a sponge-like material that soaks up crude oil and diesel spills using an absorbent rubber made from waste cooking oil and sulphur, itself a byproduct of the petroleum industry.
Furthermore, it can capture the largest sources of mercury emissions produced here in Australia, and across the globe.
Come and listen to Justin
discuss his interest in taking waste and making it into new and useful polymers, where he will present the three applications using this polymer to benefit the environment and human well-being (including unpublished work):
oil spill remediation
mercury remediation and
sustainable subsistence gold mining.
Through its education and research programs, Flinders encourages new ways of thinking, and supports experimentation and daring, with the mission to contribute on an international scale through 'changing lives and changing the world'. So we invite you to share and collaborate with us on our BRAVE journey. We will impart our knowledge and new discoveries, elevate discussion and inspire debate; all with the view to facilitate the betterment of our society.
Be BRAVE, be bold, be at Flinders.
--
Tuesday, 18 September 2018
5.30pm-7.00pm
Flinders University Victoria Square, Level 1 Room 1
182 Victoria Square, Adelaide, SA
5.30pm | Pre-lecture refreshments
6.00pm | Lecture
---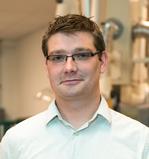 Dr Justin Chalker
Justin M. Chalker earned a B.S. in Chemistry and a B.A. in the History and Philosophy of Science at The University of Pittsburgh in 2006. At Pittsburgh, he contributed to the total synthesis of several natural products under the direction of Theodore Cohen. Supported by a Rhodes Scholarship and a National Science Foundation Graduate Research Fellowship, Justin then completed his D.Phil. at the University of Oxford under the supervision of Benjamin Davis where he developed several tools for the site-selective modification of proteins.
In 2012, Justin started his independent career as an assistant professor at The University of Tulsa where he established a diverse research program in organic chemistry, biochemistry and material science.
In 2015, Justin moved to Flinders University as a Lecturer in Synthetic Chemistry and recipient of an ARC Discovery Early Career Researcher Award. In 2016, Justin was named Tall Poppy of the Year for South Australia in recognition of his achievements in research, teaching and science communication. In 2017, Justin was promoted to Senior Lecturer. The following year, he was presented with the
STEM Educator of the Year – Tertiary Teaching award.