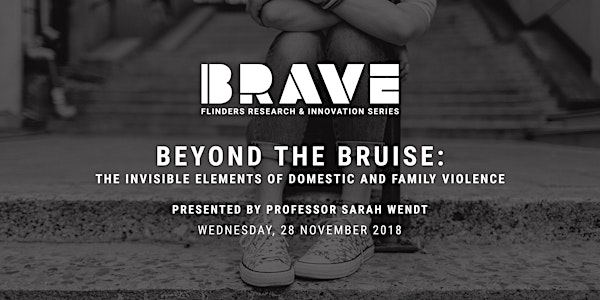 BRAVE Flinders Research & Innovation Series | Beyond the Bruise: the invisi...
Location
Flinders University Victoria Square, Level 1 Room 1
182 Victoria Square
Adelaide, SA 5000
Australia
Description
Domestic and family violence is more than a headline; the actual work involved in responding to this complex issue is largely invisible and unknown.
How can we best support the sector and workforce to tackle domestic and family violence to ensure the best outcomes for families as well as maintain a sustainable workforce?
Professor Sarah Wendt will explore domestic and family violence providing participants with:
A brief overview of Australian statistics
The long-term consequences that largely remain hidden from view
Details of how domestic and family violence intersects with child protection concerns
Insights into the unique experiences of different groups of women (Aboriginal, disability, same-sex, immigrant, rural, aged, religious women)
Research that seeks to understand the engagement of men who use violence in their intimate partner relationships
This interesting discussion will raise questions about the future of the domestic and family violence workforce and what we expect.
Concluding the session will be a panel discussion moderated by Professor Robert Saint, Flinders University. Speakers include:
Professor Sarah Wendt, Flinders University
Associate Professor Lorna Hallahan, Flinders University
Ginny Cisneros, Director of Services, Women's Safety Services SA
Daniel Moss, Workforce Development Manager Emerging Minds.
Through its education and research programs, Flinders encourages new ways of thinking, and supports experimentation and daring, with the mission to contribute on an international scale through 'changing lives and changing the world'. So we invite you to share and collaborate with us on our BRAVE journey. We will impart our knowledge and new discoveries, elevate discussion and inspire debate; all with the view to facilitate the betterment of our society.
Be BRAVE, be bold, be at Flinders.
--
Wednesday, 28 November 2018
5.30pm-7.30pm
Flinders University Victoria Square, Level 1 Room 1
182 Victoria Square, Adelaide, SA
5.30pm | Pre-lecture refreshments
6.00pm | Lecture
6.45pm | Panel discussion
7.15pm | Audience Q&A
---
Professor Sarah Wendt
Sarah is currently Professor of Social Work at Flinders University. Prior to academia, Sarah practised in the field of domestic violence. She has taught in social work for over a decade. She has published on violence against women and social work practice.
Her current research projects explore the impact of domestic violence on women's citizenship, service provision in the field of domestic violence, young women's experiences of violence and abuse, and engaging men to address domestic violence. In particular, Sarah has been researching rural women's experiences of domestic violence for over a decade in Australia and more recently how domestic violence work shapes practitioners living and working in rural communities.