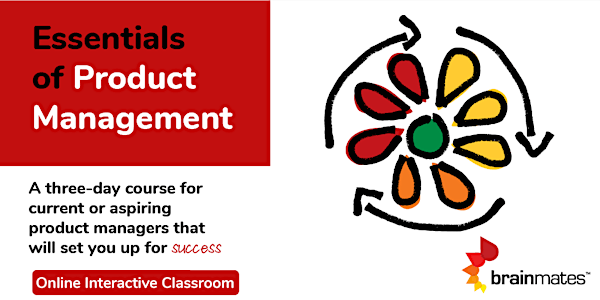 Brainmates Essentials of Product Management - Remote Realtime Classroom
A three - day course that will align your Product team with a common set of tools, systems and language.
About this event
Course Overview
Brainmates, Australia's leading product management experts, bring to life the fundamentals of a best-practice product management methodology. The 3-day course is teeming with interactive exercises and case studies from their consulting practice, which serves a diverse cross-section of industries. Participants of this practical course will learn how to apply smarter market-centric approaches to both their new product development projects and day-to-day activities.
Remote Realtime Classroom Training
We don't like calling this an "Online Course". In mid March 2020 when everyone was sent home to self isolate we knew that we needed to continue to deliver the same interactive experience to people over 3 days without a compromise of learning or the interaction with other Product People.
Thankfully there was technology to support us and we are very excited with how we have been able to maintain the fun, the learning, and the classroom interactions in the new remote work world.
We have now run several classes remotely and the feedback has been amazing.
This is not a series of pre-recorded videos with a quiz at the end. In this course you will be exhausted and delighted with how much we cover in 3 days remotely
Learning Outcomes
Participants will learn the following:
A clear structured thought-process from ideation through to product launch planning
How to quickly gather many fuzzy product or business ideas and uncover which are the most worthwhile to explore further
Research the world of their target customers to uncover their unmet needs
Articulate the market and product requirements for product design, development and marketing purposes
Effectively plan the product delivery and go-to-market activities
Maximise their efforts in juggling day-to-day activities, monitoring their product performance, keeping up to date on their market and managing stakeholders.
Testimonials
"Finally! Product Managers throughout Australia have the training they need to take their game up a notch. Brainmates' Essentials program provides more than a framework for good product management. It gives you the language and tools you need to help move business initiatives ahead, bring stakeholders on the journey, and turn strategy into reality. I'd recommend the Essentials program for anyone looking to refine their skills or to make product management a proactive, essential part of any organisation."
– Jen Armstrong, CMO, LexisNexis Pacific
"The most valuable thing about the course is the platform to utilise at times when problems arise from lack of process. It's a good reference guide. It's a worthwhile starter course for junior product managers or a refresher for mid-level product professionals."
– Jerome Ferdinands, User Experience Product Manager, eBay
"An exceptionally well run course. Nick Coster clearly has a thorough understanding of his subject matter. Importantly, he shares this knowledge and I am confident I can implement it."
– Andrew Kendrick, Global Rehabilitation Manager, Cochlear
"The course provided a best-practice framework to ensure I provide maximum value creation for the business. It identified areas of work that are not relevant for product managers. Nick Coster did an excellent job of conveying a complex topic in 3 Days."
– Craig Malins, Senior Product Manager, Gallagher Group, NZ
"Brainmates are pioneers in Australia on the Product Management front. It's funny – I get asked regularly (on dates!) what a Product Manager is and it reminds me of the first exercise as part of their course."
– Richard Donnelly, Product Manager, Cochlear