Ali France and Denise Sims are talking to our BPW North Lakes Members and Guests at our May Dinner
About this event
BPW North Lakes is excited to welcome you to the May Event being held at Murrumba Downs Tavern at 6 pm Friday 21st May 2021. This is an opportunity for BPW members and guests to come together and be inspired by our two speakers. One will talk about Bench or Benchmarking and the second speaker will talk about Rebuilding your life after a traumatic accident.
Come along and make connections with other like-minded women. Your dinner ticket includes a two-course meal, a book of raffle tickets and complimentary tea and coffee.
BPW North Lakes members are passionate about advocating women's issues in the community and actively support women where they can. This event is perfect for women who would like to find out what BPW is all about and have fun at the same time.
Tonight we will honour the charities that Ali France and Denise Sims by donating our proceeds for this evening to their chosen charities.
There will be extra raffle tickets for purchase to increase your chance of winning one of the many great prizes that have been donated by local business owners and members of BPW North Lakes. Lucky Door prizes are also up for grabs, just leave your business card in the specially marked box.
The dress code is business attire, tie not necessary or after five.
For any women wishing to join our fabulous networking group, there are new member incentives see your welcome bag for more information
Our first guest speaker is Cr Denise Sims, Deputy Mayor and Division 7 Councillor for Moreton Bay Regional Council. What we will learn from Cr Denise's Presentation.
Legacy is not just about what you can see
Long term change
Sowing and reaping
Our second guest speaker is Ali France, an amputee, disability advocate, former journalist, former world champion athlete and a government worker.
It is enough to wholeheartedly try your best
Accept there will be imperfection in everything
You are stronger and tougher than you think, don't let fear be your guide
We can't wait for you to join us at this very special event.
Organiser of BPW North Lakes May Event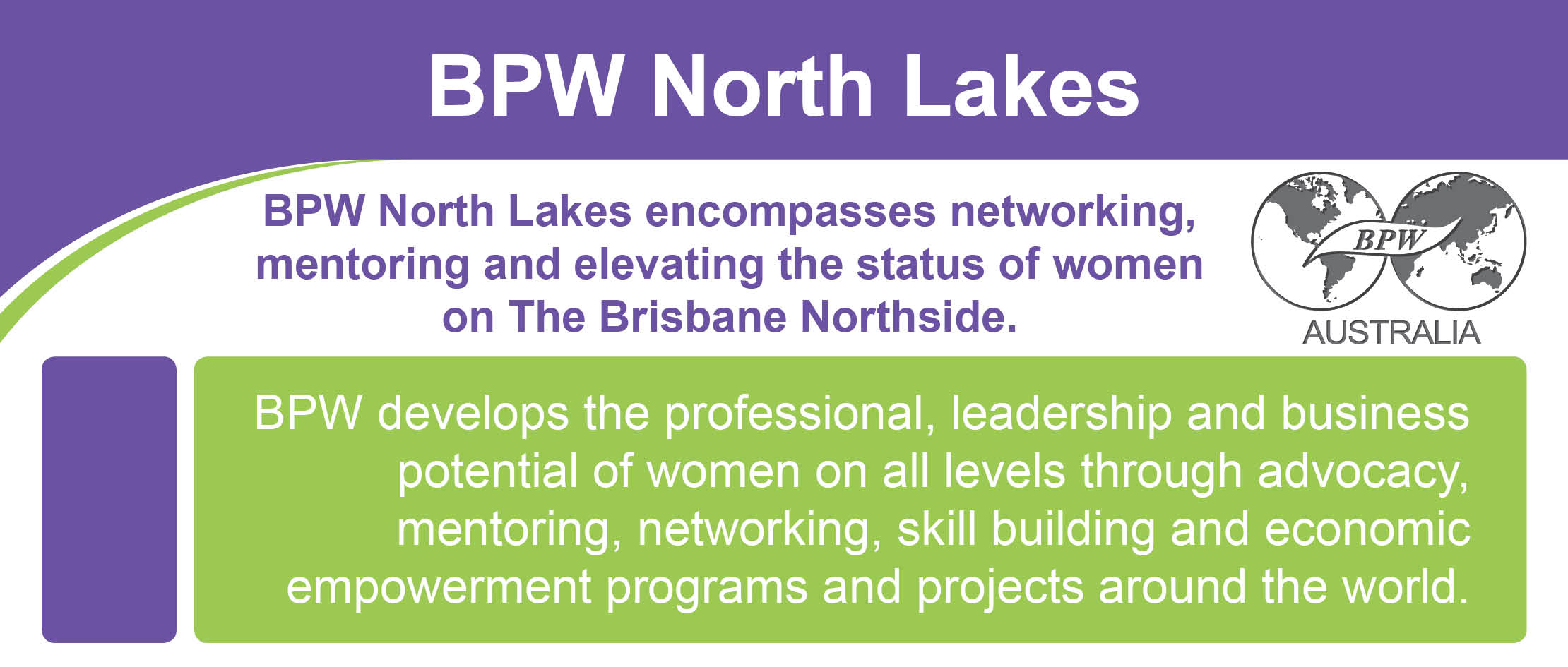 BPW is a vibrant, world-wide women's organisation that focuses on issues that affect women in business and the professions.
Networking
Mentoring
Learning & Development
Community Projects
Inspiring Speakers
Friendship & Support
If you are looking for a women's organisation that can help you grow, network and be mentored, this is the club for you. Come and join us and get to know some like minded women and find out more about BPW.
Taking action for women's equality at work, on boards, in leadership