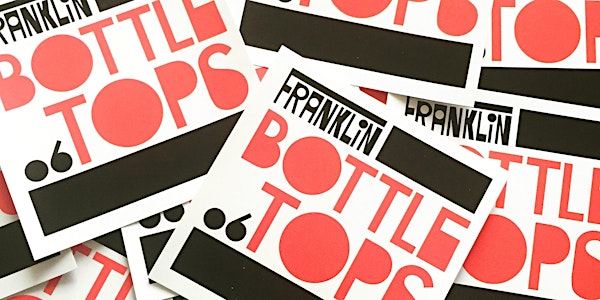 BOTTLE TOPS - A DAY OF WINE, WINE & WINE
Location
FRANKLIN BAR & RESTAURANT
30 ARGYLE STREET
HOBART, TASMANIA 7000
Australia
Description
BOTTLETOPS - A DAY OF WINE, FOOD & MUSIC IS BACK FOR 2017!!
SUNDAY JUNE 18 (LAST SUNDAY OF DARK MOFO) : 12.30PM - 4.30PM.
EARLY BIRD TICKETS @ $30. GENERAL ADMISSION @ $35.
SPLIT OVER TWO LEVELS, WE WILL BE HOSTING SOME OF AUSTRALIA'S MOST THOUGHT PROVOKING SMALL PRODUCERS, ALONG WITH OUR LEADING IMPORTERS OF ARTISAN WINES INTO THE COUNTRY.
TICKET PRICE INCLUDES TASTING FOR THE AFTERNOON, COUPLED WITH SNACKS FROM THE LIKES OF LUKE BURGESS, DEBORAH BLANK, ANALIESE GREGORY & DAVE MOYLE.
BOTTLESHOP ON SITE SO YOU CAN TAKE AWAY THE THINGS YOU FANCIED.
MUSIC & BAR OPERATING FOR POST-TASTING SHENANIGANS.
FIRST RELEASE OF WINE EXHIBITORS:

BOBAR
BILL DOWNIE
PAT SULLIVAN
MOMENTO MORI
OCHOTA BARRELS
LATTA
GOOD INTENTIONS
TIM WARD
FREDERICK STEVENSON
CHAPTER
MINIM
KONPIRA MARU
DR EDGE
PROJECT BRIAN
SIGURD
TRAVIS TAUSEND
GENTLE FOLK
MANON
XAVIER GOODRIDGE
UNICO ZELO
UNKEL
JAMSHEED
NORTH WINE
EPHEMERA
STRENUA
MAIDENII
TWO TONNE TASMANIA
SPIRITS FROM:
APPLEWOOD DISTILLERY
SPIRIT PEOPLE
BEERS FROM:
TWO METRE TALL BREWERY
WILDFLOWER BREWERY
...STAY TUNED FOR MORE...