Join us on this music and theatrical journey that weaves through the Goodman Building, as part of the Botanica Lumina program.
About this event
Unfortunately, due to the evolving circumstances around COVID restrictions, [sup]Planted has been cancelled.
We hope to reschedule this performance later in the year or in early 2022.
Ticket holders will be contacted and issued refunds in the coming days.
We apologise sincerely for any inconvenience.
Be uplifted by a unique performance that showcases the powerful mission of the South Australian Seed Conservation Centre to safeguard the state's endangered plants.
Combining glorious music, song and fine art, [sup]Planted is a multi-art form performance that takes the audience on an intimate journey with an environmental message for our time, culminating in the choreographed planting of vulnerable species' seeds for future generations.
As night falls, [sup]Planted audience members will also enjoy a sneak peek of the beautiful heritage-listed Goodman Building, usually off-limits to the public.
Designed and written especially for the Botanica Lumina program by award-winning Various People Inc.
Various People Reviews
…this is an aesthetic work of art... original and moving, and probably the most memorable theatrical production I've seen in years... InDaily
…overflowed with creativity. Theatrically vivid and studded with some exceptional singing… The Adelaide Review
Various People Inc has presented some quite outstanding shows in recent years, way out of the ordinary in content, innovative in production, sophisticated in performance. The Advertiser
Tickets – $55 each, including drink on arrival
Duration – approx. 1hr
When – Fri 13 and Sat 14 August, 6pm and 8:30pm each night – doors open 30mins before the start of the show
Where – Goodman Building, Hackney Road, Adelaide Botanic Garden – Entry via The Goodman Gate on Hackney Road
Parking - Ticketed parking is available in the car parks on Hackney Road, next to the National Wine Centre (entry off Hackney Road) and the Goodman Building (entry off Plane Tree Drive). These are listed as "Goodman Building Car Park" and "State Herbarium Car Park" on Google Maps. Parking is also available on Plane Tree Drive.
Accessibility - The performance has wheelchair access
The Seed Conservation Centre is located within the Goodman Building at Adelaide Botanic Garden, and is a crucial part of the Botanic Gardens and State Herbarium. Established in 2002, it helps to protect the state's threatened plant species from extinction, while supporting the restoration of habitats around South Australia.
Various People Inc creates chamber vocal performances for intimate audiences in non-traditional venues. Their award-winning productions create intersections between music, design, installation and the social conscience, deconstructing the traditional chamber music format and working across art forms with diverse stakeholders to illuminate some of the compelling issues of our time.
Their reputation as creators of critically acclaimed, genre-bending, uplifting and engaging work has seen Various People present in the Adelaide Festival, Adelaide Fringe, Cabaret Festival, Cabaret Fringe and Come Out Festival, as well as with organisations including State Opera of SA, Tutti Arts, RIAus and the Port Fairy Spring Festival.
Refund Policy - Refunds are not available for change of mind. If the performance needs to be rescheduled or cancelled we will notify you prior to the performance. Refunds will only apply if the event is cancelled or you are not available to attend the rescheduled event.
The Botanica Lumina program is supported by Major Partner SA Power Networks.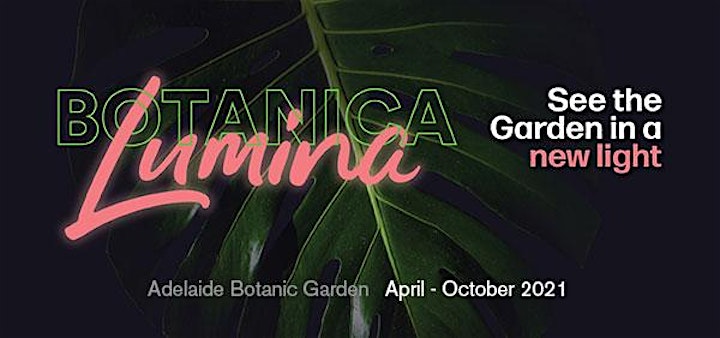 Organiser of Botanica Lumina - [sup]Planted