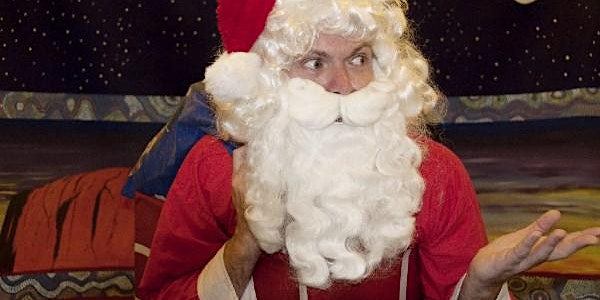 Booked Out - Christmas Pantomime at Warringah Mall Library
Join us for the 2021 Library Christmas Pantomime show
About this event
This event is booked out. Click on Tickets to join the waitlist. Submit separate entries for each ticket desired and be notified of availability.
Santa of the Never Never - By Julie Zommers
Join us for a fun-filled show of catchy songs, costumes and characters.
With a truly Australian flavour, this show offers a feast of characters who help Santa when he is stranded with Rudolph at Uluru. How will he get the sleigh started again, and will he make it in time to deliver presents to all of the children in the world?
This fast-paced show features characters such as Sneaky Slidey Sam the Snake, the Jolly Swagman, the Rockin' Cockatoo, Croc from Kakadu and the ever popular Flying Doctor Big Bottom just to name a few. Full of comedy, Santa of the Never Never features catchy songs, and fun characters that delight grown ups as well as the children!
All ages family event. The show is aimed at children aged 2 - 7 years old.
All attendees must purchase a ticket and adhere to covid guidelines.
Show duration: 45 minutes.
Bookings essential.
Enquiries: libraryprograms@northernbeaches.nsw.gov.au or 8495 5028.
Organiser of Booked Out - Christmas Pantomime at Warringah Mall Library
Northern Beaches Council Library Service is a network of six branches across the Northern Beaches of Sydney. There's always something happening at the library. Regular programs provide activities for all ages, from children's storytime to book groups, author talks and craft sessions. Our special events get bigger every year and you're invited! Don't miss our Artists' Book Award, chess and writing competitions, Zine Fairs and more.
Don't want to miss a thing? Subscribe here to the library events mailing list of find out about upcoming events.