Description
The Little Bookroom is thrilled to launch WHEN YOU'RE GOING TO THE MOON by SASHA BEEKMAN and illustrated by VIVIENNE TO
Join author Sasha Beekman for the launch of her debut picture book.
A heartfelt story about chasing your dreams no matter how big they might seem, and letting your imagination take you on all kinds of adventures.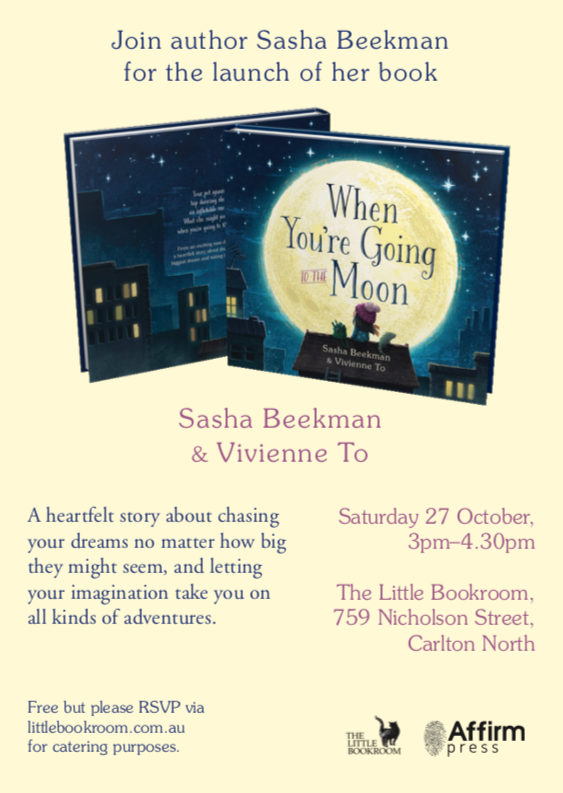 ABOUT THE BOOK
Your pet iguana, tap-dancing shoes, an inflatable moose … What else might you need when you're going to the moon?
From an exciting new duo comes a heartfelt story about dreaming your biggest dream and taking it to the stars.
ABOUT THE CREATORS
ABOUT THE AUTHOR
Sasha Beekman is a Thai-born writer who grew up in Darwin, NT. As a kid, she probably spent one too many clear dry season nights watching the moon from under the mango tree in her backyard. She won two Young Territory Author awards while she was in high school and spent her gap year in Toyama, Japan. Once she'd finally had enough matcha and Hello Kitty, she moved to Melbourne to study writing and editing at RMIT University. When You're Going to the Moon is her first picture book.
ABOUT THE ILLUSTRATOR
Vivienne To is an illustrator and visual development artist working in film and publishing. Most recently Vivienne has worked as the Art Director on The Lego Batman Movie. Her first picture book was The Sloth Who Came To Stay, with author Margaret Wild. She is currently based in Wellington, New Zealand. When she isn't drawing, she can be found knitting on the couch, watching cute dogs at the local park or reading in the children's section of the library and trying to blend in.