Book Launch: Wedderburn by Maryrose Cuskelly

Thursday, 27 September 2018 from 6:30 pm to 8:30 pm (AEST)
Event Details
Allen & Unwin and Neighbourhood Books invite you to join author Maryrose Cuskelly for the launch of her new book Wedderburn: A True Tale of Blood and Dust.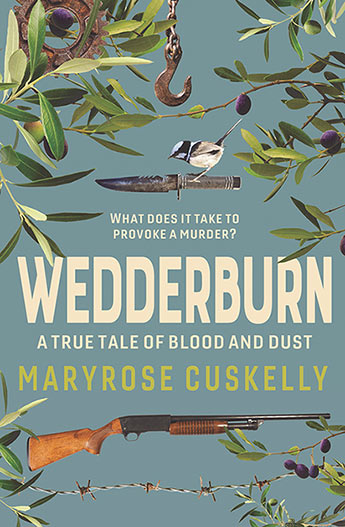 ABOUT WEDDERBURN: A TRUE TALE OF BLOOD AND DUST:
The story of a grisly triple murder in Central Victoria in October 2014 - contemporary Australian true crime at its best
'An ugly story told beautifully. WEDDERBURN will hold you tightly in its grip, and leave an imprint when it lets you go.' Myfanwy Jones
'In WEDDERBURN, we see the trauma caused by the blackest of hearts. A desolate yet deeply affecting tale of savage crime in rural Australia.' Mark Brandi
'Maryrose Cuskelly has the rare gift of telling a true story with the excitement and vividness of fiction; she never forsakes the facts in this chilling and hypnotic book.' William McInnes
'The slaughter was extravagant and bloody. And yet there were people in the small town of Wedderburn in Central Victoria who, while they did not exactly rejoice, quietly thought that Ian Jamieson had done them all a favour.'
One fine Wednesday evening in October 2014, 65-year-old Ian Jamieson secured a hunting knife in a sheath to his belt and climbed through the wire fence separating his property from that of his much younger neighbour Greg Holmes. Less than 30 minutes later, Holmes was dead, stabbed more than 25 times. Jamieson returned home and took two shotguns from his gun safe. He walked across the road and shot Holmes' mother, Mary Lockhart, and her husband, Peter, multiple times before calling the police.
In this compelling book, Maryrose Cuskelly gets to the core of this small Australian town and the people within it. Much like the successful podcast S-Town, things aren't always as they seem: Wedderburn begins with an outwardly simple murder but expands to probe the dark secrets that fester within small towns, asking: is murder something that lives next door to us all?

ABOUT THE AUTHOR:
Maryrose Cuskelly is a freelance writer and editor. She is the author of two books, Original Skin: An exploration of the remarkable human hide (Scribe 2010) and The End of Charity: Time for social enterprise (Allen & Unwin 2008), which she wrote with Nic Frances, and was the winner of the Iremonger Award. Her essays and articles have been published in a range of magazines, journals, and newspapers, including The Age, The Australian, The Melbourne Magazine, WellBeing, The Big Issue and RealTime. In 2016 Maryrose won the Thunderbolt Prize for Crime Writing (Non-fiction) for her essay 'Well Before Dark'.
When & Where

Neighbourhood Books
55 High Street
Northcote, VIC 3070
Australia

Thursday, 27 September 2018 from 6:30 pm to 8:30 pm (AEST)
Add to my calendar
Organiser
Neighbourhood Books is a new-born independent bookstore curated to nourish the local community.
We house a range of new fiction, non-fiction and children's books, prioritising local writers, artists and publishers. Our knowledgeable and friendly staff are eager to talk books and share recommendations with all who will listen!
Ours is a 'profit for purpose' - we will be reinvesting our resources into developing an events program that brings the community together and supports the literary sector. We are bibliophiles and believe that people and books are two of the world's greatest assets.
Interested? Join our mailing list to be invited to be on the invitation list.
Our ambition is for Neighbourhood Books to be an inviting space to spend time in - for a browse, for a chat, for a meet-up or a meet-and-greet.
All are welcome, and we want to get to know everyone. This bookshop is for YOU, and we want it to reflect your values.
We hope you enjoy watching Neighbourhood Books evolve as much as we are enjoying building it.