Location
Bargoonga Nganjin, North Fitzroy Library
182-186 Saint Georges Road
Fitzroy North, VIC 3068
Australia
Get ready to get LOUD and celebrate the launch of Nat Amoore's new book!
About this event
Join us to launch The Right Way To Rock by Nat Amoore in the Community Room at Bargoonga Njanjin!
If you've never had the joy of attending a Nat Amoore event, then you don't want to miss out this time! Rock'n'Roll, air guitar and shenanigans galore!
Dress code is DRESS LIKE A ROCK STAR!
Thank you to Yarra Libraries for hosting this event.
This Event will be Auslan interpreted.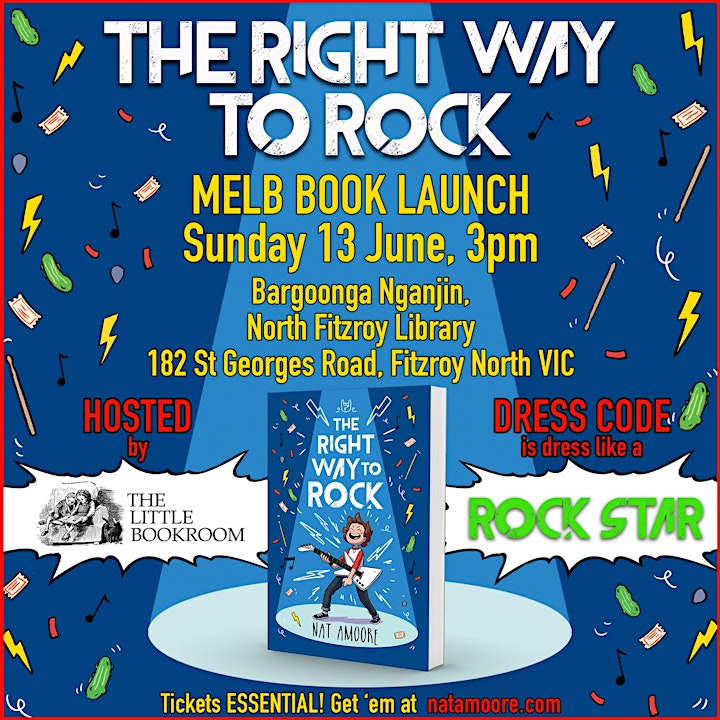 About The Right Way To Rock :
The rockin' story of two new friends, one arts fiasco and a whole lot of music.
Without music, the world is just blah. That's my take on life, anyway.
Mum says rock is the only music worth listening to, but I think everyone should find their own beat.
When I hear that Principal Keiren plans to cut all of the arts classes at Watterson Primary, there's no way me and my new mate Flynn are gonna let that happen. We're dragging our secret Broadway appreciation society into the spotlight.
It's time for Watterson: The Musical!
Nat Amoore is a writer who is passionate about encouraging kids to read, write and explore their imagination without boundaries. With a background in writing for screen, she wrote and directed international award-winning short film Elemenopee and has a feature film screenplay and a kids' TV series in development. Nat was a recipient of the CBCA Maurice Saxby Creative Development Program for 2018. In February 2018, Nat (along with fellow hosts Kate and Liz) launched kidlit podcast One More Page (onemorepagepodcast.com), which was a finalist in the 'Best Newcomer' category for the 2018 Australian Podcast Awards. The podcast has featured in publications such as Books+Publishing, Buzz Words and the SCBWI AUS&NZ newsletters.