Description
Come and party with the team at Collective Campus as we celebrate the release of our CEO and Co-Founder Steve Glaveski's new book!
Not only can we ensure a night of networking, drinks, nibbles and music capped off with a talk from Steve, but you will walk away with your very own signed hardcopy of the book, worth $14.95!
Want more info on Steve and the book? See below!
----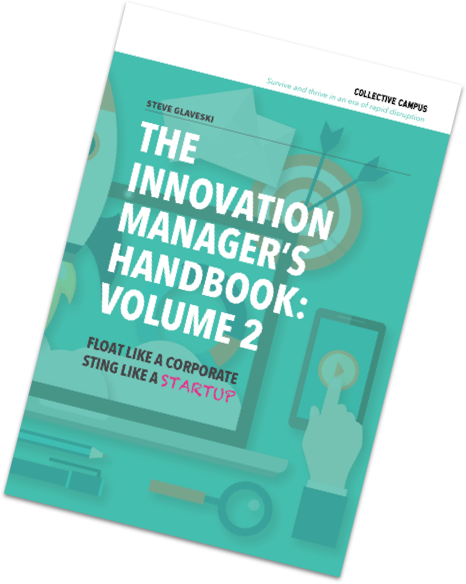 Serial entrepreneur and corporate innovation thinker Steve Glaveski has drawn on insights derived from working on the corporate innovation initiatives of large companies and interviewing thought leaders as host of the iTunes chart ranking Future Squared podcast to pen The Innovation Manager's Handbook: Volume 2 - Float like a Corporate, Sting like a Startup.
With more than 50% of today's large companies facing extinction in the next 10 years at current rates of churn due to executive mindsets that are geared towards delivering the old (eg. Blockbuster) instead of discovering the new (eg. Netflix), Glaveski has distilled key insights into a roadmap for corporate innovation.
Pattern recognition underpins great ideas and Glaveski has recognised many, having interviewed thought leaders such as Tim Harford (author of The Undercover Economist), Alec Ross (Barack Obama's advisor on innovation), Steve Blank (considered the Godfather of Silicon Valley), Ash Maurya (author of Running Lean), Jamie Wheal (co-author of Stealing Fire), Parag Khanna (author of Connectography), Susan David (author of Emotional Agility), Ryan Blair (author of Rock Bottom to Rock Star), Justin Lokitz (co-author of Design a Better Business), Jenny Blake (author of Pivot), Ben Yoskovitz (author of Lean Analytics), Robert Kegan (co-author of Building an Everyone Culture) and Karen Dillon (co-author of Clayton Christensen's Competing Against Luck).
"The book is designed to help corporate innovators drastically increase their likelihood of success and avoid the pitfalls that most organisations fall into when engaging in what amounts to nothing more than innovation theatre", says Glaveski.
Sportsbet's Head of Innovation, Leslie Barry, says he connects strongly with Steve Glaveski regarding "the avoidance of innovation theatre and grand displays drawing hype and attention with little substance of return after the fact. I think you will find the needle on your organization's culture, idea generation and return on innovation investment shifts positively as you apply the ideas and tactics he describes in this book", said Barry.
Steve Glaveski currently serves as CEO and Co-Founder of corporate innovation school and consultancy Collective Campus, which boasts offices in Australia and Singapore and a client list that includes MetLife Insurance, King & Wood Mallesons, Maddocks, National Australia Bank, Sportsbet, Australian Unity, Mills Oakley and GEMS World Academy. Steve also co-founded children's entrepreneurship program Lemonade Stand, hosts the iTunes ranking podcast Future Squared, delivers keynote talks on corporate innovation and advises several start-ups.