Description
The Little Bookroom is thrilled to host the launch of author Catherine Pelosi & illustrator Caitlin Murray's SOMETHING FOR FLEUR.
RSVP now to join us on Sunday 12th August for a reading, cake, games, drawing, signings and fun!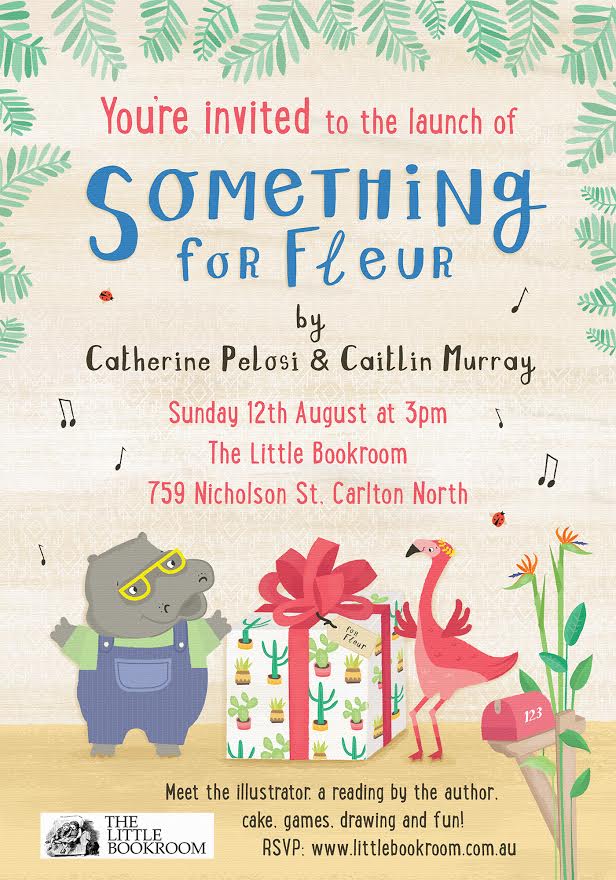 ABOUT THE BOOK
It's Fleur the flamingo's birthday and her friend Bo the hippo is sending her a present. Can you use Bo's clues to guess what it is?

Could it be ice-cream mountains to slide down, or ten-tiered cakes for all the town? Or maybe it's the best present of all - a big hug from your best friend.

This gorgeously illustrated and brilliantly imaginative birthday treat celebrates friendship, giving - and birthdays!
ABOUT THE AUTHOR
Catherine Pelosi is a Sydney-based children's book author. When she was younger, she loved two things in equal measure: animals and writing stories. For a long time she wanted to be a zoologist. Catherine has had several jobs working with animals, including in wildlife rescue, as a dinosaur tour guide and marketing for an animal shelter in London, but her love of writing never went away. These days, she writes as often as she can. Catherine hasn't lost her love of animals, however, and you will often find one or two roaming through her stories. QUARK'S ACADEMY is Catherine's first novel; SOMETHING FOR FLEUR is her first picture book.

Caitlin Murray is a Melbourne-based artist. Her illustrations are fun, quirky and colourful and and her style translates well across many different design categories. With over 15 years experience in transforming concept ideas into actual 3D products, Caitlin's work can be found on children's products, picture books, toys, stationary, clothing and much more.
When she's not designing for Melbourne Toy Company Tiger Tribe, Caitlin works as a children's book illustrator from her home studio in Melbourne's North - where she lives with her husband, her cat and her many art projects.