Description
You are warmly invited to celebrate the publication of a brand new middle grade novel by Nova Weetman!
To be launched by Emily Gale, join us for the celebration and some cake!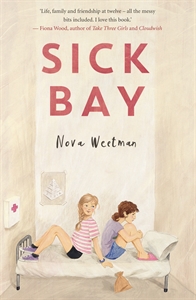 Meg uses Sick Bay to hide from other kids. She's struggling with changes at home, wears slippers to school and buries her head in books.
New girl Riley is a type 1 diabetic with an over-protective mother. She'd rather chat with her friends than go to Sick Bay, but sometimes she has no choice.
They think they've worked each other out, but what if they've got it all wrong?
On the brink of high school, Meg and Riley need a place where they can find the courage to be themselves.
---
Nova Weetman's prose has appeared in various literary magazines including Kill Your Darlings, Island, Tirra Lirra, Wet Ink, Mslexia, Overland, Island and Cardigan Press. She has written for the children's television series Pixel Pinkie and Buzz Bumble and wrote the short films, Ripples and Mr Wasinski's Song for which she received an AWGIE nomination for best short screenplay, and the Best Short Film Award from the Melbourne International Film Festival. She has also won the HarperCollins Fellowship and the FAW Award for Best Unpublished Manuscript. Nova lives with her partner, a playwright, and their two children, in a falling down house. The Haunting of Lily Frost is her first novel for young adults.