Location
Meet at Leap Early Learning Camperdown carpark
59 Denison Street
Camperdown, NSW 2050
Australia
Join us to celebrate the launch of Keefe Tay's new book, Cats are Family Sydney. Come to this party about cats with the whole family!
About this event
Celebrate the Sydney launch of this gorgeous coffee table book, Cats are Family Sydney!
The book will be launched by Keefe Tay from Furry Munchkins Pet Photography here in Sydney, NSW.
Pre-order your Cats are Family Sydney book here to ensure you get a copy on the day! A portion of our book sales goes toward supporting the incredible work done by the Cat Protection Society of NSW and Compassion Australia.
This event is free, but RSVP is essential. Please register through Eventbrite to attend.
Programme for the Book Launch Party
10:30: AM - Mingling, Photo taking, Collection of books
12:00: PM - Canapes to be served (Guest Self Serve)
12:30: PM - Coffee Table Chat with the Author (Keefe); Thank yous
1:00: PM - Guest talks (Cat Protection Society of NSW) + Cupcakes to be served
Come anytime between:
10.30 am to 3.30 pm to pick up your Pre-ordered books.
12 pm to 2 pm for Canapés!
About Cats are Family Sydney
Cats are family Sydney is a fundraising project by Keefe Tay of Furry Munchkins Pet Photography.
It shares stories celebrating the special bond between cats and their humans in Sydney, showing the world that cats can be part of the family.
Filled with gorgeous, emotive photography, this limited edition Coffee Table Book helps raise funds and awareness for cats who need the love, trust, and respect they deserve.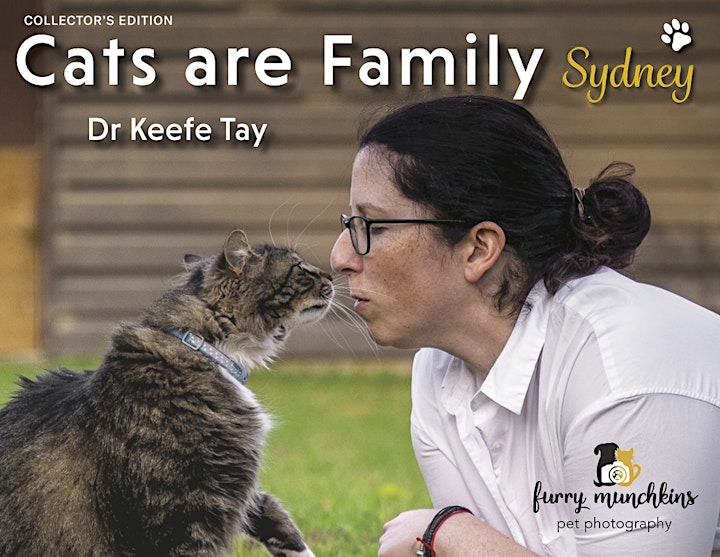 Come to this event for these 4 Cs!
C - Cats
If you are passionate about cats or want to find out more about them, this event is for you! We're raising funds through our book sales to support the A-Meow-Zing work done by the Cat Protection Society of NSW.
C - Celebrate
This is a party! You get a chance to celebrate the completion of the first 'cats are family' book project in the world. Here in Sydney!
C - Connect
Connect with a community of like-minded cat lovers here in Sydney. A time to make new friends and follow other cat Instagrammers. #catsofsydney
C - Canapés
Free Canapes will be provided during specific times. Please register for this event so that we know how many to cater for.
About Keefe Tay
Dr Keefe Tay is a Veterinarian who worked in clinics in New South Wales. He saw how cats and their people tended to get a bad reputation and noted a growing trend of cats being abandoned or not well provided for. The term, "crazy cat lady," and other bad depictions of cats and their owners struck a chord with him.
Keefe had grown up believing cats were devoid of personality and affection, unlike dogs. But when he met Spicy, an adorable foster kitten who leapt into his hands and heart, Keefe found himself inspired to showcase cats as they really are. He wanted to uncover their unique personalities, quirks, and ways of showing affection, through his photography.
Now, Keefe and his beautiful wife, Charlotte, count their three cats, Chai, Thyme and Evan, as an integral part of their family. With his mission, Keefe has begun his photographic journey to tell the stories of why cats are so loved by their humans.
First stop, Sydney. Next, the whole of Australia and beyond...