Description
Grab your party frocks, dust off your high heels and iron your chinos...and make way for the official book launch to celebrate my errant love child and 20 months of life - otherwise known as 'A Thousand Little Lightbulbs, How to kickstart a culture of innovation in your organisation.'
It's a BS-free guide to dealing with your creative OGRE, taking off the blinkers and leveraging the greatest innovation tool in your business: your people.
Critics are hailing it, "The best innovation book you will read this month". (Ok, they aren't yet but they will be, trust me.)
If you want ideas to kickstart a culture of innovation in your company, create a constant stream of fresh thinking and break through the business-as-usual boredom, then to be brutally honest you need a copy of this book in your life. And even better a signed one at that.
Join me for an evening of three great talks, creative fun, meeting great people and a few drinks to celebrate the importance of innovation, curiosity and imagination across our Australian business landscape.
Need to get in touch? E: Letschat@simonbanks.com.au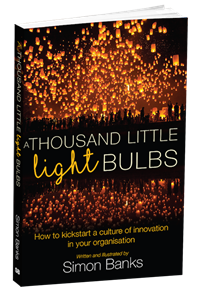 EVENT DETAILS
Guests arrive and refreshments served

Introduction by Mike Parsons, Innovation and Marketing specialist. Moonshot podcaster

Kerryn Ross, Director of Innovation at EY Oceania

Simon Banks, Author and Keynote Speaker

Release your imagination
I would love to see you there!
DIRECTIONS
Our Oxford Street store is only a 10-15 minute walk from Museum Station up Oxford Street, and is located on the city side of the Victoria Barracks. Beware as Oxford St renumbers in each suburb, so walk past 19 Oxford St, Darlinghurst! From the city you can take the following bus routes which all stop opposite the store: 333, 380, 440, or the Metrobus M40. You can also travel directly between our Paddington and Leichhardt stores on the 440 bus (approx 30 mins).
From the city you can take the following bus routes: - See more at: http://www.berkelouw.com.au/stores/leichhardt#sthash.BXk9PWc7.dpufThe 380, 440, and M10 bus routes stop opposite the store.
PARKING
St Vincent's Hospital Public Car Park, Victoria St:
0-1/2 hr-$4.00
0-1 hr -8.00
1-1&1/2 hrs -$12.00
1-2 hrs -$15.00
2-3 hrs -$19.00
3-4 hrs -$22.00
4+ hrs – $28.00 (maximum charge)
Entry after 4pm – $11 flat rate
Carpark Hours of Operation
Monday – Thursday 6.30am to 11.30pm
Friday and Saturday – 6.30am to 1.30am
Sunday – 6.30am to Midnight