Book Club: Year 1 & 2 - Dr Boogaloo and the Girl Who Lost Her Laughter

Friday, 10 November 2017 from 4:00 pm to 5:00 pm (AEDT)
Event Details
Our Book Clubs meet on Fridays at The Little Bookroom, after school at 4pm. They are for kids to chat about the book they've all read over a snack over hot chips!
We hope that our Book Club will encourage young readers to challenge their usual tastes, think critically about books without 'losing the fun', and meet other readers. After all, there's nothing better than a peer recommendation (no matter how hard we grown-up booksellers try).
Numbers are limited, and our aim is that the selected novel will be read before Book Club to avoid the risk of spoilers.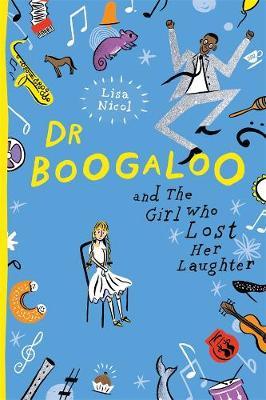 For our November Year 1 & 2 Book Club we're reading Dr Boogaloo And The Girl Who Lost Her Laughter by Lisa Nicol. 
ABOUT THE BOOK:
Enchanting, timeless and surprising - this extraordinary novel will touch the hearts (and ears) of children and adults alike.
Dr Boogaloo was no ordinary doctor. Not at all like the one you might visit if you had a sore tummy. No, Dr Boogaloo was a very different type of doctor. He treated folks who suffered from rather unusual complaints. And how did he treat them? Why, with the most powerful medicine known to mankind ...Music!
Blue was no ordinary girl. For starters, her name was Blue. But what was truly extraordinary about Blue was the fact that she hadn't laughed for 712 days. Not a hee hee, a ho ho or even a tiny tee hee.
According to Dr Boogaloo, music can cure anything. (Of course, you need the right dose of the right music. No point listening to a jive if you're in need of some boogie-woogie, and you can't just substitute a toot for a blow!) But no laughter was definitely a case for alarm.
Can Dr Boogaloo compose a cure before Blue loses her laughter forever?
When & Where

The Little Bookroom
759 Nicholson Street
Carlton North, VIC 3054
Australia

Friday, 10 November 2017 from 4:00 pm to 5:00 pm (AEDT)
Add to my calendar
Organiser
Since the doors first opened in 1960 we have been passionate about running events that bring readers and creators together in an enjoyable and welcoming way.
Hope you can join us...