You are invited to The Bondi Literary Salon book club at Gertrude & Alice Cafe Bookstore.
About this event
Join The Bondi Literary Salon, hosted by Lucy Pearson, for our next Book Club get-together! In our gathering, we will be discussing Niall Williams' novel This Is Happiness.
WHEN: Thursday, 27th May, 2021, at Gertrude & Alice Cafe Bookstore, arrive in-store at 6:45 pm for our prompt 7:00 pm start.
TICKETS:  We have two packs available! But be quick, we're in-store, and have a very limited amount of seats available!
Admission: $20.00 (excluding external fees). Your ticket includes a drink on arrival and nibbles on the evening.
Book & Admission Pack: $34.95 (excluding external fees). Buy the book ($19.95), available for pick-up in-store*, as well as your admission ticket (discounted to $15.00)! Your ticket also includes a drink on arrival and nibbles on the evening.
Shortlisted for Best Novel in the Irish Book Awards
Longlisted for the 2020 Walter Scott Prize for Historical Fiction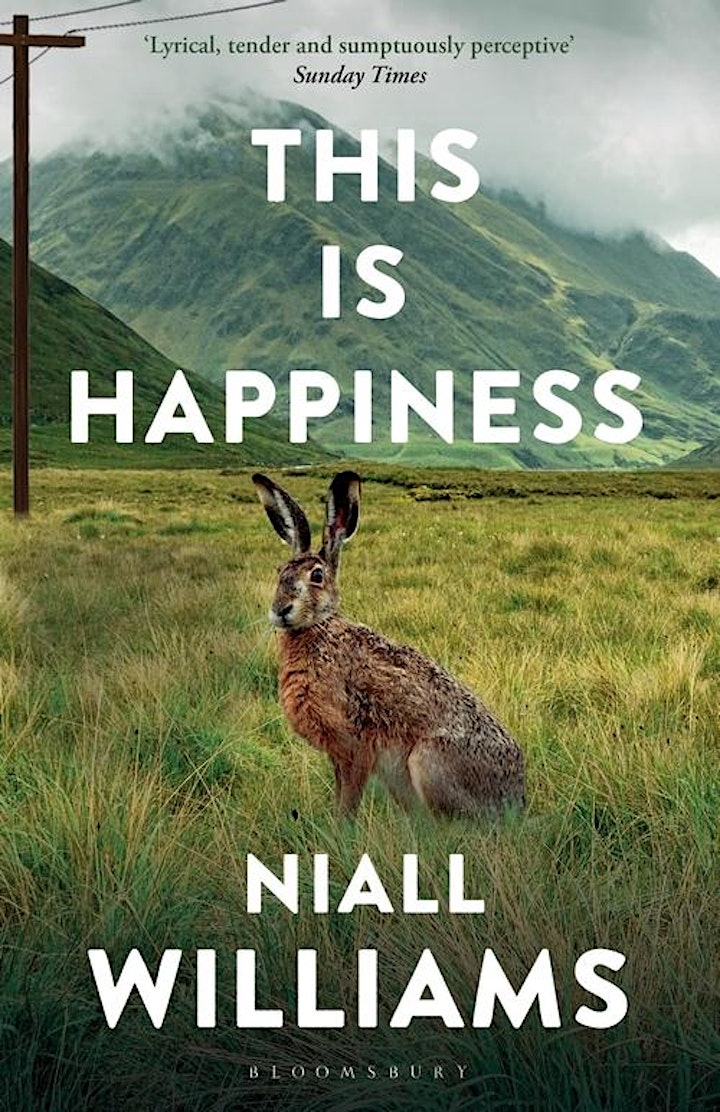 The most enchanting novel you'll read this year, from the acclaimed author of Man Booker-longlisted History of the Rain.
About This Is Happiness
After dropping out of the seminary, seventeen-year-old Noel Crowe finds himself back in Faha; a small Irish parish where nothing ever changes, including the ever-falling rain.
But one morning the rain stops and news reaches the parish – the electricity is finally arriving. With it comes a lodger to Noel's home, Christy McMahon. Though he can't explain it, Noel knows right then: something has changed.
As Noel navigates his coming-of-age by Christy's side, falling in and out of love, Christy's buried past gradually comes to light, casting a glow on a small world and making it new.
About Niall Williams
Niall Williams was born in Dublin in 1958. He studied English and French literature at University College Dublin before graduating with a Master's degree in Modern American Literature. He moved to New York in 1980 where he married Christine Breen, whom he had met while she was a Master's student also at UCD, and took his first job opening boxes of books in Fox and Sutherland's bookshop in Mount Kisco. He later worked as a copywriter for Avon Books in New York City before leaving America with Chris in 1985 to attempt to make a life as a writer. They moved on April 1st to the cottage in west Clare that Chris's grandfather had left eighty years before to find his life in America. His first four books were co-written with Chris and tell of their life together in Kiltumper in west Clare. In 1991 Niall's first play 'The Murphy Initiative' was staged at The Abbey Theatre in Dublin. His second play, 'A Little Like Paradise' was produced on the Peacock stage of The Abbey Theatre in 1995. His third play, 'The Way You Look Tonight,' was produced by Galway's Druid Theatre Company in 1999.
About Lucy Pearson
Lucy started her blog eight years ago while she was reading her way through the Top 100 BBC Reads and shortly after winning the inaugural Book Blogger of the Year Award at the London Book Fair in 2018 she joined forces with the team at Gertrude & Alice Cafe Bookstore to launch the Bondi Literary Salon. Her favourite book is A Little Life and her favourite bookshop is (understandably) Gertrude & Alice. Read more about Lucy here, and visit her award-winning blog The Lit Edit here.
About Gertrude & Alice Cafe Bookstore
Rated as one of the top 10 bookstores in the world by National Geographic, Gertrude & Alice Cafe Bookstore is an oasis for writers, readers and coffee lovers. Books overflow from the shelves of their store, featuring a mix of new, second-hand, antiquarian and rare books. Stay a while & enjoy some home made chai, amazing coffee and unearth a book treasure or two. Read more about the bookstore's story here, and about the real Gertrude & Alice here.