You are invited to The Bondi Literary Salon book club at Gertrude & Alice Cafe Bookstore.
About this event
Join The Bondi Literary Salon, hosted by Lucy Pearson, for our next Book Club get-together! In our gathering, we will be discussing Yaa Gyasi's new novel Transcendent Kingdom.
WHEN: Thursday, 17th June, 2021, at Gertrude & Alice Cafe Bookstore, arrive in-store at 6:45 pm for our prompt 7:00 pm start.
TICKETS:  Admission: $20.00 (excluding external fees). Your ticket includes a drink on arrival and nibbles on the evening.
You can further support our little bookstore by buying the book from us too. Pop in store to grab a copy or head to our online store and arrange a pick-up or postal delivery!
From the bestselling author of Homegoing comes an epic novel from the heart of contemporary America.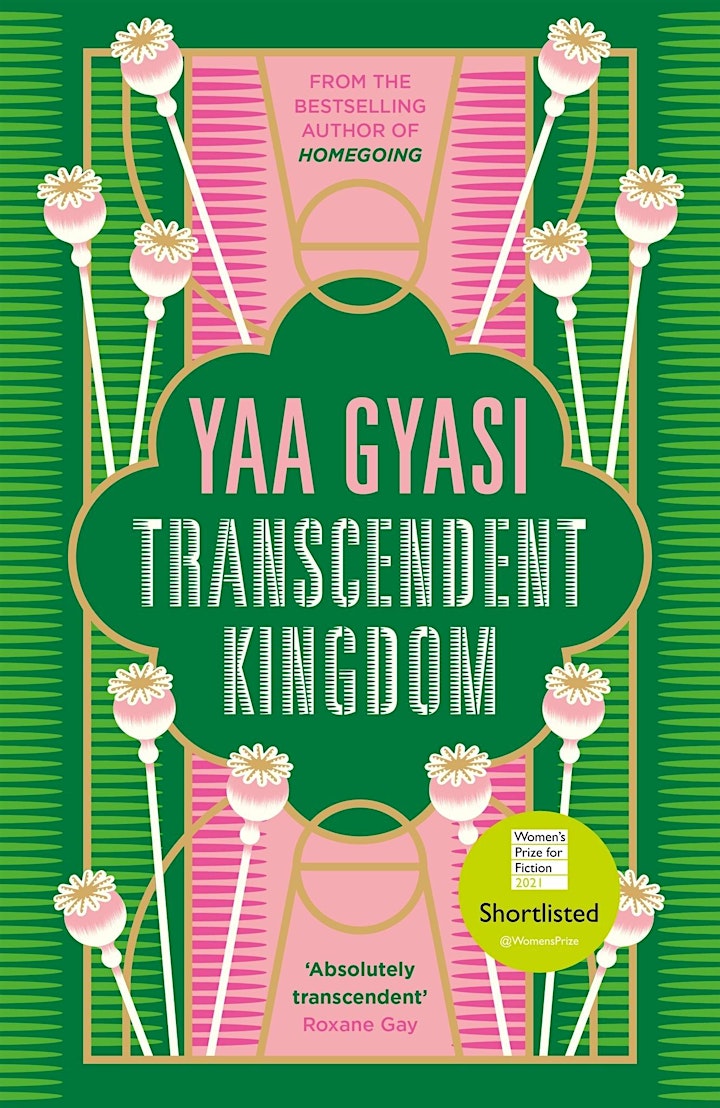 About Transcendent Kingdom
As a child Gifty would ask her parents to tell the story of their journey from Ghana to Alabama, seeking escape in myths of heroism and romance. When her father and brother succumb to the hard reality of immigrant life in the American South, their family of four becomes two - and the life Gifty dreamed of slips away.
Years later, desperate to understand the opioid addiction that destroyed her brother's life, she turns to science for answers. But when her mother comes to stay, Gifty soon learns that the roots of their tangled traumas reach farther than she ever thought. Tracing her family's story through continents and generations will take her deep into the dark heart of modern America. Transcendent Kingdom is a searing story story of love, loss and redemption, and the myriad ways we try to rebuild our lives from the rubble of our collective pasts.
About Yaa Gyasi
Yaa Gyasi is the author of the highly acclaimed debut novel Homegoing and a recipient of the National Book Foundation's 2016 "5 Under 35" Award. Gyasi's brilliant and relevant novel moves through histories and geographies and captures—with outstanding economy and force—the troubled spirit of our own nation. An illuminating speaker, Gyasi captivates audiences with her sincerity and compassion.
Born in Ghana and raised in Huntsville, Alabama, Gyasi is a graduate of the Iowa Writer's Workshop and lives in Berkeley, California. She is the winner of the National Book Critics Circle John Leonard Prize, the PEN/Hemingway Award for Best First Novel, and was a finalist for the Dayton Literary Peace Prize for Fiction and the PEN/Robert W. Bingham Prize. Homegoing also was a winner at the 2017 Audie Awards.
About Lucy Pearson
Lucy started her blog eight years ago while she was reading her way through the Top 100 BBC Reads and shortly after winning the inaugural Book Blogger of the Year Award at the London Book Fair in 2018 she joined forces with the team at Gertrude & Alice Cafe Bookstore to launch the Bondi Literary Salon. Her favourite book is A Little Life and her favourite bookshop is (understandably) Gertrude & Alice. Read more about Lucy here, and visit her award-winning blog The Lit Edit here.
About Gertrude & Alice Cafe Bookstore
Rated as one of the top 10 bookstores in the world by National Geographic, Gertrude & Alice Cafe Bookstore is an oasis for writers, readers and coffee lovers. Books overflow from the shelves of their store, featuring a mix of new, second-hand, antiquarian and rare books. Stay a while & enjoy some home made chai, amazing coffee and unearth a book treasure or two. Read more about the bookstore's story here, and about the real Gertrude & Alice here.