You are invited to The Bondi Literary Salon book club at Gertrude & Alice Cafe Bookstore.
About this event
Join The Bondi Literary Salon, hosted by Lucy Pearson, for our next Book Club get-together! In our gathering, we will be discussing Chimamanda Ngozi Adichie's novel Americanah.
WHEN: Wednesday, 21st April, 2021, at Gertrude & Alice Cafe Bookstore, arrive in-store at 6:45 pm for our prompt 7:00 pm start.
TICKETS:  We have two packs available! But be quick, we're in-store, and have a very limited amount of seats available!
Admission: $20.00 (excluding external fees). Your ticket includes a drink on arrival and nibbles on the evening.
Book & Admission Pack: $34.95 (excluding external fees). Buy the book ($19.95), available for pick-up in-store*, as well as your admission ticket (discounted to $15.00)! Your ticket also includes a drink on arrival and nibbles on the evening.
For those unable to come by our store yet still want to support our store, we have the book on our online store here.
SHORTLISTED FOR THE BAILEY'S WOMEN'S PRIZE FOR FICTION 2014.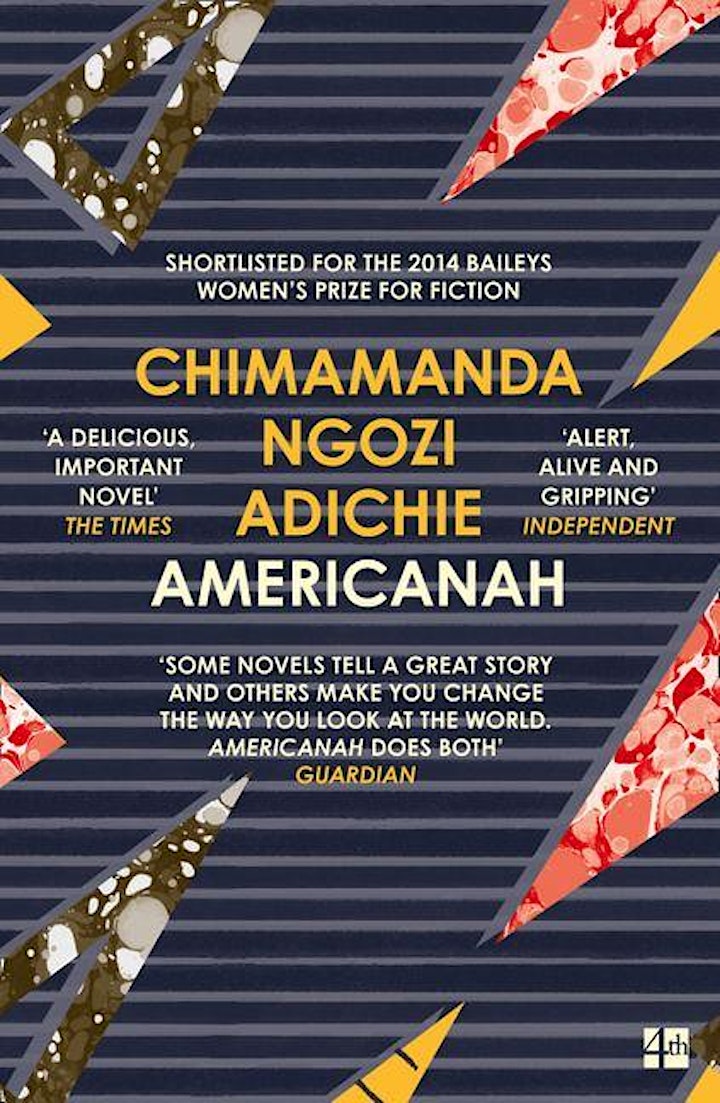 From the award-winning author of Half of a Yellow Sun, a powerful novel—a story of love and race centred around a young man and woman from Nigeria who face difficult choices and challenges in the countries they come to call home.
About Americanah
As teenagers in Lagos, Ifemelu and Obinze fall in love. Their Nigeria is under military dictatorship, and people are fleeing the country if they can. The self-assured Ifemelu departs for America. There she suffers defeats and triumphs, finds and loses relationships, all the while feeling the weight of something she never thought of back home: race. Obinze had hoped to join her, but post-9/11 America will not let him in, and he plunges into a dangerous, undocumented life in London.
Thirteen years later, Obinze is a wealthy man in a newly democratic Nigeria, while Ifemelu has achieved success as a blogger. But after so long apart and so many changes, will they find the courage to meet again, face to face?
Fearless, gripping, spanning three continents and numerous lives, 'Americanah' is a richly told story of love and expectation set in today's globalized world.
About Chimamanda Ngozi Adichie
Chimamanda Ngozi Adichie is the author of Purple Hibiscus, which was longlisted for the Booker Prize, Half of a Yellow Sun, which won the Orange Prize for Fiction; and acclaimed story collection The Thing Around Your Neck. Americanah, was published around the world in 2013, received numerous awards and was named one of New York Times Ten Books of the Year. A recipient of a MacArthur Foundation Fellowship, she divides her time between the United States and Nigeria.
About Lucy Pearson
Lucy started her blog eight years ago while she was reading her way through the Top 100 BBC Reads and shortly after winning the inaugural Book Blogger of the Year Award at the London Book Fair in 2018 she joined forces with the team at Gertrude & Alice Cafe Bookstore to launch the Bondi Literary Salon. Her favourite book is A Little Life and her favourite bookshop is (understandably) Gertrude & Alice. Read more about Lucy here, and visit her award-winning blog The Lit Edit here.
About Gertrude & Alice Cafe Bookstore
Rated as one of the top 10 bookstores in the world by National Geographic, Gertrude & Alice Cafe Bookstore is an oasis for writers, readers and coffee lovers. Books overflow from the shelves of their store, featuring a mix of new, second-hand, antiquarian and rare books. Stay a while & enjoy some home made chai, amazing coffee and unearth a book treasure or two. Read more about the bookstore's story here, and about the real Gertrude & Alice here.