Bollywood Dance & Body Awareness Workshops # December 2020 - January 2021 - February 2021#
About this Event
Purpose of Work Shop
𝖣𝗎𝗋𝗂𝗇𝗀 𝗍𝗁𝗂𝗌 𝗎𝗇𝗄𝗇𝗈𝗐𝗇 𝖺𝗇𝖽 𝗎𝗇𝗉𝗋𝖾𝖼𝖾𝖽𝖾𝗇𝗍𝖾𝖽 𝗍𝗂𝗆𝖾𝗌, 𝗐𝗂𝗍𝗁 𝗍𝗁𝖾 𝖻𝗈𝗋𝖽𝖾𝗋𝗌 𝗎𝗇𝖽𝖾𝗋𝗀𝗈𝗂𝗇𝗀 𝖺 𝗅𝗈𝖼𝗄 𝖽𝗈𝗐𝗇 𝗉𝖾𝗋𝗂𝗈𝖽, 𝖬𝖺𝗌𝗍𝗂 𝖡𝗈𝗅𝗅𝗒𝗐𝗈𝗈𝖽 has organised 𝖺 𝖢𝗈𝗆𝗆𝗎𝗇𝗂𝗍𝗒 𝖣𝖺𝗇𝖼𝖾 𝖶𝗈𝗋𝗄𝗌𝗁𝗈𝗉 𝖠𝖼𝗍𝗂𝗏𝗂𝗍𝗒 𝖿𝗈𝗋 𝗍𝗁𝖾 𝖶𝖾𝗌𝗍𝖾𝗋𝗇 𝖠𝗎𝗌𝗍𝗋𝖺𝗅𝗂𝖺𝗇 𝖼𝗈𝗆𝗆𝗎𝗇𝗂𝗍𝗒 𝗍𝗈 𝗉𝖺𝗋𝗍𝗂𝖼𝗂𝗉𝖺𝗍𝖾, 𝖾𝗏𝗈𝗅𝗏𝖾, 𝗇𝖾𝗍𝗐𝗈𝗋𝗄 𝖺𝗇𝖽 𝗅𝖾𝖺𝗋𝗇 𝗎𝗌𝗂𝗇𝗀 𝗍𝗁𝖾 𝗉𝗅𝖺𝗍𝖿𝗈𝗋𝗆 𝗈𝖿 𝖣𝖺𝗇𝖼𝖾 𝖺𝗇𝖽 𝖠𝗋𝗍𝗌, 𝗐𝗁𝗂𝖼𝗁 𝗐𝗂𝗅𝗅 𝖻𝖾 𝗌𝗍𝖺𝗋𝗍𝗂𝗇𝗀 𝖿𝗋𝗈𝗆 𝖣𝖾𝖼𝖾𝗆𝖻𝖾𝗋 2020 𝗍𝗂𝗅𝗅 𝖥𝖾𝖻𝗋𝗎𝖺𝗋𝗒 2021.
Our aim is to stimulate the mind, challenge the body & leave you feeling exhilarated.
Workshop Details
Over the 8 weeks you'll learn 2 new dance routines and also experience a high energy workout with loads of laughs along the way! On the final week you will given a amazing opportunity to dance and show off your bollywood dancing skills for a professionally videographed "Dance Off Music Video"
HOW COOL IS THAT ?
This Workshops are ideal for kids and adults !
Working Parents/ Students / Kids / Everyone !
Time : 3:30 pm - 5:00 pm
Venue : Dance Addiction Studio, 6/2-6 Tulloch Way, Canning Vale, WA 6155
Music Video Dance Off Participation On Final Week
Please bring your sweat towel and a bottle of water to keep you hydrated.
Workshop Packages
Workshop Package 1 - $75
12 December 2020
19 December 2020
9 January 2021
16 January 2021
Workshop Package 2 - $140 (GREAT DEAL)
Includes a Professional Music Video Dance Off Session
12 December 2020
19 December 2020
9 January 2021
16 January 2021
23 January 2021
30 January 2021
6 February 2021
13 February 2021
𝖣𝗈𝗇𝗍 𝗍𝗁𝗂𝗇𝗄 𝗍𝗐𝗂𝖼𝖾 𝖺𝖻𝗈𝗎𝗍 𝗉𝖺𝗋𝗍𝗂𝖼𝗂𝗉𝖺𝗍𝗂𝗇𝗀, 𝖾𝗏𝖾𝗋𝗒𝗈𝗇𝖾 𝗂𝗌 𝗐𝗁𝗈𝗅𝖾𝗁𝖾𝖺𝗋𝗍𝖾𝖽𝗅𝗒 𝖾𝗇𝖼𝗈𝗎𝗋𝖺𝗀𝖾𝖽 𝗍𝗈 𝗉𝖺𝗋𝗍𝗂𝖼𝗂𝗉𝖺𝗍𝖾 𝖺𝗇𝖽 𝗂𝗇𝗏𝗈𝗅𝗏𝖾 𝗂𝗇 𝖺 𝗋𝗈𝗎𝗍𝗂𝗇𝖾. 𝖸𝗈𝗎 𝖽𝗈𝗇'𝗍 𝗇𝖾𝖾𝖽 𝗉𝗋𝗂𝗈𝗋 𝖽𝖺𝗇𝖼𝖾 𝖾𝗑𝗉𝗈𝗌𝗎𝗋𝖾 𝖿𝗈𝗋 𝗍𝗁𝖾 𝗐𝗈𝗋𝗄𝗌𝗁𝗈𝗉𝗌, 𝖺𝗅𝗅 𝗒𝗈𝗎 𝗋𝖾𝗊𝗎𝗂𝗋𝖾 𝗂𝗌 𝖽𝖾𝖽𝗂𝖼𝖺𝗍𝗂𝗈𝗇 𝖺𝗇𝖽 𝗂𝗇𝗍𝖾𝗋𝖾𝗌𝗍 𝗈𝖿 𝗒𝗈𝗎𝗋 𝗐𝖾𝗅𝗅 𝖻𝖾𝗂𝗇𝗀.
Note:Tickets purchased for the 4 weeks Package 1 or 8 weeks Package 2 workshops are not refundable if you could not attend or participate in the allocated training session/workshop as indicated.
LEARN THE STYLE AND DANCE IT OFF IN A MUSIC VIDEO SHOOT!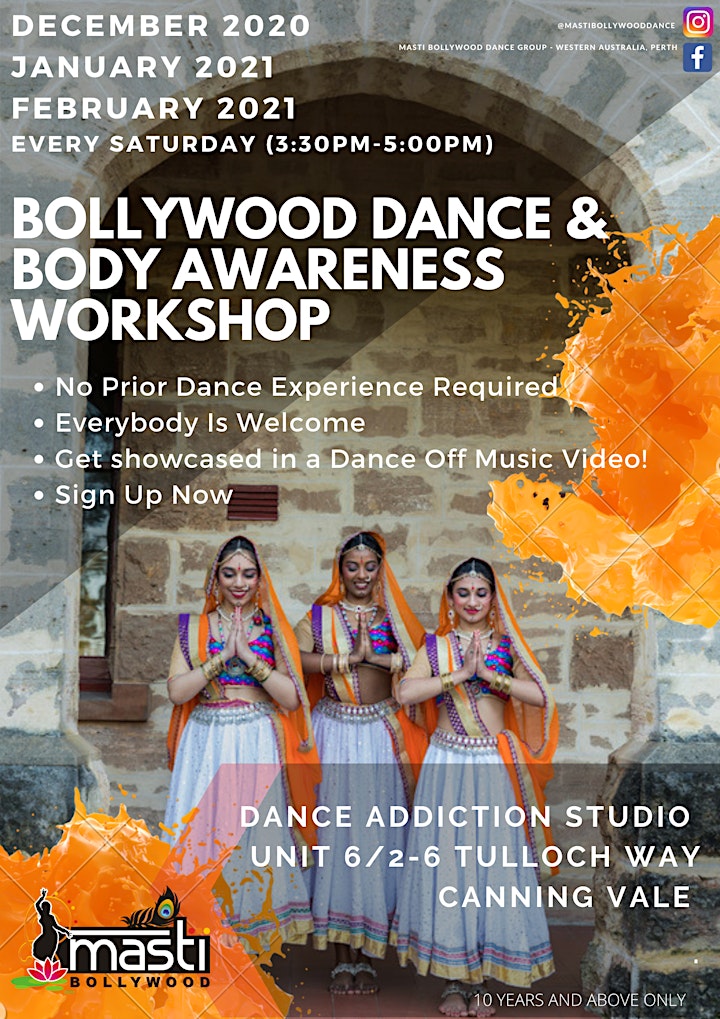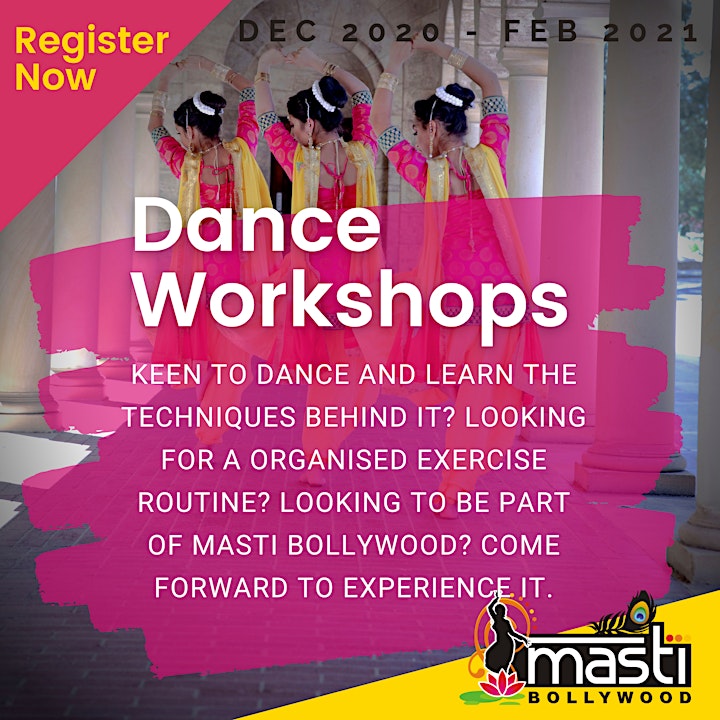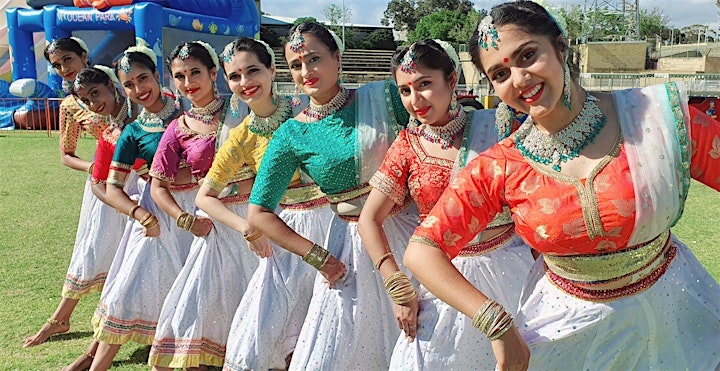 Why Choose Us?
Masti Bollywood Western Australia is an artistic performance organisation which has been around since 2006 and its main approach and aim is to raise cultural awareness in the WA community through their performances and to celebrate its multicultural diversity.
We have always been a strong platform where diverse perspectives, cultures and values are accepted, appreciated and instilled, promoting well-being through the expression of cultural arts and dance. It strongly believes in cultivating Performance Arts, Culture, Self Discipline and Self Awareness through Body Movements and Dance.
Check Us Out, Like, Follow and Share !
Official Website: Masti Bollywood Official Website
Instagram:@mastibollywooddance
Facebook: Masti Bollywood Dance Group - Western Australia, Perth
Youtube: Masti Bollywood Western Australia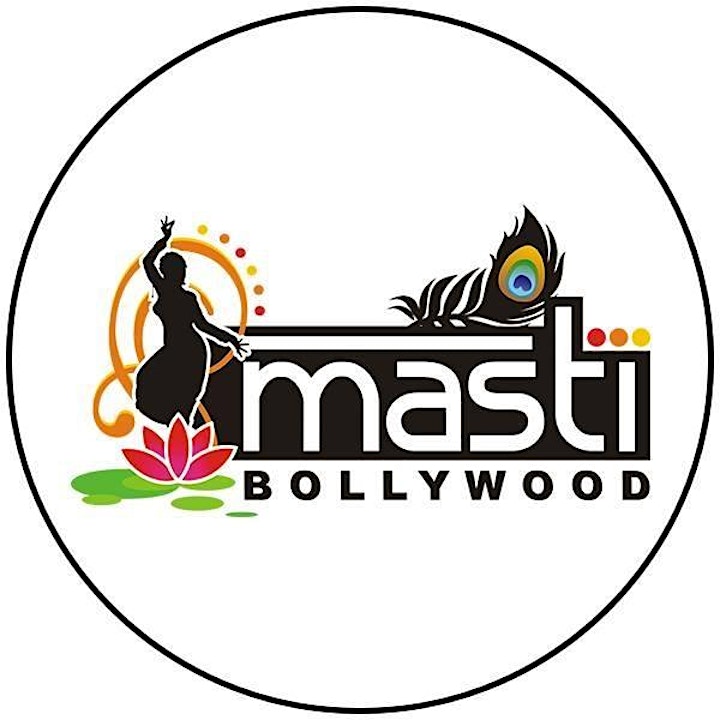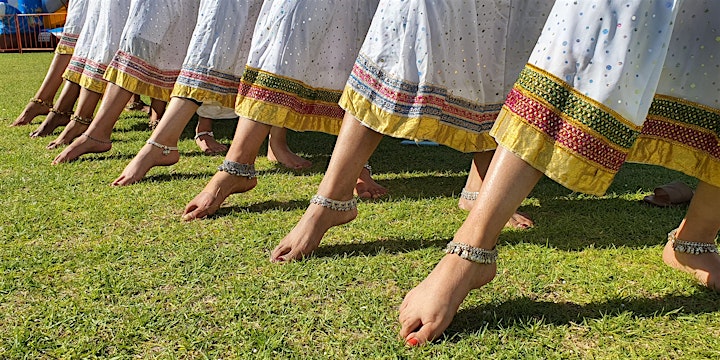 At this time, we kindly ask you to wash your hands upon entering & use the hand sanitiser provided. Please bring a full length towel & if you have one, you may bring a yoga mat too.
"TO WATCH US DANCE IS TO HEAR OUR HEARTS SPEAK"