Description

Be captivated, educated and inspired plus have a glass of bubbles on us. Thursday 30th August. 6:00pm - 8:30pm in the CBD. Grab your BFF and get tickets now.


This one night has been created because you wanted to connect with Melbourne's most fabulous women to hear their #truthbombs on how they get it together and keep it together.


We have four amazing women from a diverse range of industries and backgrounds. Everyone has their own unique story of what it truly takes to turn your big dream into reality. Get inspired by their stories of business success and their personal journeys that led them to be bold, brave and brilliant.


When you meet and mingle, the most extraordinary connections and collaborations happen but you have to decide to show up, share your goodness and be seen.


Are you ready to be brilliant now?
IT'S TIME TO GET YOUR BRILLIANCE ON! Five reasons why tonight is the night!
Enjoy mingling with Melbourne's most fabulous women

Hear inspiring stories so you can be Bold, Brave and Brilliant in Business,

Feel amazing when you pay it forward and donate a pre-loved item to Fitted For Work

Soak up the atmosphere in our spectacular inner city venue on the 12th Floor at Russell Kennedy

Tantalise your taste buds with a glass of sparkling on arrival from Blackhearts and Sparrows.
This experience is NOT to be missed!
WHAT TO EXPECT //
It's time to bring our fabulous boss babes together for a night of brilliance!
Julie-Anne Black creates beautiful experiences for big-dreaming, mission-driven women called to make a massive difference in our world. For a long time, Julie-Anne has been an advocate to have those deeper conversations that captivate, educate and inspire you to be brilliant now.
Our events give you a unique platform to indulge in your brilliance and pay it forward. With bold panel members, a spectacular venue, beautiful sparkling and of course amazing women!
The calibre that will be in the room is not to be missed. So let's connect and collaborate in style so you can have fun, be inspired and pay it forward!
THE EXPERIENCE //
SPARKLING ON ARRIVAL - Recieve a complimentary sparkling on arrival from one of our major sponsor's Blackhearts & Sparrows.
A PANEL DISCUSSION - Be captivated, educated and inspired as you listen to our hand-selected panel members. Each has their own unique story of what it truly takes to turn your BIG dream into reality. Get inspired by their stories of business success and their personal journeys that led them to follow their intuition and be bold, brave and brilliant.
MEET & MINGLE - The most extraordinary connections and collaborations happen when decide to show up, share your goodness and be seen. So come out for a mid-week adventure.
RECEIVE A COMPLIMENTARY GIFT BAG - This gift bag is not your average paper stuffer. It will be a goodie bag with actual goodies you'll want to take home and use or share! NOTE: any leftovers will be donated.
PAY IT FORWARD - On the night we will be collecting your preloved items. So in the days prior to the event have a look through your wardrobe for any professional work attire you would love to say goodbye to and generously donate it to Fitted For Work. Think jewellery, accessories, shoes, handbags, pants, skirts, shirts, tops, dresses or even complete outfits. Just be sure it's still in fabulous condition so when she is "Fitted For Work she too will feel amazing!
See you on the night!
With all my love,
Julie-Anne
MEET OUR PANEL MEMBERS //
Carmen Garcia - Managing Director of Community Corporate, 40 Under 40 Business Leaders and Entrepreneurs in South Australia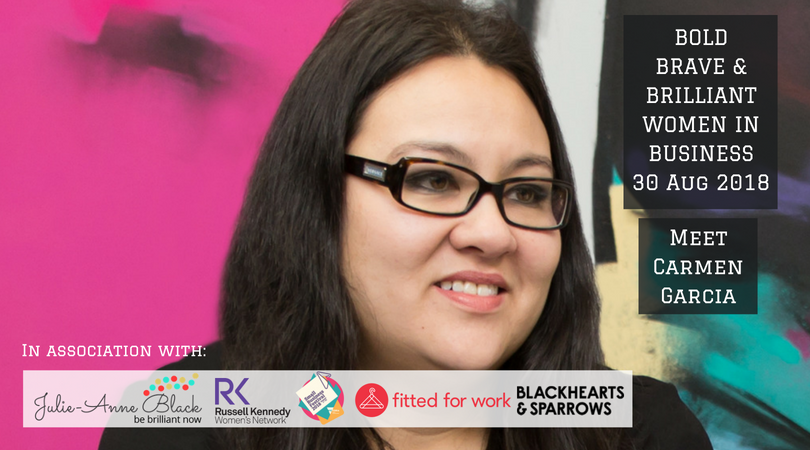 Carmen Garcia was named in this year's inaugural 40 Under 40 Business Leaders and Entrepreneurs in South Australia. She also won the State Contribution Award, one of only four individual awards for making a significant difference to the state of SA, through both an economic and social contribution. These are just the most recent of many awards recognising her trailblazing work as Managing Director of national corporate social responsibility firm, Community Corporate. She is well regarded as a national expert in diversity and inclusion and has built a reputation as an innovator in migration and employment. Her purpose-driven company was born from her personal story of adversity, teaching her invaluable lessons and informing her unconventional thinking to challenge the status quo. Carmen's passion for people and determination to make a profound social impact is driven by her mantra – 'at the core of human dignity is work'.
Liz Volpe – Founder of Project Gen Z, Co-Founder League of Extraordinary Women, Speaker, Award-winning Entrepreneur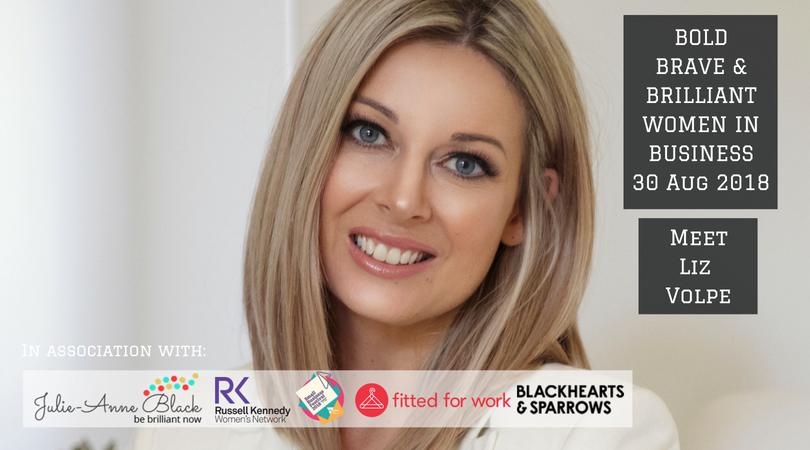 As one of Australia's most prominent female entrepreneurs, it is easy to see why Liz Volpe is an unstoppable force not only in business but also in the 'world change' arena. As a serial entrepreneur and social enterprise founder, she has the unique ability to break down extraordinary visions, into tangible actions that inspire others to step into the realisation of their dreams. In 2012, Liz co-founded the League of Extraordinary Women which has since become Australia's fastest and largest growing movement of female entrepreneurs, named as No. 3 in the 'Top 10 organisations encouraging female professionals in Australia' by Business Review Australia. By 2015, Liz visited The Sunrise Cambodia, a home and education centre for abused, vulnerable and orphaned children in Cambodia. As a result Project Gen Z was born. Project Gen Z is a collective of Australia's leading entrepreneurs and CEOS who have joined forces to roll out the 'Dare to Dream' entrepreneurial workshops targeted at young people in Australia and all over the world. Liz believes people are fundamentally dreamers, and many of us have extraordinary visions for our lives both professionally and personally. What sorts out the people that make it happen, opposed to those that don't is the ability to work back and map out the steps to creating the dream. These steps are the paint brushes used to bring to life an extraordinary vision.
Marika Hubble-Marriott – RKWN Convenor, Dispute Resolution Principal & Practice Group Leader, Russell Kennedy Lawyers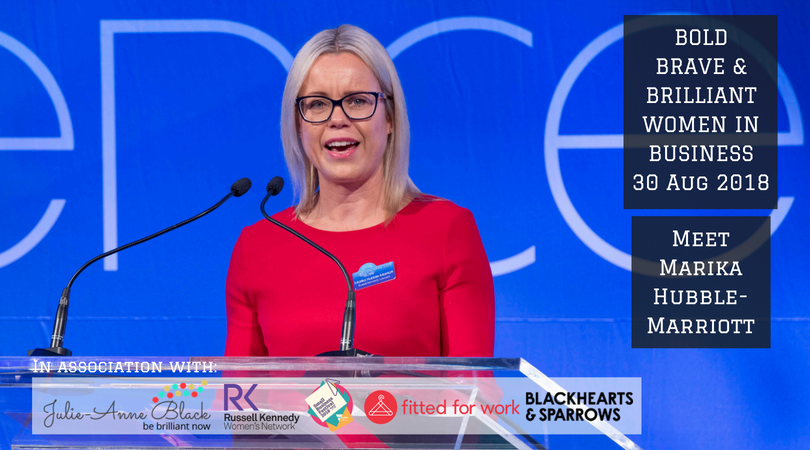 Marika committed to a career with Russell Kennedy as it gave her the opportunity to develop her litigation practice and pursue her passion for gender equality. Marika enjoys senior leadership roles as the Dispute Resolution Practice Group Leader at Russell Kennedy and the Convenor of the Russell Kennedy Women's Network (RKWN). She is the co-chair of the Russell Kennedy Male Champions of Change initiative and a Board member of LifeWorks Relationship Counselling and Education Services. Marika's passion for the advancement of women dates back to her representation on the Association of All Girls High Schools. She is a role model, mentor and advocate for women in the advancement of all aspects of their professional and personal lives. Today Marika is a regular presenter and facilitator addressing issues such as gender equality, flexible work practices, and initiatives to promote and retain women in business. Through these roles, she is able to connect with a wide community of women in business to share her experiences, learn from others, and champion for change. Marika adopts the mantra "survive and thrive" which assists her to navigate life in all its colour and complexities.

Your host - Julie-Anne Black - International Speaker, Author, Mentor and Creator of Be Brilliant Now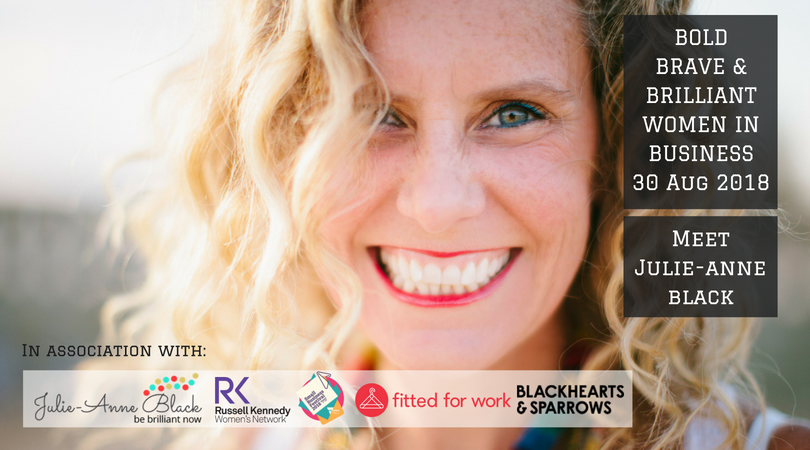 Julie-Anne Black International Speaker, Author, Producer and Joy Advocate. Creator of boutique training and mentoring company Be Brilliant Now showing creative entrepreneurs how to fall in love with who they are and what they are up to in the world. Julie-Anne combines the secrets she learnt as a top TV producer (Who Wants To Be A Millionaire) with her expertise as an internationally accredited mindset, body language and NLP trainer to help you produce, write, direct, edit and star in your own brilliant life. Her mission is to show you how to take charge of your success and happiness by boosting your communication skills and shedding those BS excuses so you can produce a life more compelling to live than a hit TV show is to watch. Julie-Anne encourages you to take centre stage so you can make a massive difference sharing your best work with the world. She believes the most spectacular results occur when your confidence, creativity and performance intersect and when you unleash these aspects remarkable things happen. Are you ready to be brilliant now?
PAYING IT FORWARD //
On a night where our intention is to empower everyone involved to be brilliant now, we've teamed up with Fitted For Work. A not-for-profit whose motto is "when a woman is fitted for work, she is fitted for life."

Fitted for Work is dedicated to helping women experiencing disadvantage to regain their confidence and secure and maintain employment. Every woman has the right to economic security. We support women from varied backgrounds. For example, they may be older women; survivors of domestic violence; single mothers; experiencing homelessness; recently released from prison; a newly arrived migrant or refugee woman; or have a disability. We develop each woman's confidence and self-esteem as well as her skills and knowledge to obtain work through a suite of tailored pre-and post-employment services, including personal outfitting, resume assistance, interview preparation, mock interview practice and mentor placements. Since 2005 we have helped over 30,000 women. 64% of the women sampled who access our suite of services find work within just 4 months and 100% report increased confidence and job readiness after completing our Transition to Work and WomanKind programs. We focus specifically on helping women gain employment not only because work provides financial security but also a sense of social connectedness, dignity and pride. We believe that when a woman is fitted for work, she is fitted for life.
OUR MAJOR SPONSORS //
Our stunning venue is brought to you by Russell Kennedy Women's Network: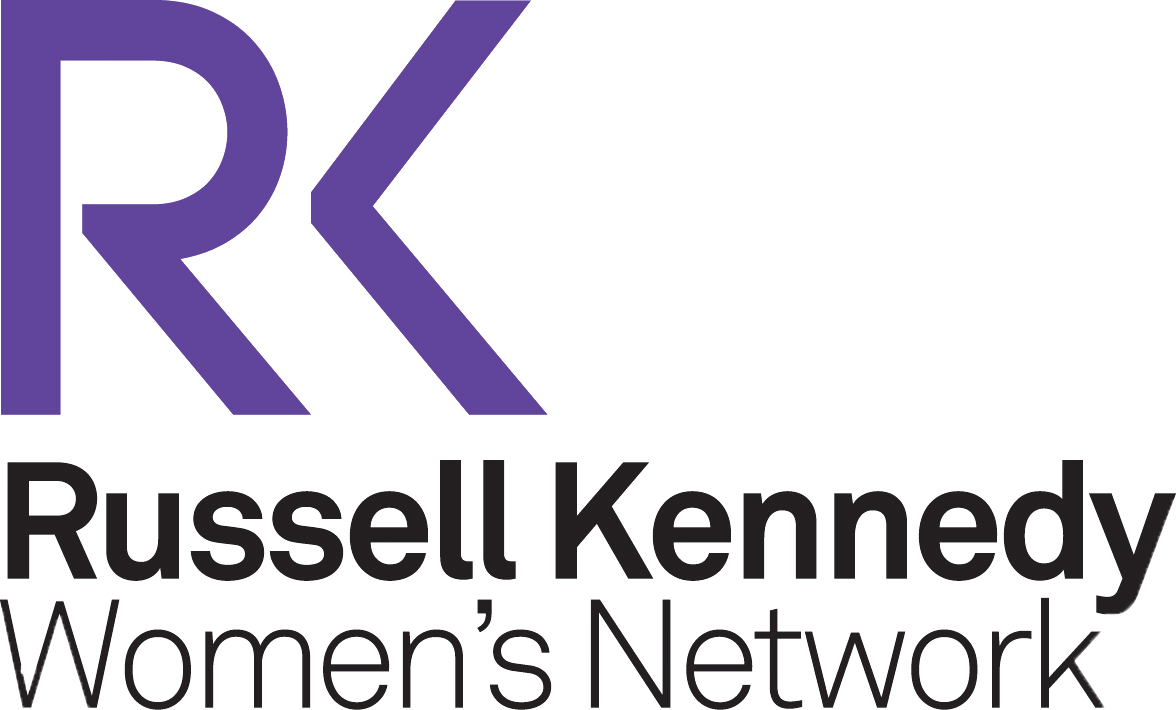 We consciously chose to partner with the Russell Kennedy Women's Network (RKWN) because we love what they stand for and all the brilliant work they do to empower women through connection and development. Established in 2011, the network brings together women (and men) from diverse organisations and industries in an environment conducive to developing long-term relationships. That's why when looking for a venue it was important for us to make sure we partnered with someone who understood the values-driven mission we were on. The events RKWN hold are designed to provide experiences, skills and inspiration for women to engage, develop and advance in the legal profession, in business and in our community.
We are thrilled to announce Independent Wine Cellars Blackhearts & Sparrows will be providing your drinks on arrival:

Blackhearts & Sparrows independent wine stores, make the world of wine accessible to all. They view great wine, beer and cider as more than just a drink saying "Great wine brings people together." Established in 2006 by Paul and Jessica Ghaie – siblings with a thirst for all things fermented – Blackhearts & Sparrows stores feel like home. Stocked with a wide range of hand-selected products from Australia and abroad, everything has been tasted by the team before it hits the shelves. At Blackhearts & Sparrows they have built strong relationships with winemakers and brewers, and are champions of the small and unique, the weird and wonderful, and the downright delicious. They enjoy nothing more than finding the right bottle for you.
Mouth-watering menu designed and catered by Rob Lamendola Catering & Events.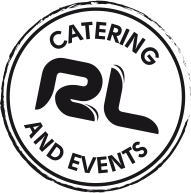 At Rob Lamendola, they are all about satisfaction and great taste. Our catering menus are designed to utilize the freshest ingredients full of fresh, mouth-watering food that will exceed expectations for you and your guests, making your function a memorable one.

IN ASSOCIATION WITH //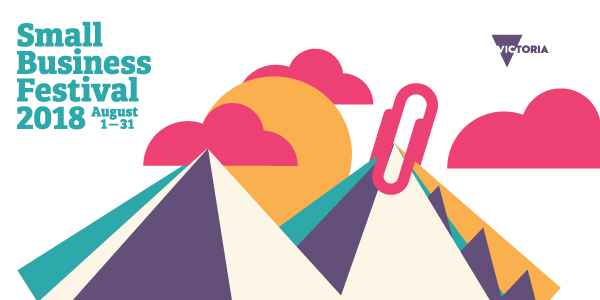 One event can change your business.
Find it at the Small Business Festival this August.
Explore the full program now festival.business.vic.gov.au
#SmallBizFestVic
Refund information for any cancelled or rescheduled events will be emailed to ticket holders and posted on https://festival.business.vic.gov.au/ when applicable.