Join Sally Breen and Simone Watson as they launch Body Shell Girl - the new memoir in verse by Rose Hunter
About this event
Body Shell Girl is a memoir in verse about the first two years of a decade that Rose Hunter spent in the sex industry in Canada. When Rose walked into a massage parlour in Toronto in 1997, she was looking for a temporary fix to pay rent and avoid having to go back to her home country of Australia.
Awkward, shy and looking for a place to belong, she found herself in a strange world she understood little about, other than here she could make more than rent. She planned to use her earnings to buy herself an education that would secure the career of her dreams.
Naively believing she could do only what was required of her, without trauma or side effects and leave the industry on her own terms, she was shattered by what unfolded.
This is her story. It is also a searing portrayal of this dehumanising industry in all its destructive power.
"Shimmering, relentless and candid."
— Simone Watson
"A highly visceral reading experience that left me body-shocked and reeling."
— Sally Breen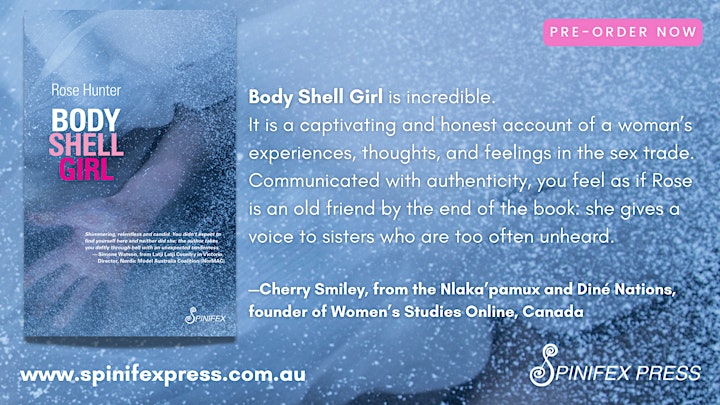 HOW TO ORDER THE BOOK
Order Body Shell Girl on the Spinifex Press website prior to the launch. Use code FREEPOST for free postage and handling in Australia only.