Description
Come join us for Body Shape's biggest event of the year!
Everyone who comes on the day goes into our massive free raffle! $1000's worth of prizes to be won!
SIGN UP ON THE DAY FROM $16.95/WK AND RECEIVE:
✔ No Joining Fee
✔ 2 Weeks Free
✔ Personal Training Session
✔ Kids Club
✔ Hoyts Movie Pass
✔ $50 Gift Voucher
✔ Nutrition Warehouse Showbag
✔ Robertson Kirkwood Showbag
✔ Just Cuts Showbag (first 25 only)
✔ 50% Off Sun's Beauty Room Facial
TOTAL VALUE: $375
MEMBERS: BRING A FRIEND ON THE DAY AND IF THEY SIGN UP RECEIVE $50 CASH!
This deal is LIMITED TO THE FIRST 50 PEOPLE only. SAVE YOUR SPOT NOW ON EVENTBRITE!
WHAT'S ON?
Huge Sale On The Day
Free Classes
Massive Free Raffle: Mad Mex Vouchers and prizes, Thrive Smoothie Cards, Bronze Avenue Prizes, Just Cuts Prize Pack, Health Space Prize Pack, Seaweed & Sand prizes, Showbags + More!
Giveaways
Free Body Alignment Checks
Free Massages
Free Henna Tattoo
Free Craft for Kids
Free Child Minding
Free Healthy Food Provided

by Mad Mex, Thr1ve, Naked Foods

+ HEAPS MORE!!!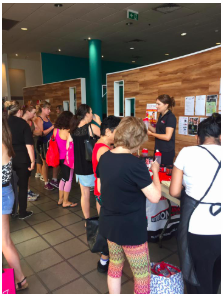 Providers: Nutrition Warehouse, Hoyts, Just Cuts, Mad Mex, Robertson Kirkwood, Sun's Beauty Room, Bronze Avenue, Hoyts, Health Space Brookvale, Thrive, Lorna Jane, Naked Foods, Goodstart Early Learning, Country Growers Warringah, Seaweed and Sand + More to be named!
See you there!
A: Shop 601 Warringah Mall, Brookvale, NSW, 2100 (Opposite Hoyts)
P: 02 9939 3311
E: warringahmall@bodyshape.com.au