Event Information
Refund Policy
Contact the organiser to request a refund.
Eventbrite's fee is nonrefundable.
Take an exhilarating night-time tour into a hidden Blue Mountains Glow Worm Canyon! Turn off the lights and immerse yourself in the magic!
About this Event
Experience one of the most fascinating tours in the Blue Mountains
Join a small, personal tour group and embark on a nocturnal adventure into a world of glowing lights. Walking through the bush, feel the excitement build as first glimpses of the Glow Worms can be spotted through the trees.
Climb down to the bottom of an ancient sandstone canyon and follow its twists and turns to the main Glow Worm viewing area. In this natural amphitheatre, sit and wait in silence as thousands of Glow Worms begin to appear like stars around you.
Listen to your experienced guide recount stories of the early colonial era sightings of Glow Worms in the Blue Mountains. Learn all about Glow Worms, their life-cycles and interesting behaviours during an interactive biology lesson.
Ask your own questions to discover the truly bizarre and unique details - including HOW and WHY they produce light.
Get up close - really close - on our purpose-built viewing platform
Positioned underneath a densely populated glow worm overhang, our custom-built viewing platform allows you and your friends to climb up for a very personal experience with the Glow Worms!
No other tour or in Australia lets you get so close to Glow Worms in their natural habitat. Leaning in only inches away, watch the intricate and sticky Glow Worm webs dangling down from the rocks.
If you're lucky you might see a Glow Worm wriggling back and forth in its web! Up this close you will be surprised at how many more Glow Worms are visible – and how bright they are!
Only 50min Drive from Katoomba!
Leave the city and tourist crowds behind for a magical night to remember!
Blue Mountains Glow Worm Tours operate on Private Property located close to Mt Tomah in the Bilpin region of the Blue Mountains, less than 2hrs drive from Sydney.
Enjoy spectacular, world-class Blue Mountains scenery as you drive along Bells Line of Road to our tour meeting point. The Bilpin region is famous for its apple picking and delicious range of local produce.
Glow Worm Tour Details
Duration: 1 hour
Difficulty: Medium Fitness Required
Start Time: Varies - Check Ticket
Location: Near Mt Tomah/Bilpin
Meeting Point: See Tickets for details
Cost: $65.00
Cost (Child): Contact Us
Provided: Torches
Required: Enclosed shoes
Do You Believe in Magic?
After discovering a large Glow Worm colony on our private property, we have been showing visitors this amazing natural wonder for almost 5 years. Over this time the tour has evolved based on guest feedback and our own leaning and experience of the Glow Worms. The tour has been carefully designed to ensure everyones Glow Worm experience is the highlight of their trip to the Blue mountains.
Check out what all these previous customers have to say about their magical experience on the tour!
TERMS & CONDITIONS
WALKING CONDITIONS
The track to the glow worms whilst it isn't longer then a 15minute walk, it is of medium difficulty and does have steep stairs. Please call 0416411502 to discuss if you have any concerns.
CANCELLATION & REFUND POLICY:
Refunds will not be given if you do not attend the tour, are late or simply forget. It is recommended that you arrive at least 5 minutes prior to the tour start time to ensure you have adequate time to check-in.
If you are eligible for a refund this can take up to 2 weeks to process after the tour date. (due to bank transfer times).
Cancellations less than 14 days before the start of the tour WILL NOT be refunded. If you have questions about the tour that may impact on your participation, please make sure you contact the tour organiser prior to booking.
WEATHER CONDITIONS:The Glow Worm Tour will generally operate in the rain - in fact Glow Worms like the rain and often produce a more exciting display in wet weather.
In the event of rain, please assume the tour is going ahead as planned and proceed to the starting point - the tour guide will supply good quality rain jackets for each participant. If an assessment is made that the weather conditions are unsafe the tour guide will inform participants as early as possible that it has been cancelled.
IMPORTANT: In the event of bad weather do not assume the tour has been cancelled. Please ensure you proceed to the tour starting point on time.
TOILETS & AMENITIES
THERE ARE NO TOILETS, FACILITIES, SHOPS, AMENITIES AVAILABLE AT THE TOUR MEETING POINT.The closest toilets are at the Bilpin Metro Petrol Station or the Bilpin Sports Oval/Rest Area, approx. 10 minutes' drive towards Sydney from the tour meeting point
TOUR RULES:
• NO flash photography• NO Yelling or talking loudly when close to the glow worms• NO Walking off the defined track• The Tour Guides directions MUST be followed at all times.• NO walking without turning on your headtorch
ARRIVAL: Please arrive at least 5-10 minutes prior to the tour starting time to ensure the tour group can depart promptly. LATE COMERS who arrive more than 10 minutes after the advertised starting time may not be included on the tour.
Glow Worms are a naturally occurring phenomenon and the intensity of their display can be affected by uncontrollable environmental conditions. While there are always Glow Worms to be seen on the tour, occasionally unforeseen and/or dramatic changes in weather can have an impact on the numbers of Glow Worms visible.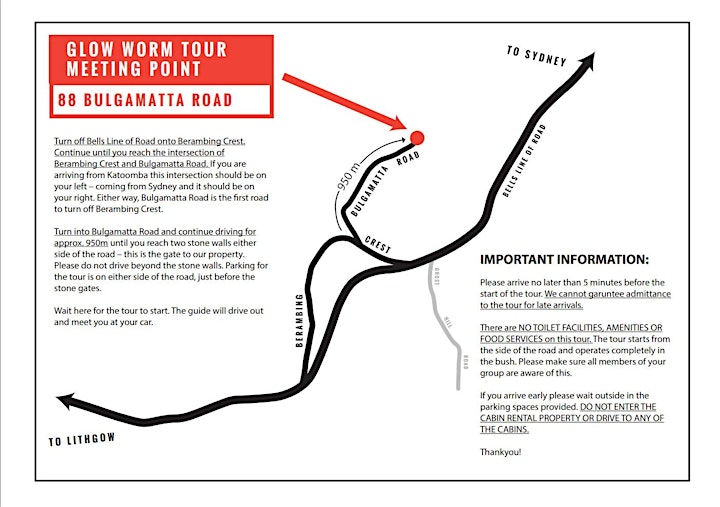 Date and Time
Location
Refund Policy
Contact the organiser to request a refund.
Eventbrite's fee is nonrefundable.