BLOOM: Celebrating ALL women, multicultural unity & budding talent
A global gala evening celebrating ALL women, multicultural unity & budding talent, presented by Canning Show & CAHRS.
About this event
ALL women are invited to unite for a unique evening celebrating talented females, multicultural communities, and unity, presented by Canning Show & CAHRS.
No matter your geographic, social, cultural or ethnic background, this global gala will be filled with opportunities to learn, be inspired by, and share everything that makes females and our diverse communities blooming brilliant!
BLOOM reflects our not-for-profit organisation Canning Agricultural, Horticultural & Recreational Society and Canning Show's commitment to respect, inclusivity, fairness, compassion, generosity, social connection and support, and promoting a greater sense of belonging and empowerment for ALL women living in Perth, and beyond.
The night promises to be equal parts enlightening, delicious, exciting, social, and FUN, featuring women of all backgrounds showcasing everything from world performances to continent-roaming cuisine, traditional fashions and global goods.
Get ready to enrich your knowledge about cultures and traditions from all around the world, all through a woman's lens.
Keep your eye out for a giveaway to WIN a $100 gift card to Westfield Carousel simply by purchasing a ticket to BLOOM! Winner to be announced at the event.
LINE-UP INCLUDES:
ENTERTAINMENT:
FOOD & DRINKS:
Enjoy a buffet taking your tastebuds for a global gourmet journey whilst seated at your table, presented by United in Diversity Kitchen
Drinks available for purchase, including international options.
EMCEE: MC Kim MacIsaac (Fashion Stylist, Founder of Op Styling) helping us discover more about the many cultures represented, and have fun whilst doing it!
FASHION:
Community Catwalk showcasing culturally influenced fashion and traditional dress from around the world, with models from and representing Afganistan, China, Indonesia, Botswana, Ecuador, India, Japan, Peru, Scotland, South Africa, Turkey & Yemen (largely coordinated by Women of World Stage - WOWs).
MARKET STALLS:
Gifts galore and things for you to adore, with pop-up shops from a range of female-run artisan and local businesses.
Viva! Life Photography: Display photography, free entry raffle for all approaching them at event, one major prize winner valued at $1500, 25 runner-up prizes!
Lama Little: Stained glass suncatchers and home décor
Hoshi: Cosplay cosmetics direct from Japan
Hushh Comestics AU: Cosmetics and skincare
Nora Hijabi Heaven: Hijabs, Undercaps, Abayas, Clothing etc
Donja's Machie Knitting: Knitted garments for baby-adults
+ more TBA
CANNING SHOW EXHIBITION:
This event also coincides with the release of the LiveLighter Canning Show Exhibition Schedule Of Entries, meaning you'll be the first to receive your guide to channel your night's inspiration into creative wins!
THANKS:
>>>>>>>>>>>>>>>>>>>>>>>>
𝗕𝗢𝗢𝗞𝗜𝗡𝗚𝗦 / 𝗥𝗘𝗚𝗜𝗦𝗧𝗥𝗔𝗧𝗜𝗢𝗡𝗦:
General Public: $25 +BF
CAHRS Members: $20 +BF
Includes Buffet Dinner and all entertainment.
Open to all women, 18+.
Limited tickets from Eventbrite.
Please note: If you are buying tickets as a group then you will be automatically seated together. If you are not, please ensure 1 person in your party sends an email with the full list of names you would like grouped together by Midday Monday 16 August (wk of) and we'll do our best to seat you together.
>>>>>>>>>>>>>>>>>>>>>>>>
𝗧𝗢 𝗕𝗥𝗜𝗡𝗚:
- We encourage you to embrace the night and dress in traditional or culturally colourful attire.
- $$ to purchase from artisan stalls and drinks station.
𝗪𝗛𝗘𝗡:
Saturday 21 August 2021
6-10pm
Please arrive promptly for a fun-packed eve!
𝗪𝗛𝗘𝗥𝗘: Cannington Exhibition Centre & Showgrounds
𝗠𝗢𝗥𝗘 𝗜𝗡𝗙𝗢 / 𝗨𝗦𝗘𝗙𝗨𝗟 𝗟𝗜𝗡𝗞𝗦:
Any questions, please contact enquiries@cahrs.com.au / laura@cahrs.com.au or call the office on 9451 1820.
More info on Canning Show Exhibition: http://canningshow.com.au/schedule-of-entries/
>>>>>>>>>>>>>>>>>>>>>>>>
𝗔𝗕𝗢𝗨𝗧 𝗖𝗔𝗛𝗥𝗦/𝗠𝗘𝗠𝗕𝗘𝗥𝗦𝗛𝗜𝗣:
This is another event presented by Canning Agricultural, Horticultural & Recreational Society (CAHRS), a not-for-profit organisation dedicated to enriching the lives of our community, from hosting events at Cannington Exhibition Centre & Showgrounds to organising our own events, workshops, programs and more. All events are discounted or subsidised for Members, who receive a range of benefits, from free Canning Show tickets to warm and fuzzies giving back to the community. Plus, it's only a $25 Annual fee! More info: http://cahrs.com.au/become-a-member/
𝗦𝗔𝗙𝗘𝗧𝗬/𝗥𝗘𝗙𝗨𝗡𝗗𝗦:
This event will run in accordance with the government's COVID-19 social distancing restrictions at the time. Please respect the safety measures in place. Refunds will be given if the event is cancelled due to COVID-19.
𝗠𝗢𝗥𝗘 𝗘𝗩𝗘𝗡𝗧𝗦 𝗔𝗧 𝗖𝗘𝗖𝗦 / 𝗕𝗬 𝗖𝗔𝗛𝗥𝗦: https://www.facebook.com/pg/CanningtonExhibitionCentreShowgrounds/events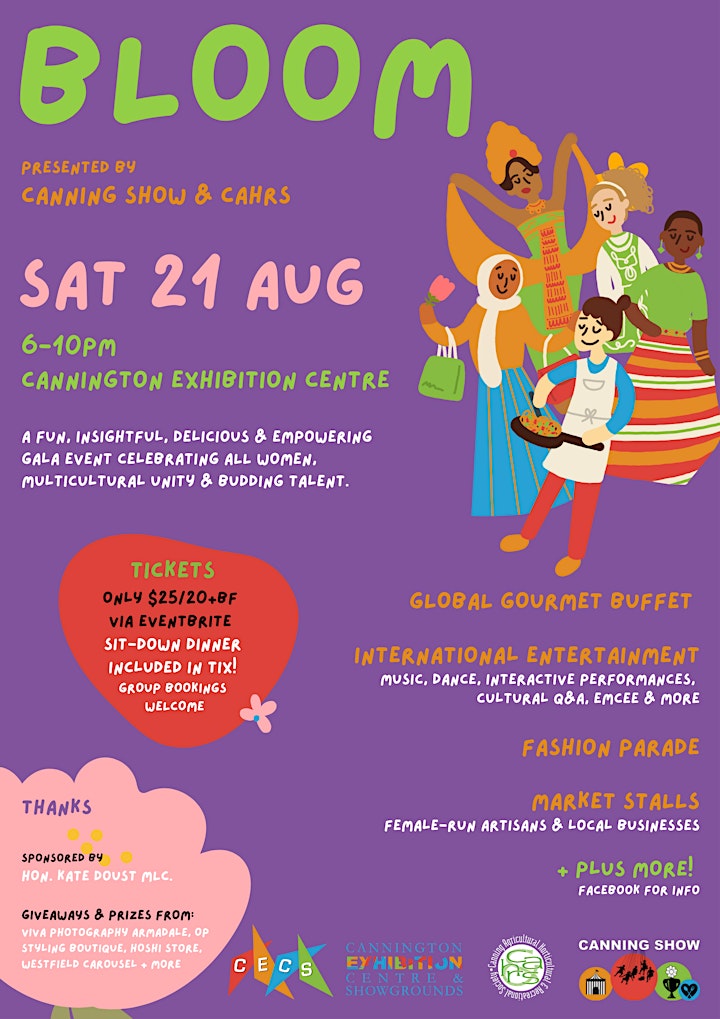 Organiser of BLOOM: Celebrating ALL women, multicultural unity & budding talent
Canning Agricultural, Horticultural & Recreational Society Inc aka CAHRS is a not-for-profit organisation dedicated to enriching the lives of the community.
It is our mission to provide platforms, opportunities, events and workshops to encourage cultural and artistic pursuits, agricultural and horticultural interests, and to develop community imagination, creation and participation.
Established in 1894, the Society now owns and hires out to the public our expansive grounds, the centrally located Cannington Exhibition Centre & Showgrounds. With several state-of-the-art, multi-purpose halls, we see 450+ events a year held on our grounds constantly inspiring people, with the spaces booked by an incredible diversity of events and communities.
We host the key community event Canning Show annually, attracting around 10,000K people of all ages, and from all backgrounds.