Sales Have Ended
Ticket sales have ended
Thank you for your interest to join us. You can purchase in Bloconomic website https://bloconomic.com/
Sales Have Ended
Ticket sales have ended
Thank you for your interest to join us. You can purchase in Bloconomic website https://bloconomic.com/
BLOCONOMIC EXPO 2019 aims to bring together many components of Blockchain economy into the heart of South East Asia, Kuala Lumpur, Malaysia
About this Event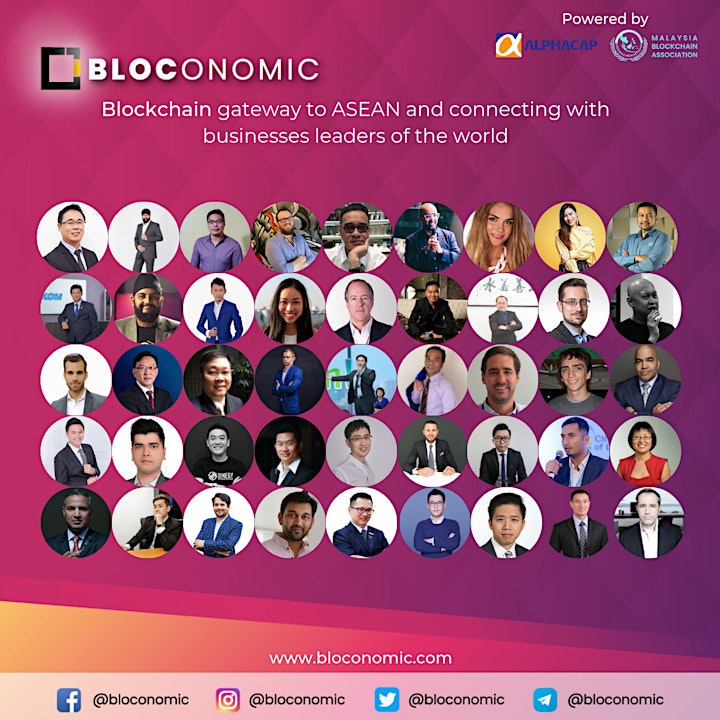 Bloconomic (Blockchain Economic Expo 2019) is organised by Alphacap Berhad in collaboration with Malaysia Blockchain Association (MBA) to address the erroneous perception the mass community have about Blockchain and to promote advantageous properties it offers socially and commercially. We aspire to bring together the government, business and society from all walks of life into this new realm of technology in a safe and responsible manner that would spark many innovative uses of this technology through their interactions with the Blockchain experts.
In order to initiate the association from a meaningful and substantial ground, the committee members have started engaging with various Blockchain experts around the world. They have visited countries like Dubai, Singapore, China, United States of America and Germany to bring knowledge and resources into Malaysia.
Last year, Bloconomic Economic Summit was a huge success with participants of 3000 attendees, 150 media partners, 30 association members and regulator for SEA, 250 investor and venture capital, 70 speakers globally, 10 academy and universities, government from all around the world. They are the government delegates, exhibitors, regulators, research institutes, financial institution, fintech companies, Blockchain technology and industry application companies, cryptocurrency and digital asset related companies.
This year, Bloconomic is focusing on to bring more investors, ecosystem community and venture capitalist to Malaysia, as well as industrial key players and to give exposure to government agencies and the community alongside the 4th Industrial Revolution that is evolving right now. Bloconomic will discuss on ICO/STO, IEO, security side, regulatory, AI, and many more.
DELIBERATION AREA
❏ Economy evolution to decentralized technology
❏ The state of Blockchain Regulation, Policy and Compliance in Building the Fabric of Decentralised World
❏ Government & Regulatory roles in making ASEAN to a Digital Hub
❏ Academy establishment for creating society IR4.0
❏ Recognition of top innovation Blockchain players in 2018.
JOIN NOW
❏ Networking platform for investor until start-up globally.
❏ Gain valuable connections within globally and locally.
❏ Meeting and presenting project opportunity to potential stakeholders.
❏ Experience engagement with global blockchain leader.
❏ Blockchain recognition within ASEAN region
WHAT WILL BE COVERED
❏ Blockchain as digital hub
❏ Blockchain in finance and banking
❏ Blockchain in academic
❏ Blockchain in economy
❏ Blockchain in regulatory
❏ Cyber safety in blockchain
❏ Blockchain social impact
❏ Future of crypto
More details on https://bloconomic.com/