Location
Busselton
Busselton, WA 6280
Australia
Sales Have Ended
Registrations are closed
Thank you for your Interest in Black Dog Ride's Around Australia 2019. Registrations are full but if you would like to be put on the waitlist, please email registrations@blackdogride.com.au
Description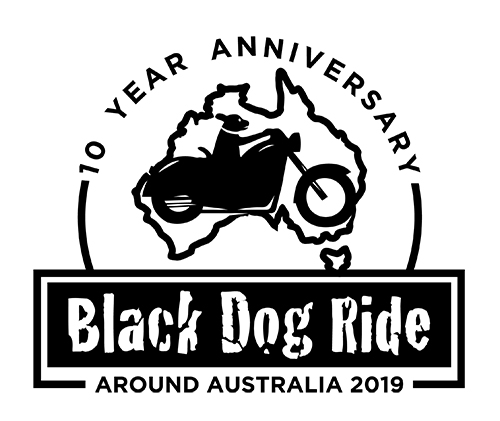 On the 10th Anniversary of the ride that inspired a nation, Black Dog Riders will embark on a 15,696km epic journey of personal discovery and community awareness.
In 2009, after the suicide of a loved one, Steve saddled up and set out to raise awareness of depression. 10 years later his visionary act has grown into a nationally respected Australian mental health charity involving hundreds of community leaders with lived experience organising activities each year, all with one aim: to raise awareness of depression and suicide prevention.


THE LAP
On July 26th 2019, Black Dog Ride will be departing from Busselton WA, the original departure date and location in 2009. For safety, cohesion, catering and logistics, the ride numbers will be limited.
Those who would love to join us but can't get the time off work or commit the funds are encouraged to join us on our 4 to 7 day long State Rides, and Around Australia Riders will meet up with them during the lap of our nation.
The average daily distance is 500kms, with 5 rest days spread across the duration of the ride. Participants will be part of Black Dog Ride's community engagements with schools, community orgs, and local businesses.
Please click on the following links to see the Around Australia Ride route.
THE CAUSE
Black Dog Ride aims to raise awareness of depression and suicide prevention, and our 10th anniversay circumnavigation around our nation will certainly do that! Our community members, especially those affected by depression or suicide, are immensely generous and want to contribute to the cause with donations. As Black Dog Ride is a charity every donation over $2 is tax deductible, and funds raised will go into Black Dog Ride's community funding pool to fund mental health projects across the country.
THE COMMITMENT
Riding around Australia with us is a massive undertaking with 5 rest days across 35 days of riding, at an average of 500kms per day, plus community engagements. The original solo lap took 26 days, and the 5th anniversary lap with Black Dog Riders took 32 days. It is designed as a commemoration of our origins combined with a grassroots mental health awareness campaign, and we must take into account most riders have limited annual leave and funds. Please don't enquire about extending the ride - it already has been.

After registering, you will need to develop your ride fitness, going out for long durations on your bike and getting used to being in saddle for long periods of time. You also need to take into account your motorcycle and it's capacity for this long ride, and vital servicing and tyres before ride departure. Your motorcycle and yourself must be capable of riding the posted highway speeds, day after day.
Please note: to be part of the full lap, you must commit to completing the FULL LAP, and not join us halfway or departing earlier. Please look into joining a state ride if you cannot commit to the full lap. Around Aus 2019 Riders and State Riders will meet up at pre-planned intervals during the lap.
---
WHAT NEXT?
Still interested? Time to register! When you register, you will be asked a number of questions. The majority of them pertain to safety, things we need to know about you to ensure your safety and wellbeing on our national month long mental health project. We need to know:

Next of Kin Details: Who we can contact in case of an emergency. Please don't use your pillion.


Bike Details: So we can identify you on the road and research dealerships for servicing if needed


Medical: Any physical and mental health conditions or medication in case of emergencies to ensure we can liaise with medical practitioners for your best care.


Dietary Requirements: Vegetarian, Vegan, Ceoliac? Let us know. In regional Australia it can be difficult to cater for all dietary requirements but we can try, and we will liaise with you where we have details.


Bike Transport: If you will be transporting your bike to and from Busselton WA. This is an additional cost but Black Dog Ride is arranging good prices and we need to know numbers.


Sharing Accommodation: If you're willing to share accommodation. We will send you an accomodation list, however some venues won't facilitate sharing rooms, so if you tick this option we can help pair up riders to keep costs down.


Working With Children Checks: As we'll be visiting schools and meeting young people, all riders will need to obtain Working With Children Checks or their State equivalent. For volunteers, which you would be classed as, it's usually free or around $10. See here for more info.


Tee & Jacket Size: So we can order your Around Aus 2019 jacket and tee!
We apologise for the repeated address questions. Eventbrite doesn't allow the option of an "As Above" check box. We don't see your billing address, and your postal address may be different from your home address.
After registration, you will receive an email from Eventbrite confirming your registration. In about a week, you will receive an email from Black Dog Ride with accomodation lists for each town we are stopping at every evening. This list won't be made public, to ensure riders are advantaged with first bookings for each venue. Black Dog Ride is arranging discounted bike transport from east coast capital cities to Perth with BikesOnly, please stay tuned for more info before you make your bike transport bookings!
CONTACT US
If you have any queries, please contact our Black Dog Ride Around Australia 2019 Coordinator Garry Browning m: 0477-326-755 or e: garry.browning@blackdogride.org.au Garry is a long time Black Dog Rider, former 1 Dayer and long distance ride coordinator for Black Dog Ride, with three decades of service to the RAAF under his belt. He's based in Newcastle in NSW and is volunteering his time to Black Dog Ride. Thank you Garry.
If you have issues registering or need to update your details with Eventbrite, please contact Black Dog Ride directly at registrations@blackdogride.com.au
Looking forward to catching up with you in July!