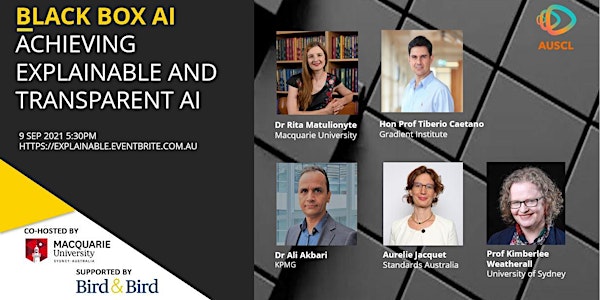 Black Box AI: Achieving Explainable and Transparent AI
Enter Pandora's Black Box of AI - Join us for a lively discussion demystifying the black box - calling for AI explainability & transparency
About this event
Join the AUSCL Australian Society for Computers & Law Emerging Technology Workstream, Macquarie Law School and sponsors Bird&Bird for:
Black Box AI: Achieving Explainable and Transparent AI
About the event
Artificial intelligence (AI) technologies are notorious for their 'black-box' nature. Even AI experts sometimes cannot explain how exactly sophisticated AI modules reach specific decisions or inferences. In addition to that, AI developers protect AI algorithms and modules as trade secrets, which further increases AI opacity. Is 'black-box AI' an actual problem for those who develop or use AI in their businesses or when providing public services? Who is affected worst? Are there solutions or emerging practices that aim to address the 'black-box' nature of AI? Will more transparency and explainability of AI help address other problems associated with AI, such as bias, privacy concerns, and accountability issues? These and other issues will be explored by an experienced panel of industry and academic experts in the field of AI and law.
Meet the speakers
Dr Rita Matulionyte (Chair) is a senior lecturer and researcher in law at Macquarie Law School, Macquarie University. She is an international expert in intellectual property and technology law, with her most recent research focusing on legal and governance issues surrounding Artificial Intelligence technologies. She currently leads a project on Government use of face recognition technologies: legal challenges and possible solutions. Rita has over 40 research papers published by leading international publishers and was invited to present her research in conferences in Europe, US, Japan, Hong Kong and Australia. She has prepared expert reports for the European Commission, the European Patent Office, and for the governments of South Korea and Lithuania. She is a member of the management committee of the Australian Society for Computers and Law (AUSCL) and is a member of Intellectual Property Society for Australia and New Zealand (IPSANZ).
Dr Ali Akbari is an industry expert with a PhD from Tokyo Institute of Technology specialised in computer vision. In the past 15 years he has combined the science aspect of AI with his background in robotics and software engineering to bring to life many commercial solutions around the APAC region. Currently he is a director at KPMG and the national AI capability lead. Ali is specialised in processing images and textual unstructured data and application of AI/ML in operationalising real-time risk management solutions in various industries including manufacturing, finance, and public sector. Among many other projects he has led the production of the first transactional analytics solution for automated credit risk decisioning at ommonwealth Bank, the AI/ML intelligent targeting engine for Unisys's border protection solution, and the intelligent simulation engine of the largest biometrics solution for a federal government organisation in Australia. In addition to technical expertise Ali has been involved in creating AI Ethics frameworks and is a member of Standards Australia AI standardization committee.
Professor Kimberlee Weatherall is a Professor of Law at the University of Sydney, and a Chief Investigator with the ARC Centre of Excellence for Automated Decision-Making and Society. In technology law, her current research focuses on the law relating to the collection, ownership, use and governance of data about and related to people, with the goal of ensuring that data collection, use and linkage, and data and predictive analytics are developed in ways that are beneficial to people and society. She is a Fellow at the Gradient Institute, a research institute developing ethical AI, and a research affiliate of the Humanising Machine Intelligence group at the Australian National University, and a member of the Australian Computer Society's Advisory Committee on AI Ethics. Kimberlee also holds funding from the Minderoo Foundation to investigate Private Law and AI. She also teaches and researches in intellectual property law, and has numerous publications in areas crossing copyright, trade mark, and the relationship between IP and trade.
Aurelie Jacquet is a member of the NSW Government AI Advisory Committee. She also works on leading global initiatives for the implementation of Responsible AI. Aurelie is the chair of the standards committee representing Australia at the international standards on AI. She is an expert for the Institute of Electrical and Electronics Engineers (IEEE) and works with them on various initiatives, such as the standard on organizational governance of AI, the Ethics Certification Program, and she also leads the work stream on Dignity and Agency as part of IEEE' s Digital Inclusion, Identity, Trust, and Agency program. She is a member of the European AI Alliance, the editorial board of Springer's International Journal on AI & Ethics, and of the Australian Computer Society's AI Ethics Committee. In 2021, she won the Australia-New Zealand Women in AI and the law award, and was recognised by Women in AI Ethics (WAIE) as one of the 100 Brilliant Women in AI Ethics globally.
Tiberio Caetano is Chief Scientist of Gradient Institute. He is a machine learning researcher and leader, having worked in Brazil, Canada, France and Australia. He was a researcher at NICTA (now Data61) for 10 years. He published extensively in the premier machine learning research venues and graduated numerous PhD students, among whom are leading data scientists, researchers and academics at top universities and industry labs across Australia, the US and Europe. He co-founded Ambiata, later acquired by Australia's largest general insurer IAG, where he led the design of decision-making algorithms that have touched millions of consumers across several industries. Recently he helped establish Gradient Institute, a not-for-profit research institute focusing on Responsible AI. Tiberio is an Adjunct Professor at UNSW, an Honorary Professor at the ANU and an advisor for the OECD on AI.
About AUSCL
AUSCL, the Australian Society for Computers and Law, is a registered Australian charity established for the purpose of advancing education and policy development on issues at the intersection of technology, law and society.
Our global network of members include IT, Legal and Policy professionals, academics, students and leaders of civil society. We are passionate about multi-disciplinary approaches to solving some of the most pressing challenges ushered in by technology and digitization.
Join our mailing list today via: https://ausclsubscribe.eventbrite.com.au
Note: The AUSCL Australian Society for Computers and Law will be using the third party service Eventbrite to manage registrations for this event. The event will be hosted by Bird&Bird via Zoom.​​ You will be emailed the login details upon registration and again 1 day prior to the start of the event. We look forward to you joining us.
Organiser of Black Box AI: Achieving Explainable and Transparent AI
Inspire. Connect. Reimagine
The Australian Society for Computers and Law (AUSCL) is one of Australia's leading interdisciplinary think-tanks on issues arising at the intersection of technology, law and society. It is a registered Australian non-profit charity with a charter to advance education and advocacy. Our mission is to: Inspire new thinking and informed discourse, Connect professionals across disciplines and together Reimagine the future.