Event Information
Location
Western Sydney University
Room 1&2, Level 9 at 1PSQ, 169 Macquarie St
Parramatta, NSW 2150
Australia
Description
As a small business, we understand that small business owners know their industries often better than most. This event is about how you as a small business owner can drive or be part of the disruption in your industry as opposed to being the victims of the change and disruption of industry.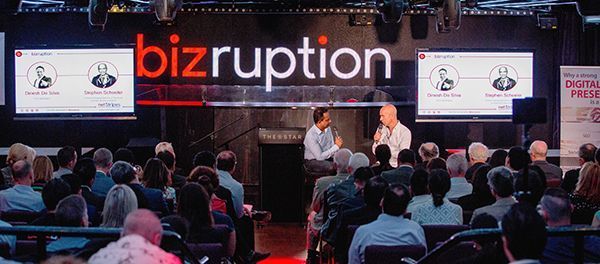 Join us on 26th July at the Western Sydney University to be part of a mass movement that connects you with thousands of entrepreneurs, investors and technological innovators.
You will be part of a community of talented individuals discussing commercial innovation and growth while creating mass awareness of the low level of digital engagement among small businesses across Australia.
We are delighted to have in attendance:

Guest of Honour: The Hon Craig Laundy MP, Assistant Minister for Industry, Innovation and Science.
The Hon Craig Laundy MP was sworn in as Assistant Minister for Industry, Innovation and Science on 19 July 2016. Craig also serves on a number of Backbench Policy Committees including Small Business, Immigration, Economics and Finance.
Guest Speaker: Prof. Scott Holmes, Deputy Vice Chancellor and Vice President of Research & Development, Western Sydney University.
Professor Holmes joined Western Sydney University in March 2014 as Deputy Vice-Chancellor (Research and Development). Over the past 17 years, he has held various senior leadership roles at Newcastle, including Pro Vice-Chancellor (Research), Foundation Dean of Graduate Studies, Head of the Graduate School of Business, and Professor of Public Policy. He is an Honorary Professor at the University of Queensland and a Life Member of the Small Enterprise Association of Australia and New Zealand reflecting almost three decades of research and support for the small firm sector.
Guest Speaker: Dinesh De Silva,Founder of Netstripes.
A strategist and technologist at heart, Dinesh has been providing leadership to listed and privately held businesses in Australia and the Asia Pacific region for over 15 years.
Great Benefits to attendees
· Small Business Owners and Startups can meet, connect and innovate
· Connect with key influencers and investors
· Opportunities to pitch your business to hundreds of business owners
· You build trust with tons of like-minded people in a safe environment
· Get inspired by business owners who have created massive success
· Win prizes, have a drink a bite and learn
All small businesses and startups qualify for One-on-One Digital Strategy Advisory with NetStripes as part of the Business Connect program, which is highly-subsidised by the NSW Government to help small businesses and startups grow successfully. Funded support of up to 34 hours over 3 years.
BIZRUPTION IS EXCLUSIVELY FOR:
Established SME's, startups, entrepreneurs and professionals who are serious about growing their business to the next level and achieve its full potential through innovation.
This Bizruption will be brought to you by NetStripes and is sponsored by Western Sydney University and PWC.
Who is NetStripes: Are they changing the course of small business in Australia?
https://www.youtube.com/watch?v=lZkM6zomi5w
Date and Time
Location
Western Sydney University
Room 1&2, Level 9 at 1PSQ, 169 Macquarie St
Parramatta, NSW 2150
Australia