Gurukul in Association with Business Mantra Chartered Accountants & Business Advisors and Supported by Business Events Perth and FECCA
About this event
Attention Business Owners and Entrepreneurs !!
Expand your Perth business network & join us on 13th November, 2021.
Gurukul in Association with Business Mantra Chartered Accountants & Business Advisors and Supported by Business Events Perth and Federation of Ethnic Communities' Councils of Australia - FECCA bring to you "BIZCON", a unique opportunity to learn, meet and network with like-minded group of Perth businesses who support each other & cultivate business growth opportunities.
Evening will showcase some great speakers, networking sessions, networking games and cultural performance by Gurukul.
Keynote Speakers
Michael Carter "The Growing Trade opportunities between WA and India"
Dheekshana Jagadish "Today's women in Business"
James Picton "Crypto - Currency of the furture"
Anna Marie Keen Petrofac "HR Management and Fair Work Australia Policies"
Anand Gupta "Business Mantra & Group of Companies "
Dr Bhaskar Mandal "COVID - 19 - Life beyond the Jabs"
What more, the entire event is Free to attend for Businesses.
If you would like further information prior to booking your free ticket, please contact us on gurukulwaeventcoordinator@gmail.com or call any of our team members below:
Rohan Amlani - 0 430 708 586 (Sponsorship)
Subrata Saha - 0 457 088 151
Chirag Chavda - 0 425 106 042
Harisinh Parmar - 0 404 275 351
Please note: Eventbrite ticket booking is essential for all attendees.
We look forward to meeting you!
Event is supported by
Business Events Perth
Federation of Ethnic Communities' Councils of Australia - FECCA
Business Mantra Chartered Accountants & Business Advisors
RED EARTH Migration
Rich Look Barber Shop
Keystone College of Business & Technology - RTO Code 41183
Affordable Flooring Solutions
Bertram Party Hire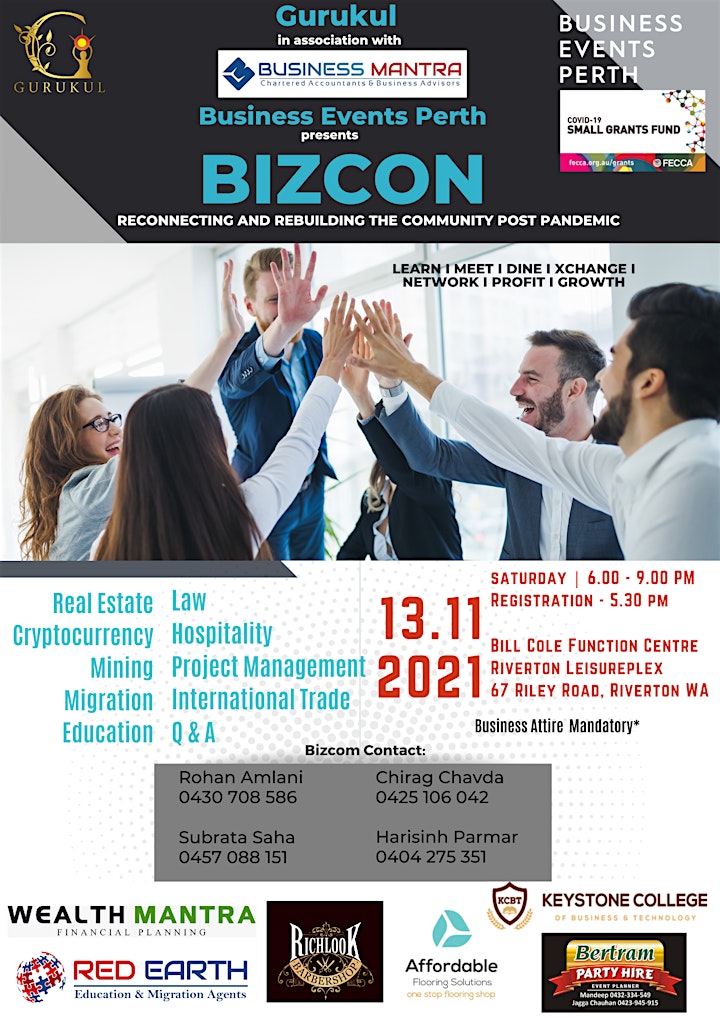 We, Gurukul WA Inc, have taken an initiative - Reconnect Community - that aims to build connections at the neighbourhood level business to build more connected communities. Gurukul WA Inc is committed to this during the COVID-19 health response and beyond, we also want to provide a platform for local businesses to collaborate and exchange ideas which is most in need in this unprecedented time.
Priority is placed on communication and engagement that aim to achieve the following objectives:
• Ability to collaborate with other experts to help them grow their businesses
• Provide the opportunity for the business community to identify/share issues and concerns in post pandemic situation.
• Foster business community involvement and participation.