Bitcoin, Blockchain and Cryptocurrency Workshop

Thursday, 25 January 2018 from 12:00 pm to 2:00 pm (AEDT)
Event Details
Our Melbourne workshops were SOLD OUT and now we coming to your city.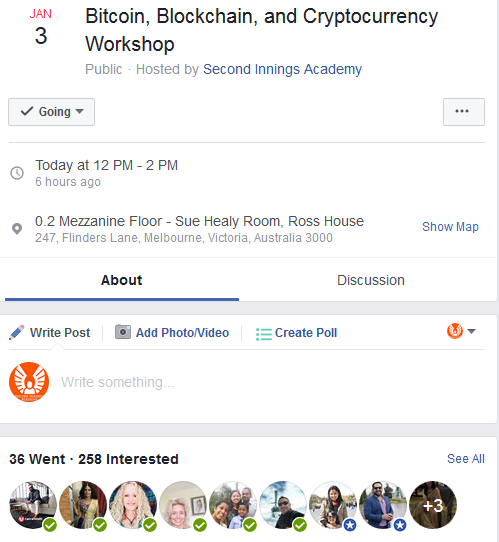 Learn about Bitcoin, Blockchain Technology, and Cryptocurrency.
What a great year it had been for all things blockchain.
Let's start the new year with a bang and get ready for an even more exciting year ahead!
Learn about blockchain - How you can utilise the same technology in your industry
Different types of available wallets - online & offline
Understand distributed ledger systems
This workshop is limited to small groups of people.

It will be a conversation style with time to answer questions you have along the way. This is an education workshop to educate you on what Bitcoin, Blockchain, and Cryptocurrenies are.
By the end of the session you will have: an understanding of bitcoin, blockchain technology and crypto currency and some of the relevant use cases on how blockchain is impacting today's businesses.

However, this workshop is not for financial advice. We will not sell you any financial products or ask you to buy a specific cryptocurrency

When & Where

321 Kent Street,

Sydney, NSW 2000
Australia

Thursday, 25 January 2018 from 12:00 pm to 2:00 pm (AEDT)
Add to my calendar
Organiser
I am a technology evangelist, business strategist and Australia's most sought-after blockchain speaker.
I am the CEO of the Blockchain Experts Academy
I am working as an advisor to many organisations globally and assisting them with ICO & Crypto Due Diligence (CDD) 
I am a strategic futurist with a drive to help businesses and visionary leaders transform to meet the escalating expectations ahead. I am a serial entrepreneur, adviser and speaker on the topics of Blockchain, radical innovation, leadership and the impact of all things digital on society and business.
My vision is to partner with clients to align their technology investments with strategic goals to deliver true business value.
I assist businesses with strategic planning, automation and standardization with strong ROI.
I have years of industry experience as a business strategist and enterprise architect in some of the best known companies. I am an expert in the defining strategies to deliver value driven business solutions and drive revenue growth for businesses.

I spend my life connecting with businesses and individuals, across industries, and around hyper connected digital world. With a talent for analyzing emerging trends, patterns and behaviours, I truly believe my insights are compelling, thought provoking and inspirational.

I am a recognized and trusted authority on business technology and emerging trends, I frequently called on to provide exciting and real-time commentary on Social Media and other podcast channels around the region.
I am a daily practitioner of meditation. It has helped me to maintain peace, focus and clarity in the midst of everyday stress induced distractions and emotional upsets.