Logan Together invites you to a special screening of the BIRTH TIME DOCUMENTARY, with Mums, Bubs n' Hubs and fellow community members.
About this event
Three Australian women embark on a mission to find out why an increasing number of women are emerging from their births physically and emotionally traumatised. Their discoveries expose the truth and lead them to join the birth revolution and forge a movement that hopes to change the face of maternity care in Australia and across the developed world.
We would love you (Logan mums, dads and carers) to join us for this screening, and recommend you watch the trailer (link below) before deciding if you should attend due to the potential triggering the subject matter may cause.
Following the screening, join us for a special Q&A conversation about birthing in Logan.
Children welcome, we just ask you to register any child over 3yo.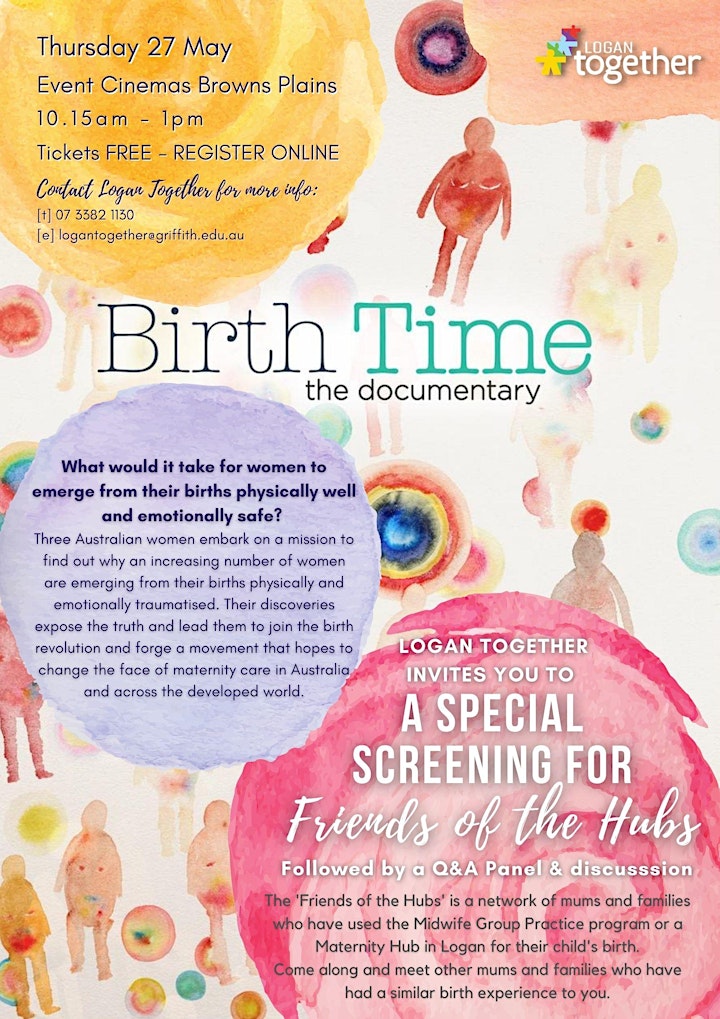 Organiser of Birth Time Screening - 27 May
A community-based movement making a difference for our kids
Logan Together is a community-based movement made up of people and institutions from across society.
We've come together to make a difference for our kids and realise our shared goals. We believe by working together in an organised way at each age and stage of childhood, we can do the things that help kids reach their potential.
We also believe that to be successful, community members should help lead the movement. We are big fans of co-design and citizen empowerment and you'll see community members in leadership roles across everything we do.
Logan Together people include teachers, health professionals, sports coaches, politicians, policy makers, mums, CEOs, volunteers, social workers, spiritual leaders, government workers, young people, researchers, dads, Elders, early childhood professionals, librarians, Council workers, grandparents, business people and just about everyone else you can think of.
We are using the well-known Collective Impact methodology to organise our efforts and structured community engagement and empowerment approaches like the Harwood Institute framework to drive our work.
www.logantogether.org.au  |  Logan Together Facebook  |  Logan Together Twitter