Description
DIVE DOWN THE RABBIT HOLE at Birregurra Hall for one vivid evening of curious offbeat adventures as every dark nook and bright corner illuminates with a carousel of music, dancing, performance and projection.
So grab your glittering gowns, your favourite hats, your lairy leotards and sparkly dancing shoes...YOU'RE INVITED TO THE BALL!
This event is part dance hall, part live art extravaganza. Be prepared for anything!
____________________________
Join the Ballyhoo in one of two ways.
1. ARRIVE IN SPECTACULAR SPLENDOUR AND BECOME PART OF THE SHOW IN A PARADE STARTING AT BIRREGURRA REC RESERVE
To take part, register your arrival group's name and your own spectacular mode of transport (decorated bike, vintage car, unicycle, motorbike, horse), or simply bring a lantern and come on foot. Meet at Birregurra Rec Reserve at 5.30pm for a 6pm departure.
2. COME AND WATCH THE PARADE BEFORE DIVING DOWN THE RABBIT HOLE
Arrive at Birregurra Hall just before 6pm and watch the spectacular arrivals along Strachan Street.
THIS IS A FREE EVENT. Dress for a costume ball.
Bar available (no BYO please).
FOOD: Grab a bite to eat before the event but in the spirit of Birregurra Hall events, bring a plate of supper to share (cold appetisers & sweets). A sausage sizzle available from 8pm to help fill the gap (from $3).
_______________________________________________________________
ABOUT THE BIRREGURRA HALL BALLYHOO
Date Saturday, 28 April 2018
Time 6.00pm – 9.30pm
Location: Birregurra Mechanics Institute Hall
Address: 42-44 Main Street, Birregurra
Tickets FREE – bookings required
​The Birregurra community in south west Victoria has joined forces with digital artist, Craig Walsh (White Night 2015/2016) and Gorkem Acaroglu from Metanoia Theatre (24 Hour Experience 2014/16) to present the Birregurra Hall Ballyhoo on Saturday, April 28.
The Birregurra Hall Ballyhoo is the first of its kind for The Otways – it's part costume ball and part live art extravaganza that weaves Walsh's large scale projection works with a host of performance art, digital installations, music, dance and theatre scripted and curated by Acaroglu.
​Designed to celebrate the importance and contemporary relevance of small country halls, the Birregurra Hall Ballyhoo features more than 20 installations and performances in just over 3 hours that interrogate the community's history and experiences of the Birregurra Mechanics Institute Hall.
The Birregurra Hall Ballyhoo is a culmination of enLIGHTen Me: I Have a Hall in my Heart and over 18 months of collaborations with the Birregurra community and professional artists as part of Small Town Transformations – a Victorian Government initiative delivered by Regional Arts Victoria.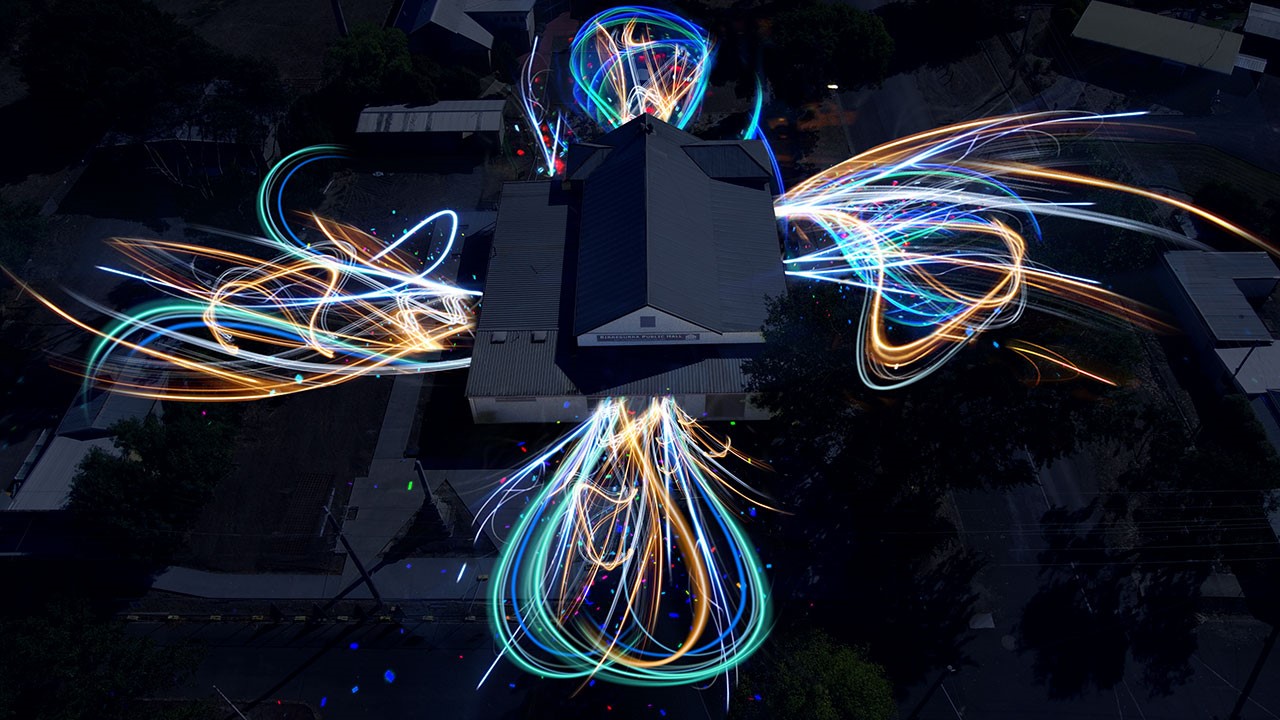 FREE LANTERN MAKING WORKSHOPS
Lantern making workshops are scheduled for 17th April 4-6pm at Birregurra Primary School and on Sunday 22nd April 1pm - 5pm at Birregurra Butter Factory (452 Birregurra Road, Birregurra).
PHOTO/VIDEO DISCLAIMER
When you enter the Birregurra Hall Ballyhoo event, you enter an area where photography, audio, and video recording will occur.
By entering the event premises, you consent to photography, audio recording, video recording and its/their release, publication, exhibition, or reproduction to be used for news, web casts, promotional purposes, advertising, inclusion on websites, social media, or any other purpose by Birregurra Community Group (BCG) and Regional Arts Victoria, and its affiliates and representatives. Images, photos and/or videos may be used to promote similar events in the future, highlight the event and exhibit the capabilities of BCG. You release BCG, its committee, and each and all persons involved from any liability connected with the taking, recording, digitising, or publication and use of interviews, photographs, computer images, video and/or or sound recordings.
By entering the event premises, you waive all rights you may have to any claims for payment or royalties in connection with any use, exhibition, streaming, web casting, televising, or other publication of these materials, regardless of the purpose or sponsoring of such use, exhibiting, broadcasting, web casting, or other publication irrespective of whether a fee for admission or sponsorship is charged. You also waive any right to inspect or approve any photo, video, or audio recording taken by BCG or the person or entity designated to do so by BCG.
You have been fully informed of your consent, waiver of liability, and release before entering the event, and agree to the terms for your entire RSVP party by submitting your RSVP.