Description

---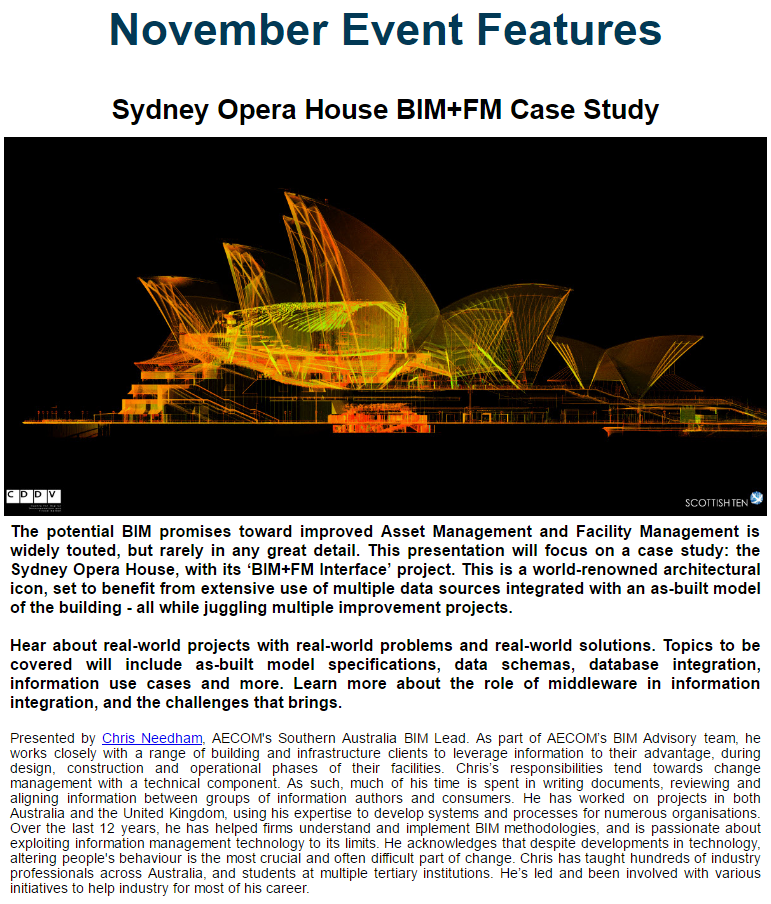 ---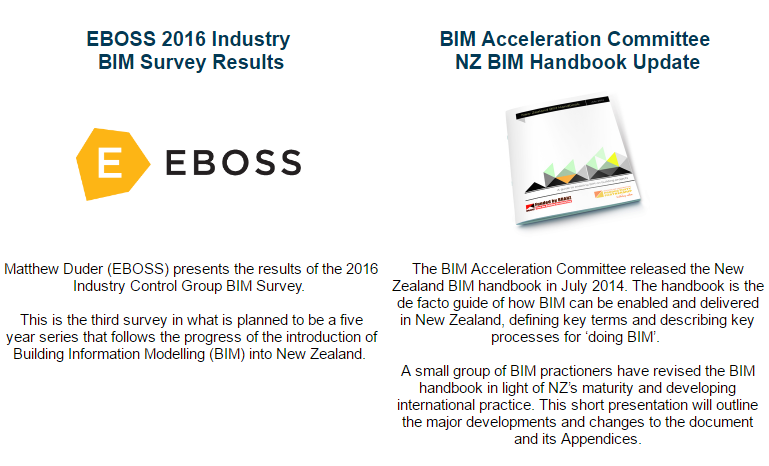 ---


Proposed Agenda
5:30 pm Doors open and networking
6:00 pm Welcome and presentation introduction – Glenn Jowett
6:05 pm Presentations
Presentation No 1
Sydney Opera House BIM+FM Case Study - Chris Needham, AECOM
Thepotential BIM promises toward improved Asset Management and Facility Management is widely touted, but rarely in any great detail. This presentation will focus on a case study: the Sydney Opera House, with its 'BIM+FM Interface' project. This is a world-renowned architectural icon, set to benefit from extensive use of multiple data sources integrated with an as-built model of the building - all while juggling multiple improvement projects.

Hear about real-world projects with real-world problems and real-world solutions. Topics to be covered will include as-built model specifications, data schemas, database integration, information use cases and more. Learn more about the role of middleware in information integration, and the challenges that brings.

About the Speaker:
Chris Needham is AECOM's Southern Australia BIM Lead, as part of AECOM's BIM Advisory team. He works closely with a range of building and infrastructure clients to leverage information to their advantage, during design, construction and operational phases of their facilities. Chris's responsibilities tend towards change management with a technical component. As such, much of his time is spent in writing documents, reviewing and aligning information between groups of information authors and consumers. He has worked on projects in both
Australia and the United Kingdom, using his expertise to develop systems and processes for numerous organisations. Over the last 12 years, he has helped firms understand and implement BIM methodologies, and is passionate about exploiting information management technology to its limits. He acknowledges that despite developments in technology, altering people's behaviour is the most crucial and often difficult part of change. Chris has taught hundreds of industry professionals across Australia, and students at multiple tertiary institutions. He's led and been involved with various initiatives to help industry for most of his career.
Presentation No 2
Eboss NZ BIM Survey 2016 Results - Matthew Duder, Eboss
The results of the 2016 Industry Control Group BIM Survey. This is the third survey in what is planned to be a five year series that follows the progress of the introduction of Building Information Modelling (BIM) into New Zealand.
Presentation No 3
BIM Acceleration Committee NZ BIM Handbook Update - Glenn Jowett, AECOM
The BIM Acceleration Committee released the New Zealand BIM handbook in July 2014. The handbook is the de facto guide of how BIM can be enabled and delivered in New Zealand, defining key terms and describing key processes for 'doing BIM'.

A small group of BIM practioners have revised the BIM handbook in light of NZ's maturity and developing international practice. This short presentation will outline the major developments and changes to the document and its Appendices.
7:20 pm Open floor discussion
Depending on time constraints, it is proposed to have an Open Floor Discussion, like we have done previously, for anyone to come forward with any issues they would like to discuss and to problem solve.
If any of these discussion topics are of a complex nature, then please e-mail them through to the BIMsinz Committee before the meeting at gallan@structex.co.nz.
7:30 pm Meeting Close
7:30 onwards Winnie Bagoes for networking with drinks sponsored by Ignite Architects
More details at www.BIMinNZ.co.nz
---
Networking Sponsor:

---