Description
We are excited to announce that this summer we will be reading Silver by Chris Hammer. Come along to our Big Book Club to discuss Silver with Chris Hammer and special guest, Rick Morton, author of One Hundred Years of Dirt.
Cost: $15 (price includes a drink)

Bookings essential.
About Chris Hammer:
Chris Hammer was a journalist for more than thirty years, dividing his career between covering Australian federal politics and international affairs. Chris was a roving foreign correspondent for SBS TV's flagship current affairs program Dateline.
About Silver:
Chris's first fiction book, Scrublands was published in 2018. Martin Scarsden returns in this exciting sequel –Silver.
For half a lifetime, journalist Martin Scarsden has run from his past. But now there is no escaping. He'd vowed never to return to his hometown, Port Silver, and its traumatic memories. But now he is back. Martin arrives to find his best friend from school days has been brutally murdered, and Mand, his new partner is the chief suspect. The media descend on Port Silver, attracted by a story that has it all: sex, drugs, celebrity and religion. Once again, Martin finds himself in the front line of reporting.
Don't miss out on Silver this summer! Reserve your copy now Or borrow the eBook from RB Digital – unlimited copies available!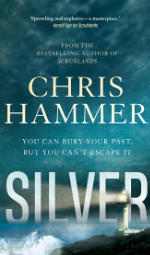 About Rick Morton:
Rick Morton is an award-winning journalist with The Australian and is the author of One Hundred Years of Dirt. It explores intergenerational trauma, poverty, addiction and mental health and the role of a mother who tried to love enough for the failures of everyone else around her. Originally from Queensland, Rick has worked in Sydney, Hobart, Melbourne and now Canberra as the social affairs writer for The Australian with a particular focus on the National Disability Insurance Scheme, aged care, the welfare system, religion and employment services. Rick is the winner of the 2017 Kennedy Award for Outstanding Columnist. One Hundred Years of Dirt was longlisted for the 2018 Walkley Book of the Year and was Highly Commended in the Victorian Premier's Literary Awards 2019.